For Liesl Gambold, an associate professor in the department of Sociology and Social Anthropology (SOSA) and coordinator of the Gender and Women's Studies program, a true measurement of her own success as an educator is when she knows that her teaching has impacted her students in a positive way and has made some sort of difference in their lives.
In her 20 years (and counting) of teaching at Dalhousie in the Faculty of Arts and Social Sciences (FASS), Dr. Gambold says teaching has always been the most motivating factor in her professional life as an anthropologist. She says she finds the greatest satisfaction in learning that a student was moved by something covered in her classes, whether she sees that through the first-year students who visit her during office hours to tell them how something that was said in her lecture really changed their perspective on something, or by seeing her students go on to success in a variety of career or academic paths.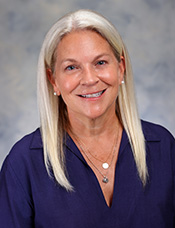 She says she was recently stopped on campus by a former student that told her they had taken her Introduction to Anthropology class many years ago and that her class had really inspired them. Now that person is teaching as a Limited Term Appointment in FASS.
"These are the moments I live for," says Dr. Gambold, pictured left.
So when she learned that she had won the 2023 Canadian Anthropology Society (CASCA) Award for Teaching Excellence, an award that was established to recognize the contributions to excellence in teaching and student learning in anthropology,  she was shocked and humbled, considering the many excellent Anthropology teachers she works alongside at Dal and those from other universities that she's encountered at CASCA conferences.
"That was one of the best moments of my professional life," she explains. "I was honestly shocked because this is a national award and I never imagined I would win such a high honor. I never really thought that what I do is that remarkable. But, because I put my teaching above all else in my professional career, this recognition felt especially meaningful."
Recommended reading: Dal profs energize classroom with vibrant new student‑centred redesign
A beloved teacher

Dr. Gambold also won last year's annual FASS Award for Excellence in Teaching. Knowing that the Faculty had just recognized her for her outstanding teaching, Dr. Martha Radice, a fellow SOSA faculty member, thought there was a pretty good chance that CASCA would too.
"I nominated my colleague, Liesl, for [this national award] because she is such a beloved teacher," says Dr. Radice. "Like a true anthropologist, Liesl teaches in a way that shows us what it means to be human. She meets students where they are, but then helps them set off on great, unexpected intellectual adventures! She is also generous with her colleagues, sharing teaching techniques and brainstorming ideas with us."
In the letter of congratulations, CASCA President Emma Varley explained that the selection committee unanimously voted in favour of Dr. Gambold, recognizing her commitment to the field of anthropology, the connections she makes with others, the incredible mentorship and interdisciplinary work she has undertaken as a professor, and her keen sense of how to meet students where they are and to encourage their resilience as young scholars.
FASS Dean Dr. Jennifer Andrews says, "We are so thrilled to see Liesl honoured in this way with a major national award for teaching. This award for Liesl exemplifies her sustained commitment and dedication to Dalhousie students and reflects the incredible talents of our FASS faculty individually and collectively."
Dr. Emma Whalen, chair of the SOSA department, says her colleagues have all witnessed and appreciated Dr. Gambold's deep commitment to the students and the department, not only as a teacher but also in various roles supporting both undergraduate and graduate students including advisor, supervisor, trainer, ombudsperson, committee member and program coordinator.
"I think Liesl's success as a teacher comes from her ability to foster a genuine connection with her students," says Dr. Whelan. "She encourages them to embrace challenges, to learn resilience and persistence from setbacks, to reflect on their own preconceptions and openness to other points of view, and to come to her during office hours just to chat."
Recommended reading: Dal prof re‑threads the needle on Canada's past — empowering students along the way
Prioritizing student success

This sort of success as a teacher was demonstrated for Kate Hill who began studying at Dalhousie as a mature student with no university background. She felt very intimidated, especially with classes still happening online. Kate quickly found Dr. Gambold's recorded lectures for her Introduction to Anthropology course to be very engaging.
"You could tell that she was very passionate about what she was teaching," says Kate, adding that even though the course was delivered asynchronously, Dr. Gambold found ways to encourage students to meet with her online and to interact with each other to allow them to get to know each other.
"She made me feel like she genuinely cared about my success as a student," says Kate.
As classes returned to in-person learning, Kate, now in her second year, registered for the Introduction to Gender and Women's Studies course specifically because Dr. Gambold was the teacher. She plans to take more of her classes in the future.
Third-year FASS student Rachel D'Armiento, who is doing a double major in International Development Studies and Sociology & Social Anthropology, says her time spent learning in several of Dr. Gambold's classes have been some of her most memorable and inspirational learning experiences at Dal.
"Her incredibly kind, wise, and vibrant personality always makes me feel excited to learn and motivated to engage deeply with course content," says Rachel. "Her positive energy and passion for teaching never fail to shine through lectures and class discussions."
Dr. Gambold believes that all students come to the classroom with their own valuable, personal experiences, and she tries to create an environment where they can share their cultural experiences while also learning that their experiences are not necessarily more important than anyone else's.
"This can be tricky, but it is, in my opinion, absolutely essential," she explains. "I aim to teach students that everyone has cultural biases, which is a fact of human nature, and to see that there can be great joy in understanding other people's points of view. It is also important that students see that being open to others' cultures doesn't mean that they must give up their own way of life. But this comes with great responsibility to try to protect those who are most vulnerable and who might not have the privileges that we have in Canada."