About GWST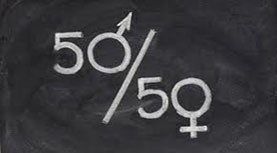 Gender and women's studies is a dynamic and rapidly expanding interdisciplinary area of study. An alternative to the traditional curriculum, Dal's Gender and Women's Studies program provides you with the opportunity to examine history, social structures, the sciences, language, literature, and culture—from critical and illuminating perspectives. Find out more.
We're delighted to share with you the
Please join us on Friday, March 26th from noon-1pm for the last Dalhousie Feminist Seminar Series event of the 2020/21 academic year.
Scorpionflies, Bed bugs, and Ducks:
Exploring Polygamy and Sexual Violence in Canadian Legal Policy
Dr. Tasia Alexopoulos
26 March 2021
12-1pm

Dr. Alexopoulos' talk was originally planned for March 2020 but was cancelled due to Covid-19. We are so pleased that she's able to join us. We also want to extend a sincere thank you to everyone who has supported and participated in the Series this year. Though the platform was far from ideal, we are extremely grateful for the opportunity to gather and engage.
This event will be live captioned, and all are welcome.
Please register at https://www.eventbrite.ca/e/129387745229
Registered participants will be provided a link 24 hours in advance of the event.
Tasia Alexopoulos is a teacher of gender studies and history and a reproductive justice educator. Her research interests vary from polygamy laws in Canada and the United States to horror films and she has published in Somatechnics, MAI: Feminism and Visual Culture, and Feminist Foreign Policy.
Drawing on a rich history of feminist engagement at Dalhousie University and in post-secondary institutions across the Atlantic region, the Dalhousie Feminist Seminar Series brings together faculty and students from across Dalhousie, our colleagues at other institutions in Halifax and elsewhere, and members of the community interested in feminist research and scholarship to present and engage with one another's work in a collegial and supportive environment. The Series was reinitiated in 2015 by Dr. Alana Cattapan, and has been housed in the Gender & Women's Studies Program, with the support of Dr. Liesl Gambold, since 2020. The Series is organized by Erin Wunker, Catherine Bryan, Asha Jeffers, and Eli Manning. An archive of recorded events is hosted on https://hookandeye.ca- Fast Feminism | Slow Academe.  
More in 2021/22!

Also, please note! That https://hookandeye.ca - Fast Feminism | Slow Academe will be hosting the Series' archive of recorded events.

~~~~~~~~~~~~~~~~~~~~~~~~~~~~~~~~~~~~~~~~

Missed our Open House?  Lost the handout you picked up at one of our Fairs?
Gender & Women's Studies Rack Card
A more environmentally friendly option (PDF) of our Open House handout is now available.