About GWST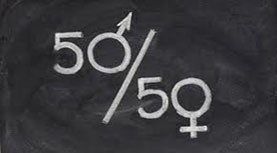 Gender and women's studies is a dynamic and rapidly expanding interdisciplinary area of study. An alternative to the traditional curriculum, Dal's Gender and Women's Studies program provides you with the opportunity to examine history, social structures, the sciences, language, literature, and culture—from critical and illuminating perspectives. Find out more.
We're delighted to share with you the
Happy New Year. We are very pleased to invite you to the first Dalhousie Feminist Seminar Series event of 2021.
Re-viewing a 1960s Mi'kmaq Ribbon Skirt: Reclamation, Resilience, Resistance
Dr. Lisa Binkley, Dalhousie (Department of History)
Friday, 22 January 2021
12-1pm
This event will be captioned. All are welcome.  
Register at: https://www.eventbrite.ca/e/reviewing-a-1960s-mikmaq-ribbon-skirt-reclamation-resilience-resistance-tickets-129384838535
Registered participants will be provided a link 24 hours in advance of the event.
Lisa Binkley is Anishinaabeg-Algonquin and settler, and an Assistant Professor in the History Dept. Her work focuses on Indigenous and settler textiles as material culture, and repatriation. She has published on settler and Indigenous quilts, Haudenosaunee quilts and public exhibitions, Star blankets and critical Indigenous heritage. She is currently part of three SSHRC-funded projects that explore a disruption of the Western literary and art historical canons through Indigenous perspectives, Climate Grief, and the examination of textiles and architecture through augmented reality. She is working on two new projects. A research project that aims to decolonize and remap the fur trade route through an interrogation of handmade footwear. A partnership with the Mi'kmawey Debert Centre that aims to repatriate, digitize, and share community histories and knowledges.

The Dalhousie Feminist Seminar Series brings together faculty and students from across Dalhousie, our colleagues at other institutions in Halifax and elsewhere, and members of the community interested in feminist research and scholarship to present and engage with one another's work in a collegial and supportive environment. The Series is housed in the Gender & Women's Studies Program at Dalhousie, with the support of Dr. Liesl Gambold, and is organized by Erin Wunker, Catherine Bryan, Asha Jeffers, and Eli Manning. The Series' archive of recorded events is hosted on https://hookandeye.ca- Fast Feminism | Slow Academe. 
UPCOMING: 
Stephanie Fearon
Let me tell you a story: Black women's motherwork as educational leadership
February 19, 2021, 12-1pm

Mariana Assis
Rethinking reproductive rights and health from the feminist paradigm of social reproduction: A territorialized analysis of bodies and livelihoods
March 5, 2021, 12-1pm

Tasia Alexopoulos
Scorpionflies, Bed bugs, and Ducks: Exploring Polygamy and Sexual Violence in Canadian Legal Policy
March 26, 2021, 12-1pm
Also, please note! That https://hookandeye.ca - Fast Feminism | Slow Academe will be hosting the Series' archive of recorded events.

~~~~~~~~~~~~~~~~~~~~~~~~~~~~~~~~~~~~~~~~

Missed our Open House?  Lost the handout you picked up at one of our Fairs?
Gender & Women's Studies Rack Card
A more environmentally friendly option (PDF) of our Open House handout is now available.