About GWST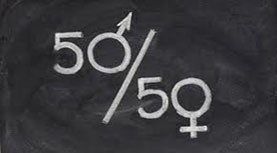 Gender and women's studies is a dynamic and rapidly expanding interdisciplinary area of study. An alternative to the traditional curriculum, Dal's Gender and Women's Studies program provides you with the opportunity to examine history, social structures, the sciences, language, literature, and culture—from critical and illuminating perspectives. Find out more.
We're delighted to share with you that the Feminist Seminar Series has returned for 2021-2022.
With one exception (14 January 2022), all talks will be held over the noon-hour (12-1pm).   
Events will be held on Zoom (with thanks to the Health Law Institute). You may register in advance for any of these events here:  https://www.eventbrite.ca/o/dalhousie-feminist-seminar-series-37350867603 . If you register, you will receive the ZOOM link 24 hours prior to the event.
ALL ARE WELCOME. CART AVAILABLE.
Speaker Bios:

REBECCA SALAZAR (she/they) is a writer, editor, and community organizer currently living on the unceded territory of the Wolastoqiyik people. The author of poetry chapbooks the knife you need to justify the wound (Rahila's Ghost) and Guzzle (Anstruther), Salazar also edits for The Fiddlehead and Plenitude magazines. Their poetry collection sulphurtongue was shortlisted for the Governor General's Award for English-language poetry at the 2021 Governor General's Awards.

LILI JOHNSON is an Assistant Professor of Gender & Women's Studies and Asian American Studies. She completed her Ph.D. at Yale University in American Studies with a certificate in Women's, Gender & Sexuality Studies. Her research focuses on Asian American racial formation and multiculturalism, family and kinship, and cultural studies of science. She is currently working on a book project titled Family Conceptions: Technologies of Asian American Family Formation, which theorizes different technological systems and non-biological forms of kinship to examine Asian American family formation from the twentieth century to the present.

DANA OLWAN is assistant professor of sociology and anthropology at the Doha Institute for Graduate Studies and assistant professor of women's and gender studies at Syracuse University. Dana's research focuses on feminist theorizations of gendered and sexual violence, solidarities across geopolitical and racial differences, and feminist pedagogies.

SUNERA THOBANI is an Associate Professor in the Department of Asian Studies and the Institute for Gender, Race, Sexuality and Social Justice at the University of British Columbia. Her research and scholarship focus on critical race, postcolonial and feminist theory; globalization, citizenship and migration; and violence, media, Muslim women and the War on Terror.  Dr. Thobani has served as Director of the RAGA (Race, Autobiography, Gender and Age) Centre at UBC, and as the Ruth Wynn Woodward Endowed Chair in Women's Studies at Simon Fraser University.
CYNTHIA CRANFORD studies inequalities of gender, work and migration, and collective efforts to resist them. She has analyzed this nexus of inequalities and resistance through both in-depth, case studies of precarious migrant workers, like janitors in Los Angeles and temporary agency workers in Toronto, and analyses of insecure labour markets in Canada and the U.S. Her recent research compares the social organization of in-home personal care and support – the bodywork, emotion-work and housework that allows elderly, chronically ill and disabled people to live at home – across different contexts.
KARINA VERNON is an associate professor of English at the University of Toronto, where her teaching and research focus on black Canadian literature, archives, and decolonization. She is the co-founder and editor of Commodore Books, the first black literary press in western Canada.
KAITLYN BOULDING is a teacher, writer, poet, and PhD candidate in the Department of Classics at the University of Washington. Her research focuses on Feminist Theory, Late Antiquity, Latin Literature, and Philosophy. She is a 2021 fellow of the Simpson Centre for the Humanities.  
Drawing on a rich history of feminist engagement at Dalhousie University and in post-secondary institutions across the Atlantic region, the Dalhousie Feminist Seminar Series brings together faculty and students from across Dalhousie, our colleagues at other institutions in Halifax and elsewhere, and members of the community interested in feminist research and scholarship to present and engage with one another's work in a collegial and supportive environment. The Series is organized by Erin Wunker, Catherine Bryan, Asha Jeffers, and Eli Manning.
An archive of recorded events is hosted on https://hookandeye.ca- Fast Feminism | Slow Academe.
~~~~~~~~~~~~~~~~~~~~~~~~~~~~~~~~~~~~~~~~

Missed our Open House?  Lost the handout you picked up at one of our Fairs?
Gender & Women's Studies Rack Card
A more environmentally friendly option (PDF) of our Open House handout is now available.