About GWST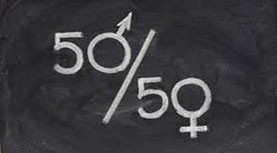 Gender and women's studies is a dynamic and rapidly expanding interdisciplinary area of study. An alternative to the traditional curriculum, Dal's Gender and Women's Studies program provides you with the opportunity to examine history, social structures, the sciences, language, literature, and culture—from critical and illuminating perspectives. Find out more.
We're delighted to share with you that the Dalhousie Feminist Seminar Series returns  for the 2022/23 academic year.


Join us for the Last Dalhousie Feminist Seminar Series for Winter 2023.
Please join us In Person Friday, MARCH 31, 2023
Posers: The Impostor Phenomenon's Literary Tropes and Traditions
Kait Pinder (English & Theatre, Acadia University)
Friday, 31 MARCH 2023 | 12-1pm
Mona Campbell Building (1459 Lemarchant St., Halifax) | ROOM 3111
IN PERSON. Light refreshments will be served. ALL ARE WELCOME.

Kait Pinder is an Associate Professor in the Department of English & Theatre at Acadia University, where she teaches Canadian literature and literary theory. She is the co-editor of The Contemporary Leonard Cohen, forthcoming from Wilfrid Laurier UP in 2023, the former winner of the Herb Wyile Prize, the author of articles on Canadian fiction and philosophy, and a total poser. 

ALL ARE WELCOME.
This year we are incredibly grateful for the support of the Faculty of Arts and Social Sciences, as well as the ongoing support of the Gender & Women's Studies Program.
The Dalhousie Feminist Seminar Series

Drawing on a rich history of feminist engagement at Dalhousie University and in post-secondary institutions across the Atlantic region, the Dalhousie Feminist Seminar Series brings together faculty and students from across Dalhousie, our colleagues at other institutions in Halifax and elsewhere, and members of the community interested in feminist research and scholarship to present and engage with one another's work in a collegial and supportive environment. This year the Series is organized by Erin Wunker, Catherine Bryan and Asha Jeffers, as well as visiting scholar, LiLi Johnson (Gender + Women's Studies & Asian-American Studies, University of Wisconsin-Maddison).
An archive of recorded events is hosted on https://hookandeye.ca- Fast Feminism | Slow Academe.
~~~~~~~~~~~~~~~~~~~~~~~~~~~~~~~~~~~~~~~~

Missed our Open House?  Lost the handout you picked up at one of our Fairs?
Gender & Women's Studies Rack Card
A more environmentally friendly option (PDF) of our Open House handout is now available.