For the first time in Dalhousie's history, the university has hired a 2SLGBTQ+ advisor to provide supports, programming, and other services for students that identify as Two-Spirit, Lesbian, Gay, Bisexual, Transgender, Queer, and any other non-normative identities.
Olivia Fader, a Dal grad who majored in English and Gender Studies, has been hired for the new role in Student Affairs. As the 2SLGBTQ+ advisor, Fader provides a variety of supports and services that include one-on-one advising, university-wide programming and events, referrals to gender-affirming care, navigating name or gender marker changes, and much more. Fader's service, like that of many Dal advisors, is open to students from both Dal and the University of King's College.
Fader grew up in Dartmouth and Halifax, and she identifies as a gay woman and more broadly as queer (socially and politically). In her previous career as a high school teacher, she recognized first-hand the gaps in support for young 2SLGBTQ+ students in an educational setting, and as an out teacher she found herself taking on an additional role as advisor and supporter for both students and colleagues.
"I quickly learned that schools did not have the built-in support for the fast-growing number of 2SLGBTQ+ students, and their needs were acute," says Fader. "Because students and staff knew I was gay, I was immediately dealing with the accessibility of gender-neutral washrooms, helping students come out to their classmates, and supporting other teachers with pronoun use. I had meetings with parents on behalf of some of my students to help them accept their identities."
Supporting queer youth

This gap in supports for 2SLGBTQ+ students is something Fader herself went through as a grade school student, though she points out that her identity as a white, cisgender, gay teenager was a much different experience than Black Nova Scotian or Mi'kmaq students who identify as 2SLGBTQ+.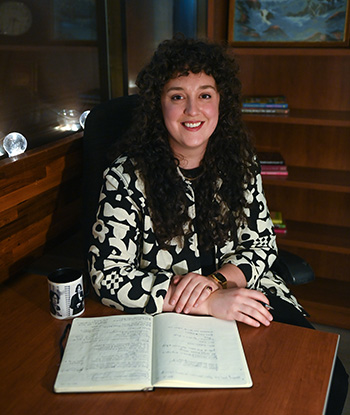 Still, Fader often found herself bullied in grade school, and the presence of queer supportive people in her life had a profound effect.  
"I was bullied relentlessly in junior high school because other kids suspected I was gay, and one of our favorite teachers came out to our class for me, to mitigate some of the harm. It was shocking, and beautiful, and it worked. Here was a real-life gay person putting themselves on the line to make my life better."
Having supportive queer people in Fader's life helped her embrace her own identity and allowed her to flourish. This community, combined with her experiences teaching students, led her to discover "the element I was best at — supporting queer youth."
Recommended reading: Compassion in health care reduces health inequality for 2SLGBTQ+ people
'Queerness is a gift'

Though the 2SLGBTQ+ Advisor is the first position of its kind at Dalhousie, Fader acknowledges the work and community support from many staff, faculty, and students that's existed over the past few decades. Still, Fader notes there are barriers existing at Dalhousie, such as difficulties in the name change process for students, that she hopes to address while in this role.  
Fader also hopes that the 2SLGBTQ+ Advisor office can now serve as an information hub and drop-in centre for 2SLGBTQ+ students and the broader Dal community, and that these services can help continue to build a "resilient, thriving queer community here at Dalhousie."
"Queerness is a gift, and with a better connected and better supported 2SLGBTQ+ community at Dalhousie, everyone will benefit," says Fader.
For more information about the 2SLGBTQ+ Advisor services, programming, and supports, visit dal.ca/2SLGBTQ.