The morning sun streams through Dr. Lisa Binkley's third-floor office window as she spreads a collection of vibrantly coloured books across her desk: Stitching the Self, Craft is Political, and Transnational Perspectives on Feminism and Art, Craft and Heritage. Each title is lifted carefully from a brimming bookshelf that spans the length of the room. A large quilt hangs on the opposite wall. It's an atmosphere of warmth and curiosity.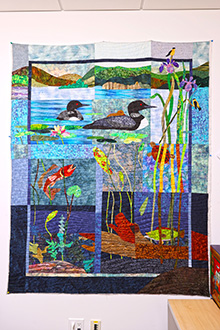 Dr. Binkley, who joined Dal in 2019, is an associate professor in the Department of History and the coordinator of the Art History and Visual Certificate in the Faculty of Arts and Social Sciences.
Before going back to school to study human geography at Queen's University, she worked as a police officer in Ontario and owned a quilt shop. This year, Dr. Binkley was recognized with the university-wide Teaching Award for Excellence in Education for Diversity for her discipline-bending classrooms. There, she empowers students to think critically about narratives of heritage through material culture.
"It's this idea that you're not always looking at things through a Western perspective that assigns a dollar value to things," says Dr. Binkley. "It has more to do with what is threaded through the textiles while its being made and what it might mean to the maker."
For Dr. Binkley, the material object is a primary source. Quilts, beadwork, and craft embody how people lived, sometimes seen in subversive and anti-colonial imagery that Dr. Binkley has learned to trace.
"People make objects in response to the environments they live in. I think that marginalized people have often used craft as a way of self-expression. They're making a statement about where they've been, where they want to be — political statements that maybe they normally can't say out loud."
One-of-a-kind courses

Dr. Binkley's unique teaching style interweaves research of craft histories, material cultures, critical heritage studies with Indigenous and settler women's histories and experiential learning. During cooperative history seminars on Indigenous textiles, students stitch and bead Inuit-style moccasins and learn how craftwork is shaped by community.
"As you're working on your pair of moccasins, you're discussing the readings," says Hannah Beaulieu, an undergraduate student of Dr. Binkley's who is completing a combined honours in History and Political Science and a minor in Indigenous Studies, with Dr. Binkley as her supervisor.
"I remember we spoke a lot about how different Nations had textiles specific to them, like in one class we talked about Navajo blankets. We also talked about basket weaving and art, and how it's shifted over time," says Beaulieu.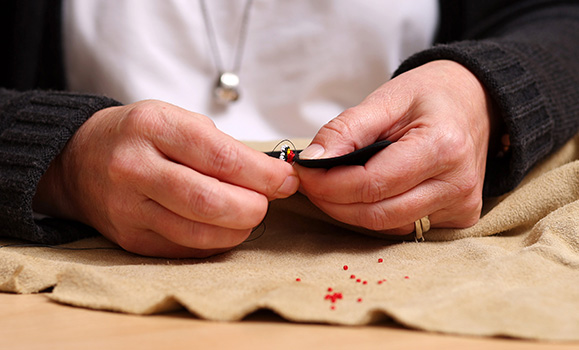 Of the four undergraduate history courses that Dr. Binkley teaches, two that focus on Indigenous textiles and archives of material culture are entirely her design. The other two, 'Introduction to Art History' and 'Historical Issues in Indigenous Studies,' were revamped through the lens of critical heritage studies.
"There's this understanding of what constitute, in our case, Canadian Heritage and what we're trying to do is disrupt dominant ways of thinking about heritage that were linked to nationhood and nation building," says Dr. Binkley.

Recommended reading: Outstanding educators -- Get to know this year's university‑wide teaching award winners
Uncovering different sides of a story
 
Dr. Binkley identifies as Algonquin-Métis. As a member of the Indigenous Council at Dalhousie, Dr. Binkley connects her diverse background in education with future interests of the council to expand the Minor of Indigenous Studies. She continues to encourage a welcoming space to talk about both historical and contemporary issues of Indigeneity and heritage in Canada.
Her non-linear path to teaching foreshadowed this. She understands how prejudice towards Indigenous peoples can move down through generations, to students, when they feel forced or shamed into addressing harmful ideas.
"You can't go into an environment and tell people to stop doing something," Dr. Binkley says. Instead, she gives them the tools to understand what's happened historically and continues to happen today, so they can think critically about representations of these issues when they see them outside the classroom.
"That's why I like material culture research because it allows for non-Western perspectives to a story," said Dr. Binkley. "It's almost the ideal theoretical framework for studying marginalized peoples because it allows those stories to surface."
In a recent paper, "(Re)Viewing a 1960s Mi'kmaw Ribbon Skirt: Reclamation, Resilience, Resistance," in Transnational Perspectives on Feminism and Art, Dr. Binkley examined a ribbon skirt made in Mi'kma'ki in the 1960s that was displayed at the Citadel Hill National Historic Site for the centennial celebrations in '67.
"I was trying to argue that the skirt itself was a form of resistance to that notion of Canadian heritage to try to illuminate best how Indigenous peoples want to be recognized for who they are and their place in Canadian society as Indigenous peoples rather than this melting pot of things," she says. "That's what critical heritage studies is doing — it's questioning concepts that people assumed are connected to a larger unified, homogenous nation."
Recommended reading: Royal Society of Canada recognizes research excellence at Dalhousie
Keeping it contemporary
 
Rather than considering Canadian colonialism as historical, she locates her discussions with topics based in the here and now.
"When we talk about gender violence, residential schools or territories or the environment, our readings capture the student's attention because they can understand and relate to them — because they're more recent. And then I use my lectures to explore their historical background to them, so they understand why things are the way they are now."
This is the fourth year she has taught her History of Indigenous Issues course this way, a core course for the Indigenous Studies minor program at Dal but open to students in all disciplines. She has been praised for making her classroom approachable and inclusive.
"Dr. Binkley is really good at mitigating potentially harmful answers and trying to keep her space as safe as possible for students," says Beaulieu. "She's able to bring back conversations in a respectful way, while still facilitating a space for students to engage and continue in discussions in her class. She never explicitly shuts anyone down."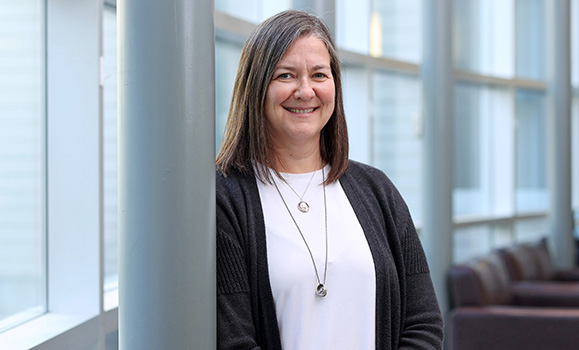 A human approach
 
Dr. Binkley's transformative approach to teaching has made her a favourite among students. Master's History student Cindy Bergeron remembers Dr. Binkley's handwritten notes in class as humanizing.
"She is relatable, she is unassuming, she is extremely knowledgeable about her subject matter," says Bergeron, who is completing her thesis with Dr. Binkley's guidance.
"The other thing that I admire about her is she's very forthcoming with her own challenges."
Bergeron is also a mature student and parent, as Dr. Binkley was, and says she would not be doing a master's in history if it was not for Dr. Binkley's supportive influence.
Beaulieu feels similarly inspired by Dr. Binkley. She's the first person in her family to go to university, and now, as she's nearly through her honours thesis, Dr. Binkley is already encouraging her towards a master's and a dissertation.
"She has this way of teaching you without making you realize that you're being taught," says Beaulieu. "I'm so grateful to have someone like her in my corner and I'm also super happy that she's winning awards because she should be winning all the awards. She's an amazing professor and an amazing person."