The storming of the U.S. Capitol by a mob. The illicit harvesting of personal information from social media for political gain. The spread of disinformation during a global pandemic. 
Democracy has been put to the test in recent years in both the United States and around the globe, fueled in many ways by individuals and groups exploiting social media and other new digital technologies to foment discord and breed distrust in politicians, institutions and traditions.
Hosted by Dal's Faculty of Arts and Social Sciences and the Department of Political Science with support from CBC Nova Scotia, the Stanfield Conversations: Talking Democracy series features an annual public panel discussion on the state of democracy, focusing on urgent issues regarding the health of democratic institutions and other critical issues facing society.
Three of North America's top experts in the intersection of technology, politics, and society explored these disruptions to democracy during Dalhousie's second annual Stanfield Conversation last Thursday night:
Dr. Kathleen Hall Jamieson, the Elizabeth Ware Packard Professor at the Annenberg School for Communication of the University of Pennsylvania 


Dr. Ron Deibert, Professor at the University of Toronto and Director of the Citizen Lab at the Munk School


Dr. Elizabeth Dubois, Associate Professor at the University of Ottawa and head of the Pol Comm Tech Lab.
With the U.S. mid-term elections just weeks away, the public discussion is well timed.
"The timing is fortuitous. It's not an accident that we're focusing on this issue at this year's Stanfield Conversations given the mid-term elections," said Portia Clark, host of CBC Nova Scotia's Information Morning in Halifax and moderator at the event.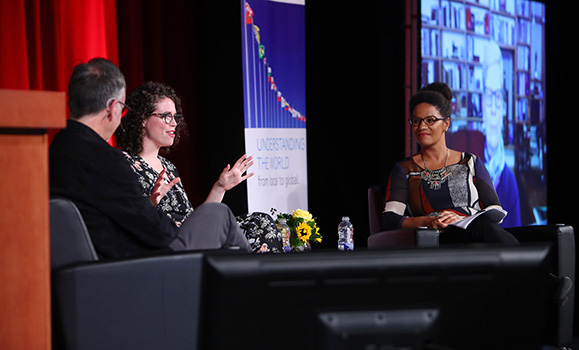 Watch the full event at the bottom of this article.
Fractured discourse

Dr. Jamieson started off the conversation by calling into question the state of discourse in the United States today. She said that as contemporary media contributes to societal fractures, it's imperative that we foster a more reasonable and civil discourse.
"We not only have seen name calling, but we've also seen a rise in the impugning the good will and integrity of others. In that context, it makes it more difficult to find common ground," says Dr. Jamieson.
Panelists then looked at the issues surrounding political discourse in the context of social media, especially in the age of big tech.
"We need to start with the business model around social media," says Dr. Deibert. "One way to think about this is we are the livestock for their data farms."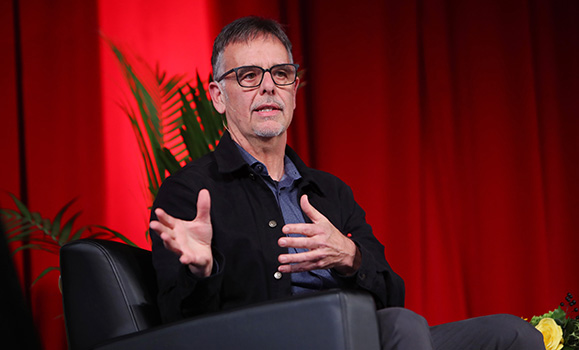 "What we need to do is find ways to shine light on the process to make sure we create transparency and accountability within our systems. That's how we maintain a strong democracy while still limiting the potential harms," says Dr. Dubois.
Related reading: Dal students share opinions about Digital Democracy on CBC News
Strengthening digital literacy

With respect to digital literacy, the panelists took on the challenge of how journalists should address the threats to truth and democracy online.
Dr. Dubois says journalists need to recognize that many of the bad actors online are extremely well organized and calculated and will continue to adapt.
"I think it's really important to recognize that there's going to be innovation in what these approaches look like," says Dr. Dubois, who argues that being digitally literate is an ongoing process that requires everyone to be on alert for transformations in the digital landscape.
"Journalists have to produce so much content so quickly," says Dr. Jamieson, shown below, who joined the discussion via video link. "I think that's an area likely to be exploited in the future. It's probably being exploited right now, and we just don't know where."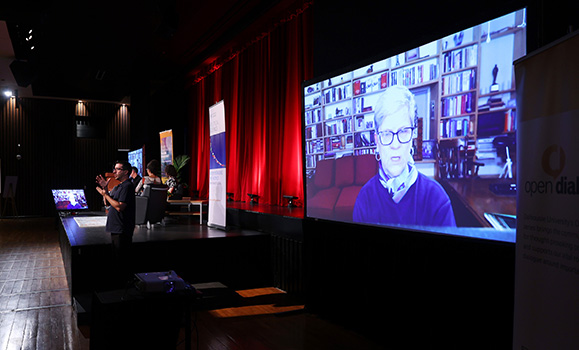 Panelists not only agreed that investigative journalism is crucial to supporting a healthy democracy, but that civic education plays a central role, one that should be expanded in the future.
Dr. Deibert points to the central role that social media and tech corporations play in the proliferation of digital misinformation, polarization, and surveillance. 
"While they may have taken some measures to try to stem that problem or mitigate it in various ways … their incentive structure is entirely in the opposite direction as they're a business," he says.
Data security?

After the panel discussion, audience members, attending both in person and virtually, posed questions to the three panelists.
One attendee asked, what national governments should be worried about with regards to our election security?
"I think we have to worry about far deeper problems than a handful of States. In fact, thinking about the problems  in a state-centric kind of way is misleading," says Dr. Deibert. 
With respect to campaigning, and data security in a political context, with the pivotal U.S. mid-term elections approaching Dr. Jamieson say that work has been done to improve security since the 2016 U.S. presidential election. Still, there are areas of concern.
"The idea that politicians have way more information about us than they ever did before is true to a certain extent." Nevertheless, Dr. Dubois argues that while social media has expanded the quantity of this data, personal data has always been a key part of campaigning. 
"When we don't know how that data has been collected, whether or it not it's been paid for, who it's been shared with, that's when problems arise," says Dr. Dubois.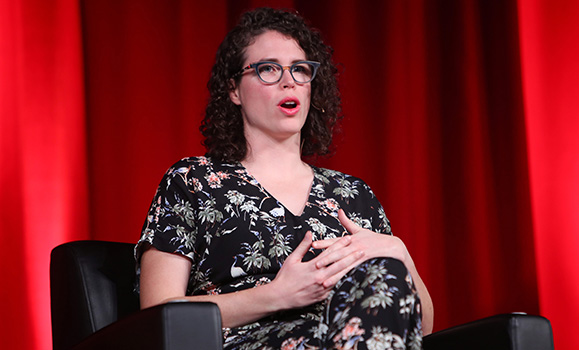 The Stanfield Conversations are designed to tackle complex issues impacting the state of democracy across the globe. This year, with the mid-term elections promising to have major consequences for American democracy and, by extension, Canadian democratic politics, a focus on the US was a natural choice.
"We've got some big problems, but the future is not set in stone. We are in charge of our own destiny and collective action," says Dr. Deibert.
Related reading: Dal's latest Pierre Elliott Trudeau Foundation Scholar deciphers our changing democracy
'Democracy is about people'

Dr. Jen Andrews, dean of the Faculty of Arts and Social Sciences, pointed to the key role that the Stanfield Conversations and Dal play in a critical discourse on democracy and larger issues confronting contemporary society.
"One of the pillars of the [Dal's Strategic Plan] Third Century Promise, is that we aspire to be a civic university that makes a global impact," she says.
Dal alum Anne McLellan, the former deputy prime minister of Canada and former chancellor of Dalhousie who also co-chairs the Stanfield Conversation's advisory council, closed the panel, reminding attendees of the legacy of the event's namesake, the Rt. Hon. Robert L. Stanfield, a former premier of Nova Scotia and leader of the federal Progressive Conservative Party.
"Mr. Stanfield was a person of integrity," says McLellan "He always put the common good before partisan interests."
"I always will return to the simplicity of the fact that democracy is about people," says McLellan. "If we are to have democracies, people have to make informed choices, they have to be vigilant. They cannot be vigilant if they're not informed."

Left to right: Anne McLellan, Ronald Deibert, Stanfield Conversations founder George Cooper, Elizabeth Dubois, Jen Andrews, and Portia Clark.

Related reading: 'Democracy has to rise to the occasion' -- Inaugural Stanfield Conversation tackles the state and fate of democracy
Watch the full event below