Tobias Gerhard Schminke, a PhD student in Political Science, is Dalhousie's newest Pierre Elliott Trudeau Foundation scholar. This scholarship is among the most prestigious, national awards in Canada. The Foundation received 500 applications this year; and Tobias was selected as one of only 13 recipients.
This three-year leadership program is designed to train engaged leaders, equipping outstanding doctoral candidates with the skills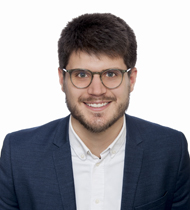 to translate their ideas into action, for the betterment of their communities, Canada, and the world. Scholars are selected each year and receive leadership training in the context of Brave Spaces, in addition to generous funding for their studies.
Tobias, originally from Oberroßbach, a small village of 350 in the South-West of Germany, is the third Political Science PhD student at Dalhousie to be named a Pierre Elliott Trudeau (PET) scholar in the past 10 years.
"I am the lucky first in my family to enjoy a university education, so it does not always feel natural to stroll into a Ph.D. program," he says. "Receiving the scholarship and the related support from the department reaffirmed that returning to school was not a complete misjudgement (even though I appreciate other Ph.D. students who may knock on wood on my behalf when reading this). At the same time, I see the scholarship as a loan of trust that I hope to repay to my community in the future."
Understanding our changing democracy

Tobias's PhD thesis research focuses on comparative politics: elections, voting intention, political parties, party systems, and transnational party integration.
"In Canada, before 2000, the strongest party would usually get more than 40% of the popular vote in federal elections," Tobias says, commenting on his thesis research. "This does not happen anymore. We almost simultaneously see an influx of newer parties shake up the established system: the Bloc Quebecois, the Reform Party, and now the People's Party. This proliferation of minor parties and the willingness of voters to vote for them makes it more difficult to have stable majority governments. And guess what? We see this trend in democracies around the globe. So, I want to know — why have minor parties become so successful? Is it increased public funding, increased visibility through social media, or are voters just bored of the old options?"
Tobias, who holds a Master of Arts in International Development Studies from Saint Mary's University and a Bachelor of Arts in Media and Communication Science with a Political Science minor from the Johannes Gutenberg University in Mainz, Germany, and Haifa University, Israel (Year Abroad Program) says, "My interests are diverse but ultimately relate to how we make the collective, our society of funky animals called humans, work together best."  
The Pierre Elliot Trudeau Foundation Scholarship offers excellent opportunities to scholars, ranging from funding for language education to interdisciplinary and diverse exchanges with distinguished leaders and academics.
"These opportunities can ultimately inform the impact of my research," he says. "The scholarship also designates funds for research and information dissemination, which I am excited to use to share and discuss my findings throughout the research process."
An 'exceptional young scholar'

As a PET scholar, Tobias says his research in academia will continue to be driven by profound curiosity.

"How do our laws, institutions, positionality, and material conditions affect us? And how can we use our understanding of this to make our communities more harmonious, healthier, and happier? Ultimately, researchers provide answers to these questions from all academic disciplines, forming a massive mosaic of recommendations for a better society. I hope to contribute with my colleagues at Trudeau to this mosaic."   
Scott Pruysers, an assistant professor in the Department of Political Science and Tobias's thesis supervisor says, "Tobias is an exceptional young scholar, and this award will provide him with the resources necessary to excel in his studies. As an imaginative and thoughtful student who shows tremendous leadership potential, Tobias truly embodies the characteristics of a Trudeau scholar. I have no doubt that he will put this award to good use and make an excellent contribution to Dalhousie and the academic community more broadly."  
In addition to his work as a PhD student, Tobias is the founder and leading team coordinator of Europe Elects, an election observatory and poll aggregation platform in Europe.
"Together with a team of 46, we report on election and polling data from Yerevan to Lisbon in a way that is easy to understand and use by academics, journalists, and everyday electoral enthusiasts," Tobias explains. "Our content is regularly picked up by the BBC, Al Jazeera, and other big players. We are also piloting America Elects, which covers Canada."  
On behalf of the Europe Elects team, Tobias received the Student Entrepreneur of the Year award as part of the 2022 Dalhousie Impact Awards.
Uncovering societal remedies

Tobias is thankful for the support he received with the PET scholarship application process from Dr. Pruysers and graduate coordinator, Kristin Good, also from the Department of Political Science. He's also thankful for the support from his master's thesis supervisor at Saint Mary's, Gavin Fridell and encouragement from his fellow students and professors in Dalhousie's Faculty of Arts and Social Sciences and Faculty of Graduate Studies.
Julia M. Wright, acting associate dean of research for the Faculty of Arts and Social Sciences (FASS) says it's wonderful to see Tobias's important research on democracy recognized with a prestigious Trudeau scholarship.
"We are fortunate in FASS to have strong PhD programs that draw top-notch students from across Canada and around the world," she says. "For FASS, this diversity is crucial to our research by helping us all think regionally, nationally, and internationally about communities, cultures, and challenges, as Tobias's project does."
Tobias agrees that education and research in the arts and social sciences is crucial to society, as it researches societal remedies and should, in turn, be remunerated appropriately, and not treated as "'dusty', dead paper or opinionated but 'impactless' discussions in classrooms."
"Arts and social science departments contribute to making students educated and reasonable agents to better our society — inside and outside academia," he says. "The thoughts that live on our 'dusty' papers transcend into the real world. Given the challenges ahead, I wonder if we can afford not to value arts and social sciences more."