At 89 years old, Charles Taylor has been studying politics for long enough to have witnessed some of the many threats facing contemporary democracy as they first began to emerge.

But, as the internationally renowned Canadian political philosopher conveyed to attendees at a public event last week at Dalhousie, one of the most important steps in overcoming such challenges actually has a lot to do with our ability to look further in the other direction — the future.

"I think you know that democracy has to rise to the occasion," said Dr. Taylor, a professor emeritus at McGill University and co-author of the 2020 book Reconstructing Democracy: How Citizens Are Building from the Ground Up.

While we can't predict what the world will look like in 20 years, Dr. Taylor stressed that democracy's future depends in part on moving past the short-term thinking currently afflicting it. 

"It's important for politicians to be interested in what the world is going to look like in the future rather than the day after the elections," he said. "I think we've gotten to the point of overcoming this tremendous reluctance of democracies with their short-termism to address these problems."

Dr. Taylor was joined on stage last Thursday in the Rebecca Cohn Auditorium by Simone Chambers, a leading international specialist in democracy studies with the University of California Irvine (who also happens to be Dr. Taylor's niece). Both travelled to Halifax for the inaugural panel of the Dal-hosted Robert L. Stanfield Conversation: Talking Democracy. The new annual speaker series builds on the legacy of Stanfield — a Dal alum, former Premier of Nova Scotia and former leader of the federal Progressive Conservative Party.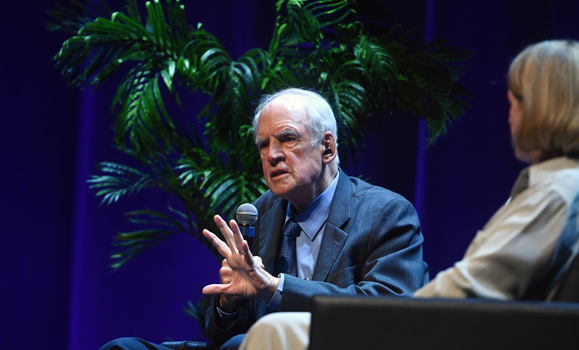 Charles Taylor.
Whither democracy?

Another Dal alum, Vassy Kapelos (MA'06), host of the CBC television news program Power & Politics, moderated the inaugural conversation "Democracy on Edge," which was organized and hosted by the Faculty of Arts and Social Sciences and the Department of Political Science.

"If democracy is in crisis, why? If so, how did we get here? How do we get out of here? Is it possible to fix democracy in crisis?" asked Kapelos, a Political Science grad, in comments kicking off the conversation.

Drs. Taylor and Chambers explored possible answers to these and other questions over the course of the hour-and-a-half discussion, touching on the importance of freedom of the press in democracies, the right to vote (and the right to have easy access to vote), and the importance of citizen trust. Digital literacy also arose as a key topic of discussion in light of the threats that come from the spread of disinformation, misinformation, and malinformation shared in the digital landscape and through propaganda and manipulation.

Dr. Chambers emphasized the value of disagreement in democracy.

"Some people think if we can all agree on a definition of democracy, we maybe could get it right," she said. "But I think it's great that we disagree, and I think part of this conversation is about talking about our disagreements, looking at all the different kinds of ways that we define democracy."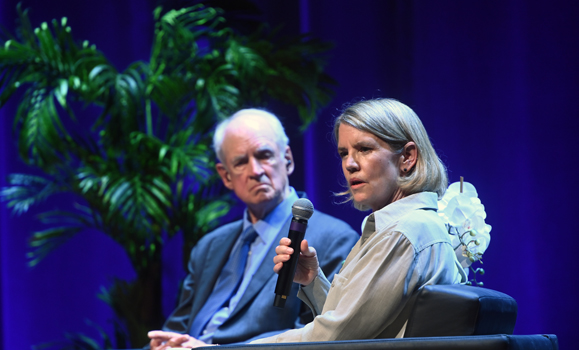 Simone Chambers.

She went on to explain that even though we see a variety of answers to the question of what defines democracy, there appears to be one element of consensus: "It's in trouble, it's on the edge." She added that the degrees and forms of this apparent crisis in democracy vary widely across the world's various democratic systems, and the nature of this crisis needs to be carefully specified.

The conversation also turned to the importance on democratic engagement beyond and between elections. Drs. Chambers and Taylor discussed the benefits and possibilities of citizen assemblies in Canada as the need to look at democracies in comparison, rather than assuming one is better than another. They also touched on the differences between partisanship, polarization and radicalization— and the potential consequences of each. When making comparisons with U.S. democracy, for example, they noted that Canada — despite its problems — is doing relatively well, having thus far evaded the degree of radicalization apparent to the south.
The birth of a vibrant series

About 150 people attended the event in person (in line with current COVID-19 guidelines), with more than a thousand viewers joining in live online via Dalhousie's YouTube channel, event sponsor CBC Nova Scotia's Facebook page, and by livestream in Dal's Ondaatje Auditorium where students of the College of Sustainability gathered to watch.

Watch the full event online now

Other distinguished academics, politicians, non-elected political practitioners, journalists, private sector leaders and public intellectuals will be invited for future Stanfield Conversations to discuss the critical challenges to democracy and imaginative and inspiring responses to them.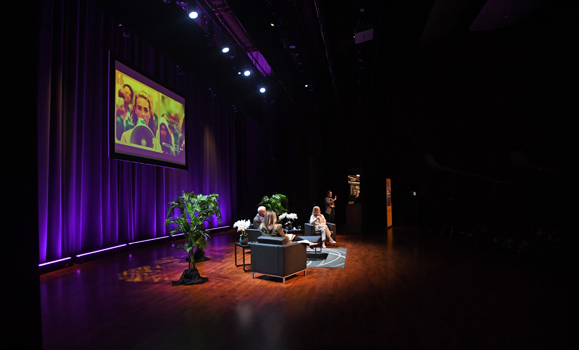 In remarks at the event, the Honourable Anne McLellan, former Dal chancellor and a lawyer who served as Canada's deputy prime minister between 2003-2006, acknowledged the contributions of George Cooper to the genesis of the Stanfield Conversations. Dr. Cooper, a long-time supporter of Stanfield, was his successor as Member of Parliament for Halifax and later served as president and vice-chancellor of the University of King's College. He proposed a lecture series featuring leading international thinkers and practitioners of democracy as a suitable way to pay tribute to a Dalhousie alum "considered one of Nova Scotia's outstanding premiers and one of our nation's most respected party leaders." He headed a fundraising campaign to endow the Stanfield Conversations, and also worked with the university to create an external Advisory Council co-chaired by McLellan and the Right Honourable Joe Clark.

David Black, Political Science professor and co-chair of the organization committee for this year's Stanfield Conversation, closed the event by expressing his thanks to Drs. Taylor and Chambers, Ms. Kapelos, members of the Advisory Council, donors, and audience members, acknowledging the questions asked by attendees demonstrated the importance of democracy in the public sphere.

 "Clearly the fact that so many of you were listening and so many of you were contributing these very thoughtful questions is a sign that there's a good deal of vitality and health to our democratic political life."