Our Investigating Impact series continues to explore how the university's alignment with a selection of the United Nations Sustainable Development Goals (SDGs) is contributing to a better future for us all.
Read more: Freshwater research supports water security in Canada's Arctic communities  •  Student‑run HOPES Clinic seeks better health care for society's most vulnerable
Energy accounts for close to 60 per cent of total global greenhouse gas emissions. This means Canada's commitment to reach net-zero emissions by 2050 will require a rethink of our energy use and a renewed priority on energy efficiency. At Dal, the Office of Sustainability and key departments like Facilities Management and Ancillary Services have been preparing the university to meet this challenge by incorporating energy sustainability into policy, planning, projects and operations for more than a decade.
"Energy management is a key strategy in the University Climate Change and Sustainability Plan and Guidelines," says Rochelle Owen, executive director of the Office of Sustainability. "We have many projects in the planning and implementation stage each year that range from equipment changes to district energy upgrades."
This past year, for example, Dalhousie took on the deep energy retrofit of Howe Hall and Shirreff Hall, two popular residence buildings on the Halifax campuses. Supported by funding from the Province of Nova Scotia and Efficiency Nova Scotia's embedded energy manager and rebates, the retrofits involved an extensive overhaul of each building's heating systems to reduce energy use.

After a deep retrofit, the heating in Howe Hall is more energy efficient and more reliable. (Danny Abriel photo)


The Howe Hall project, which is nearing the end of the measurement and verification stages, is trending towards 75 per cent operating energy efficiency. That will equate to a savings of 68 tonnes of CO2e (carbon dioxide equivalent) in the first year.
Though the plan was to simply replace existing heating circulation pumps with smart pumps to reduce energy, once the work began, the project team discovered it could improve the system further by changing the piping design to have different spaces connected on loops with redundant pumps.
"This is the students' home, so we want to ensure their heating has as few interruptions as possible," says Kyle MacKenzie, utilities manager with Facilities Management. "System reliability and energy security has been a concern for decades; standby equipment is what allows us to provide continuity of service."

Making an impact on Affordable and Clean Energy
Dalhousie's ongoing commitment to sustainable energy management aligns with UN SDG 7: Affordable and Clean Energy, which promotes an increase in renewable energy resources, prioritizing energy efficient practices, and adopting clean energy technologies and infrastructure.
Upgrading existing buildings to improve energy efficiency is part of the strategy outlined in the Campus Energy Master Plan and Sustainability Progress Reports, which were submitted as evidence for this year's Times Higher Education (THE) Impact Rankings. The annual ranking assesses universities around the world on their contributions toward achieving the UN SDGs.
This is Dalhousie's first year submitting in the category of Affordable and Clean Energy. The ranking, which will be released in late April, will consider research at the university related to energy, the steps Dal is taking toward energy efficiency and carbon management, and its promotion of energy efficiency in the wider community.

Certified energy savings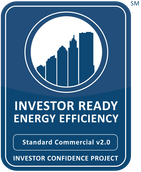 Many of the energy efficiency practices used on campus are leading the way within our communities. This includes the Howe and Shirreff Halls retrofit projects, which are among the first in Atlantic Canada to receive Investor Ready Energy Efficiency™ (IREE) certification from the Canada Green Building Council.
"The certification process with the Green Building Council provides more rigor around benchmarking and requires independent verification of energy savings," Owen explains. "It confirms that the energy savings methodologies are sound, which gives confidence to investors and stakeholders."
Becoming a leader in sustainable energy use requires collaboration. The residence building retrofits were supported by Residence, the Office of Sustainability and Facilities Management, along with an external partner, MCW Custom Energy Solutions.
"These types of projects are important because they get the right minds focused on the problem." says MacKenzie. "When we have the opportunity to put players like MCW, Peter Cherry (Facilities Management) and Rochelle's team in the same mechanical room, there are going to be good results — and this is proof of that. Dalhousie approaches energy related projects with an eye to total cost of ownership, which is a recipe for success."