Over the next few weeks, our Investigating Impact series will explore how the university's alignment with a selection of the United Nations Sustainable Development Goals (SDGs) is contributing to a better future for us all. 
These past two years have put an increased focus on health and well-being, and we've been implored by world leaders to do our part to protect the most vulnerable. That way of thinking isn't new for the students involved with the HOPES (Halifax Outreach Prevention Education & Support) initiative.
HOPES has been tackling health disparity since 2014, when students from several different health-related programs at Dalhousie, Mount Saint Vincent University and the Medavie Health Education Program organized a clinic to tend to the unmet health needs of the low-income, vulnerably housed and homeless population in Halifax.
"In Halifax, this part of the population can be overlooked by the health care system — they're not able to access it," explains Nawal Fatima, third-year Dalhousie pharmacy student and HOPES co-vice-president. "HOPES helps to bridge the gap. We provide care to those who are overlooked and to marginalized populations in Halifax while also providing interprofessional education for students."
With a mission to make a meaningful contribution to the Halifax community, HOPES works to complement existing health and social services to create a supportive and healing environment that focuses on education, advocacy, and positive social change.
"We know that health disparity comes in different forms, across all the social determinants of health," says Oscar Lam, fourth-year Mount Saint Vincent Nutrition and Dietetics student and HOPES other co-vice-president. "So, we're not just looking to provide health services, we're overlapping interprofessional services to work on what individuals need."
HOPES current executive team.


Making an impact on Good Health and Well-being
 
HOPES is a great example of an initiative supporting UN SDG 3: Good Health and Well-being, which challenges people to raise awareness about the importance of good health, healthy lifestyles and everyone's right to quality health care services.
That's why it was highlighted in Dalhousie's submission for this year's Times Higher Education (THE) Impact Rankings, which assess universities around the world on their contributions toward achieving the UN SDGs. Last year, Dalhousie was ranked 22nd (of 871) in the world and fourth nationally for the university's contribution to achieving Goal 3: Good Health and Well-being.
This year's rankings are due out in April.
Read more: Dalhousie ranks among top 200 universities actively contributing to a better future for everyone

A whole-person approach
 
The power of HOPES' alignment with UN SDG 3 lies, in part, in its ability to bring a whole-person approach to health and well-being thanks to the involvement of students from a vast array of specialty areas (from pharmacy and health administration to medicine, dentistry, nursing and beyond). A robust faculty advisory council gives guidance to the students and the clinic is supported by volunteer faculty preceptors.
During the height of the pandemic, HOPES had to suspend their hands-on service, because of public health restrictions but the students kept the initiative active by finding other ways to support the community.
"We had many students who saw what was going on in society and really wanted to reach out to the community," Oscar says. "We had some fundraisers. Like one for Feed NS to help people who were struggling—Nova Scotia is one of the highest for food insecurity and COVID-19 really exacerbated that."
With the end of restrictions in sight, HOPES is preparing to get back to in-person work in the community.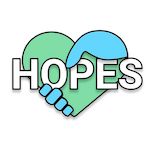 "We really want to get the clinic up and running again," says Nawal. "We have a new location with Brunswick Street Mission. By creating a partnership with them we can help their population as much as we can. And we have a new logo! The hand holding our heart reminds ourselves and the community that there is always hope."
"We are in the process of completing a needs assessment and we know from Brunswick Street Mission that people are really excited about this service," adds Oscar. "They're really looking forward to us opening."