Over the next few weeks, our Investigating Impact series will explore how Dalhousie's alignment with a selection of the United Nations Sustainable Development Goals (SDGs) is contributing to a better future for us all.
Last week: Student-run HOPES Clinic seeks better health care for society's most vulnerable
Today is World Water Day, an annual reminder of the importance of fresh water. Though many of us take it for granted, there are billions of people around the world who don't have access to clean, reliable water — some are right here in Canada. For the approximately 150,000 people who live in Canada's Arctic, there's no ignoring the fact that fresh water is a finite resource.
"Igloolik ran out of water in 2015," recalls Andrew Medeiros, assistant professor with the School for Resource and Environmental Studies. "The reservoir was not large enough; the dry summer meant the reservoir didn't fill completely while the subsequent extended winter meant they were drawing too much while there was ice on it."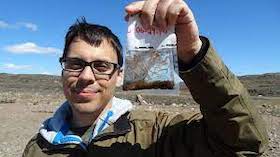 Dr. Medeiros first realized the widespread risk to water quality and quantity in Arctic communities while he was researching the biology of remote Arctic lakes — over time, the lakes were disappearing. One of the key contributors to this issue is climate change, in part because of the phenomenon known as Polar amplification, the fact that average increases in global temperature become larger the further north or south you go.
"My research has shown an increase of two to three degrees in the last 50 years in many of the eastern Canadian Arctic regions. This means the late-lying snowbanks are melting out much earlier so the only water available to replenish the lakes and ponds throughout the summer is whatever comes from precipitation," says Dr. Medeiros. "And of course, because it's warmer, there's already a strong evaporative stress on these systems."
So, he developed a tool that can help Canada's most northern communities become proactive about water security.
Making an impact on Clean Water and Sanitation
Dr. Medeiros' work in the Arctic is an example of community-based research supporting UN SDG 6: Clean Water and Sanitation, which hopes to ensure sustainable withdrawals and supply of freshwater to substantially reduce the number of people suffering from water scarcity.
That's why his work was included in Dalhousie's submission for this year's Times Higher Education (THE) Impact Rankings, which assess universities around the world on their contributions toward achieving the UN SDGs. Last year, Dalhousie was ranked 16th (of 520) in the world and third nationally for the university's contribution to achieving UN SDG 6: Clean Water and Sanitation.
This year's ranking, which is due out in late April, will consider the university's water-related research output, its annual water usage, and its care and support of clean water in the community.

Climate change is a key contributor to freshwater scarcity in Arctic communities.

Forecasting future water requirements
The modelling tool developed by Dr. Medeiros is directly supporting access to clean water in Arctic communities. By forecasting their future water requirements, communities will be able to improve municipal planning and engineering for freshwater supply services.
"We know these communities face a future that is going to be very variable in terms of temperature and other climate-related dynamics," explains Dr. Medeiros. "So, we ran up the possible scenarios with respect to environmental change and combined that with the realistic demand over the next 20 years to create a planning horizon. Then we looked at their current reservoirs and made sure to account for the formation of ice, because during that critical end of winter period, ice on the reservoir means that part of the water isn't available."
The tool has already been proven in its ability to accurately predict shortages. Now Dr. Medeiros is working to influence freshwater policy that will ensure adequate planning for freshwater provisioning. Planning that considers the realities of aging infrastructure, growing populations and the impacts of climate change.
"In many cases, the reservoirs are not sufficient for where they are right now. We didn't even get to the future projections. But that helps them figure out what they need. At the very least, if they know they're not going to have enough, then they can amp up their conservation efforts to make sure they have enough water to last another year."
Related reading: Dalhousie ranks among top 200 universities actively contributing to a better future for everyone (2021 Impact Ranking results)