Howe Hall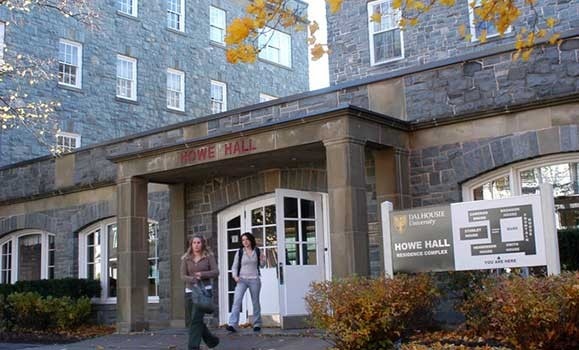 Live in Dal's largest residence 
During the academic year, 716 students live in the ironstone buildings of Howe Hall. You'll find it centrally located on Studley Campus at Coburg Road and LeMarchant Street.
Howe Hall features single and double (two single beds) rooms furnished with a bed, bureau and desk for each student.

What you'll find in Howe Hall
hockey equipment & bike room
meal plan is mandatory
first-year, returning & transfer students
shared, all-gender and gender-specific washrooms with private shower and toilet stalls
regular and quiet noise levels
24-hour front desk
dining hall
television lounges 
all-gender residence
kitchenettes
study areas
laundry rooms
Sinks in all Fountain House rooms

Interesting facts about Howe Hall

Howe Hall is broken into six houses. Each house has its own identity and student government.

Bronson House was built in 1959 and its students are known as the Buccaneers.

Cameron House was built in 1967 and its students are known as the Killer Cod.

Fountain House was built in 2002 and its students are known as the Phantoms.

Henderson House was built in 1964 and students are known as the Bulldogs.

Smith House was built in 1958 and students are known as the Panthers.

Studley House was built in 1967 and its students are known as the Stallions.While Studley House is a detached building, it is just steps away from Howe Hall.

Overall, residents cheer on the Howe Hall Trojans.
Howe Hall residents are proud to participate in the Residence Charity Kick-off (soccer) and the Residence Charity Face-off (hockey). They also look forward to the annual Howe Hall Super Bowl Party. Check out the Residence Life page for more informaton about programs and activities.  
Accessibility
Students with accessibility needs should contact Residence for more information.