LeMarchant Place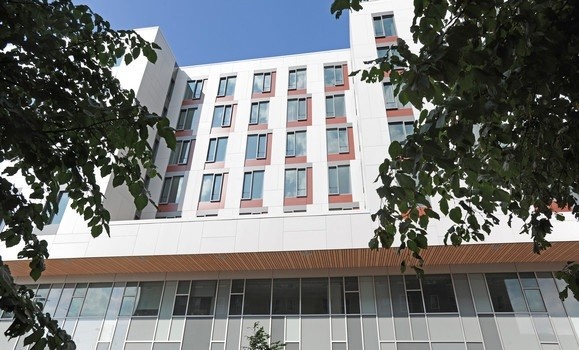 Modern conveniences in the heart of campus
Centrally located on the Studley campus, and within a short walk of the Killam library, the Dalplex, and numerous academic buildings, Dal's newest residence can accommodate 326 students in a mix of fully furnished single rooms (with shared adjoining bathrooms) and two, three and four-bedroom suites.  
What you'll find in residence in LeMarchant Place
each three and four-bedroom suite includes a kitchenette with a sink, microwave and fridge
shared private bathrooms

a full communal kitchen is available on every floor
a lounge and laundry room on every floor
accessible rooms
wireless internet access
storage space for bicycles and hockey gear
dedicated elevators accessed through a separate secure lobby
Accessibility
Students with accessibility needs should contact the Residence Office for additional information.
Inspection of LeMarchant Place Residence Rooms
For the safety and comfort of all residents, room inspections are conducted several times throughout the academic year. You'll get an email to your Dal email account from the Residence Life Team seven days before the inspections. The date will also be posted on each floor within the residence.
During the inspection, we will:
check fire alarms and smoke detectors
advise you on the cleanliness of your suite/shared-bathroom, or any improper health conditions, such as the build-up of garbage and/or recycling
identify any repairs so a request can be made to have the work completed
ensure you are upholding the Residence Community Living Guide provide you with the opportunity to discuss concerns you may have about your bedroom/bathroom/suite.
If your cleaning inspection is not satisfactory, we will leave a notice and follow up after 24 hours. We expect that you will have cleaned before our second visit. If not, each of the residents in the suite will be issued a cleanliness fine (see Cleanliness policy in Residence Community Living Guide).
All residents share equal responsibility for the cleanliness of common suite areas (for example, living room, bathrooms, kitchenette). Roommate conflicts will not be considered as justification for cleanliness issues.