Risley Hall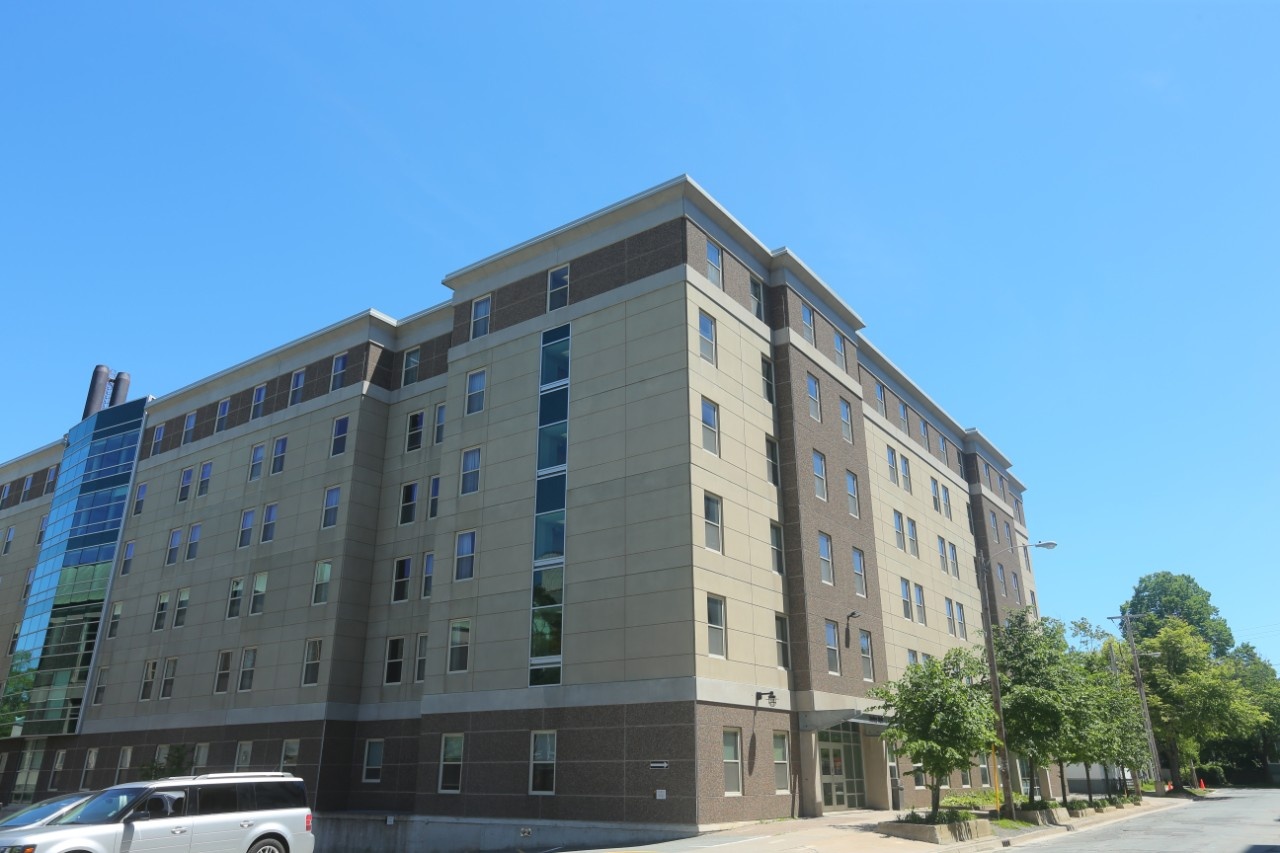 Enjoy modern living with an engaged community
Opened in 2004, Risley Hall is home to 490 students during the academic year. You'll find it behind the Student Union Building on Studley Campus, at the corner of LeMarchant Street and South Street and across the street from LeMarchant Place.
Risley Hall features single rooms furnished with a bed, wardrobe and desk. There is also a sink in every room of Risley Hall.
What you'll find in residence in Risley Hall
first-year, returning & transfer students
all-gender residence

single rooms

shared, all-gender washrooms with private toilet and shower stalls
regular and quiet noise levels
24-hour front desk
dining hall
television lounges
kitchenettes
laundry rooms
hockey equipment & bike room
meal plan is mandatory
Interesting facts about Risley Hall

Risley Hall is divided into three towers in a distinctive 'E' shape. Your tower number is the second number in your room number. For example: Room 4321 is the 4th floor of tower 3, room 21.

Risley Hall's motto is Ad Vitam Paramus (We Are Preparing For Life).
The mascot for Risley Hall is the Bighorn.
Each of the six storeys has its own identity that helps to create a sense of community within the residence:
1st and 2nd floors are the Rock,

3rd floor is Phoenix,

4th floor are the Bears,

5th floor is the Jungle, and

6th floor is the Penthouse
Risley Hall residents participate in many exciting activities including President's Cup week, the Residence Charity Kick-Off Soccer Game, Residence Charity Tip-Off Basketball Game, Residence Charity Face-off Hockey Game, End of the Year Gala, Ecolympics, Pumpkin Carving and Lounge Decorating competitions during Halloween, a Dodgeball Tournament, and the Bighorns Night and Player Auction. Check out the Residence Life page for more informaton about programs and activities.  
Accessibility
Students with accessibility needs should contact the Residence Office for additional information.