IMPORTANT NOTICE:
In order to align with social distancing best practices, effective March 18 at 5 p.m., the Halifax and Truro Residence Offices will be closed to all visitors until further notice. We are still available to help via email. If you have an inquiry or concern, please email residence@dal.ca (Halifax) or resdalac@dal.ca (Truro) and we will respond as soon as possible. Thank you for your understanding.
Important dates and deadlines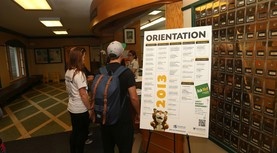 Don't be late! Get all the information, dates, and deadlines so you don't miss out on anything.
Info for friends and family