How do you reward students for their perseverance through a COVID-fueled turbulent couple of years? That's the question Jennifer Stamp faced when planning for her classes in the 2021/2022 academic year.

After more than a year of being online, students were finally going to step back into the classroom. However, Dr. Stamp says in conversations with students, many expressed that their excitement to be back was mixed with a deep sense of nervousness.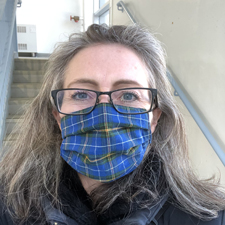 Best known for her captivating teaching style and guitar-accompanied song about checking the syllabus, the 2020 recipient of the Dalhousie Alumni Association Award of Excellence for Teaching took this as a challenge.

"I wanted to encourage attendance, while also promoting good COVID safety for those coming back to class," says Dr. Stamp, a senior instructor in the Department of Psychology and Neuroscience. In searching for what she could do, she had to look no further than her own mother, Gloria Barter.

Nana, as she is so lovingly referred to in class, has had a passion for quilting and sewing for a long time. At the start of the pandemic, Gloria took it upon herself to put together masks for her entire family. When Dr. Stamp discussed potential strategies to encourage students to attend class, the answer was simple: Gloria would take those students under her wing and sew masks for them too. Gloria threaded her needle and has been working for the last year putting the masks together.
Related reading: When it comes to academic integrity, Dal students really meme it
A panapoly of patterns
 
As a door prize for coming to class, Dr. Stamp has been conducting draws in several of her classes where students stand the chance to walk away with a mask simply for showing up to class. Students who win then get their pick of what patterns they'd like. In addition to 10 different cat patterns, there are a whole range of other options available from hockey motifs to lobsters.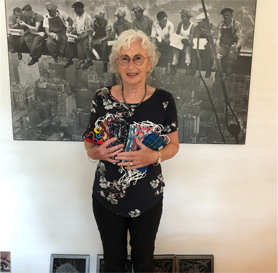 As the 2021 Fall term was coming to a close and Christmas was approaching, Gloria even made some limited-edition holiday masks for students to feel extra festive.
    
While the masks have unique patterns (Gloria's love for quilting meant she had an entire stock of wonderfully patterned fabric waiting to be used), they also serve an important purpose: keeping students safe. They comply as well with Dalhousie's specific recommendation that masks must contain at least three layers. Dr. Stamp explains that as a retired nurse, Gloria painstakingly researched the best design and material to use in order to provide a good amount of protection to the wearer.

"She was using three layers in masks before it was cool," Dr. Stamp jokes.

Around 200 of the masks have been given out over the course of the year. In Dr. Stamp's Monday morning class, a quick glance across the room reveals a number of students donning Nana's masks. "It made be happy on so many levels seeing students wear them," says Dr. Stamp.

When asked why her mother had taken on such a task, Dr. Stamp described the kindness that her mother has always expressed, having herself been exposed to acts of kindness as a child through her mother. Gloria's hard work has students feeling very grateful for them, with one suggesting "it was like she made them and signed off, 'From Nana, with love.'"

Reminder: Masks must continue to be worn in indoor common spaces at Dalhousie until April 30 (except for in residence). Learn more.