Wearing your mask
Mask protocols extended to June 10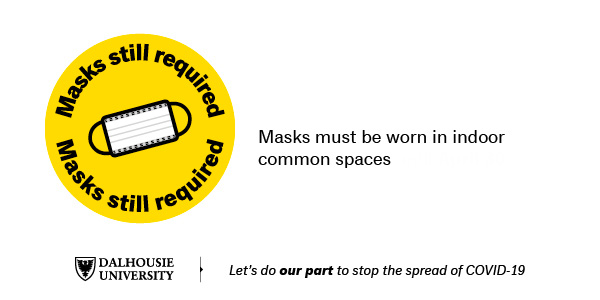 Dalhousie University still requires all students, faculty, staff and visitors to campus to wear masks in most indoor common spaces on our campuses.
Although provincial mask requirements have been lifted in Nova Scotia, Dalhousie's mask protocol is scheduled to remain in effect until at least June 10 in most spaces.
Where to wear your mask
Masks must be worn by all staff, faculty, students and visitors to campus who are travelling through or working/studying in most indoor common areas. This includes:
Buildings
Classrooms
Research spaces
Libraries
Washrooms
Common study areas
Shared meeting spaces (except if distancing is possible)

Athletics facilities (except while exercising)

Food establishments (except residence dining halls)

Hallways, stairwells and elevators
CLASSROOMS: Students must wear their masks in classrooms including while entering/exiting and while seated. Instructors or other presenters must wear a mask but may remove their mask while lecturing if they can fully maintain 2 metres of distance from all others.
WORKSPACES: Masks should be worn at all times when moving between workspaces. Masks may be removed in private workspaces or cubicles where a distance of 2 metres can be maintained.
EVENTS, GATHERINGS AND MEETINGS: For indoor events, gatherings and meetings held in dedicated spaces (ie. away from the general public or Dal community), masks can be removed if physical distancing (6 ft / 2 m) is maintained. We continue to strongly encourage that masks be worn as much as possible in these settings. At gatherings and meetings in smaller groups, please be respectful of others — ask other participants if they are comfortable with you or others removing their masks. Food and drink can be served at events, gatherings and meetings provided distancing can be maintained.
RESIDENCES: As of March 21, masks are no longer required in residence hallways and common areas or in residence dining halls.
Selecting your mask
Masks should be well-fitting (no gaps), fully cover your mouth and nose, and contain at least three layers, in alignment with the latest Nova Scotia Public Health advice and guidance from our COVID-19 Science Advisory Council. Three-layered blue medical masks are appropriate, for example.
Homemade or store-bought cloth masks must contain at least three layers to offer sufficient protection. In you are unsure if your mask has three layers, your best bet is to wear a disposable three-ply medical- or surgical-style mask. (If you have issues with fit, you may wish to wear a cloth mask over your medical mask.)
Picking the right mask: Dalhousie's Manager of Industrial Safety has prepared an overview of different types of masks and how to wear them. Read more on Dal News.

Need a mask? (Students)
While we expect most students will supply their own masks, medical masks are available to students on campus should you find yourself without a proper mask. You can pick up a mask at many public spaces and service centres, including:
Services desks of the Registrar's Office – all campuses
DSU info desk
Student Support Centre (Truro)
Dalplex front desk
Library service counters – all campuses
International Centre
Residence front desks
Need a mask? (Faculty and staff)
Supplies of medical masks are available to faculty and staff who require them for on-campus work, through departments and units. Employees in need of masks should contact their supervisor, department head or Dean.
What about face shields?
Face shields should NOT be worn as a replacement for a mask but can be worn IN ADDITION to a mask if people wish to do so. A face shield protects your eyes. Using a face shield doesn't protect you or other people from infectious respiratory particles that can escape or enter around the face shield.
What about respirators (N95, KN95, etc.)?
Respirators such as N95 or KN95 can be worn if people wish to do so, but are not required unless task-specific hazards require their use. For most cases, especially when others in the area are also wearing masks, a three-layer non-medical or medical/surgical mask is sufficient.
What happens if someone is not wearing a mask?
Mask wearing is a critical part of our multi-layer safety plan. We expect our Dal community to show understanding and compassion towards one another and continue to wear masks as a simple, effective way to keep one another safe and support our collective well-being.
Faculty, staff and students are asked to first address mask non-compliance with conversation and education. This includes asking a student or a colleague to wear a mask and assisting students or colleagues in managing disagreements about COVID-related protocols.
Students can be asked to leave class for not wearing a mask. Non-compliance with mask guidance may lead to consequences under the Code of Student Conduct or under the terms of their contracts of employment (including collective agreements).
What if people cannot hear me because I am wearing a mask while lecturing?
Those concerned about students not being able to hear properly if masks are worn can consult with classroom AV on what voice amplification options (e.g., microphones) are available in their classrooms.