During a typical school year, Dal instructor Jennifer Stamp likes to remind her students (in song) to check the syllabus if they have questions about course requirements and the like.

But this hasn't been a typical year, of course, and not everything can be found in the usual places — including a fun bonus assignment she created for her students late last month challenging them to create memes as a way to raise awareness about academic integrity ahead of exam season.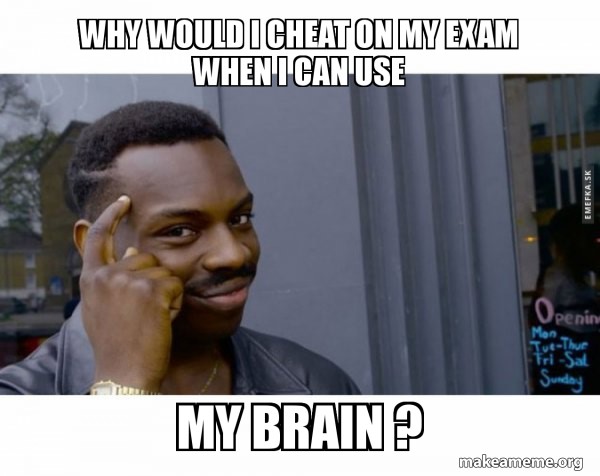 With courses wrapping up this week — and the last few weeks conducted remotely online — faculty and instructors such as Dr. Stamp are now set to embark on what will be yet another new experience for many of them: administering exams online. While moving course lectures and discussions online in short order presented its own set of challenges, figuring out how to properly assess student learning from afar can be even trickier given the absence of usual in-person oversight.

Dr. Stamp, a teaching fellow in Dal's Department of Psychology and Neuroscience, came up with up the meme assignment as a way to help counter some of the negativity around these worries and inject a bit of humour into an otherwise challenging situation.

"The students went bananas with it. Some of them are hilarious," she says.  "I always say Dal students are the best students. I'm not one bit surprised I got so many of these."
Better results through memes

Part of the popularity of memes — amusing digital content, typically a captioned picture, video or animation — is that they can be reinterpreted with different meanings as they spread across social media.

Students in Dr. Stamp's classes reimagined some well-known memes for the bonus assignment, including one based on the famous ad campaign for Dos Equis beer featuring actor Jonathan Goldsmith as 'The Most Interesting Man in the World'  (seen in main image on this article). The meme includes a picture of Goldsmith in a black pinstripe suit with accompanying text inspired by the original ad tagline that reads: "I don't always have to write exams online, but when I do, I follow Dal's academic integrity guidelines."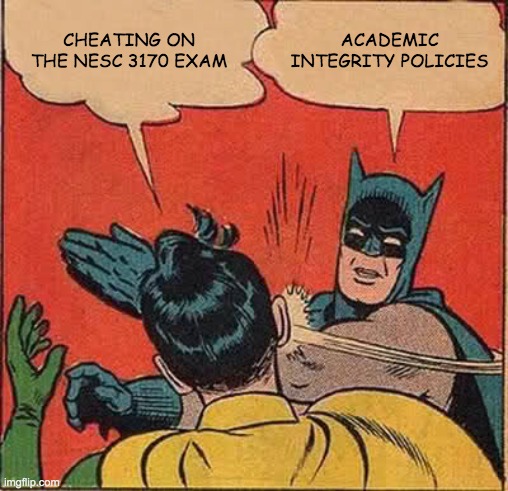 Dr. Stamp says she also took inspiration for the assignment from research that shows instructors get better results with online exams if they promote academic integrity rather than trying to police cheating.

"If you make somebody aware of their morals and that they are an honest person, it can actually go a long way to reduce cheating," she says, citing other social psychology research on self-awareness and honesty pledges as well.

A worthy cause

Worth a mere 0.25 per cent, Dr. Stamp's bonus assignment isn't exactly a game-changer for students looking to boost their final grade. But the enthusiasm they showed nonetheless has left her feeling pretty confident that her students take academic integrity seriously.

Jacob Branchflower, a student in Dr. Stamp's third-year Hormones and Behaviour class, submitted a variety of memes as part of the activity, including one based on a comic by Canadian animator Jake Clark depicting a superhero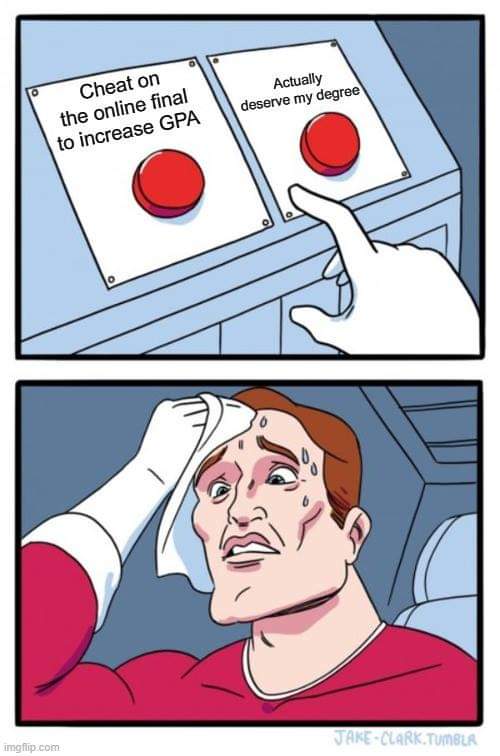 faced with a choice of two red buttons to push — 'Cheat on the online final to increase GPA' or 'Actually deserve my degree.'

"Dr. Stamp is an awesome professor who knows the best way to reach a community of students is to enlist the help of said students," he says. "I participated because it was a fun activity for a worthy cause."

In addition to hammering home the message around academic integrity, Dr. Stamp says she is focusing on creating exam questions that are more closely linked to the unique learning that happened in class rather than material that can be easily Googled.

"One of the things I do in my classes is give my students problems and we work on them through the term," she says. "So, a lot of the questions on the assessment will be 'well, what did we find out about this?'"