There's a lot for students to appreciate about living in residence. There's the built-in community, the all-you-can-eat dining, simplified living expenses, added safety and security. Then there's the convenience it offers students in getting to classes and squeezing the most out of campus life.

Of course, with most classes at Dalhousie being held online this fall, rolling out of bed and into class has become even easier for many students. And having a home base in residence from where to do so has remained an attractive option for students — albeit in more limited numbers than usual.
Capping capacity

Given the need to provide a safe experience for students this fall, residence capacity has been lowered this year compared to the usual. With four of Dal's residences closed and only single rooms available across all residences, Dal is expected to welcome around 800 students in Halifax and 40 students on the Agricultural Campus in Truro to residence this year instead of usual numbers closer to 2,300.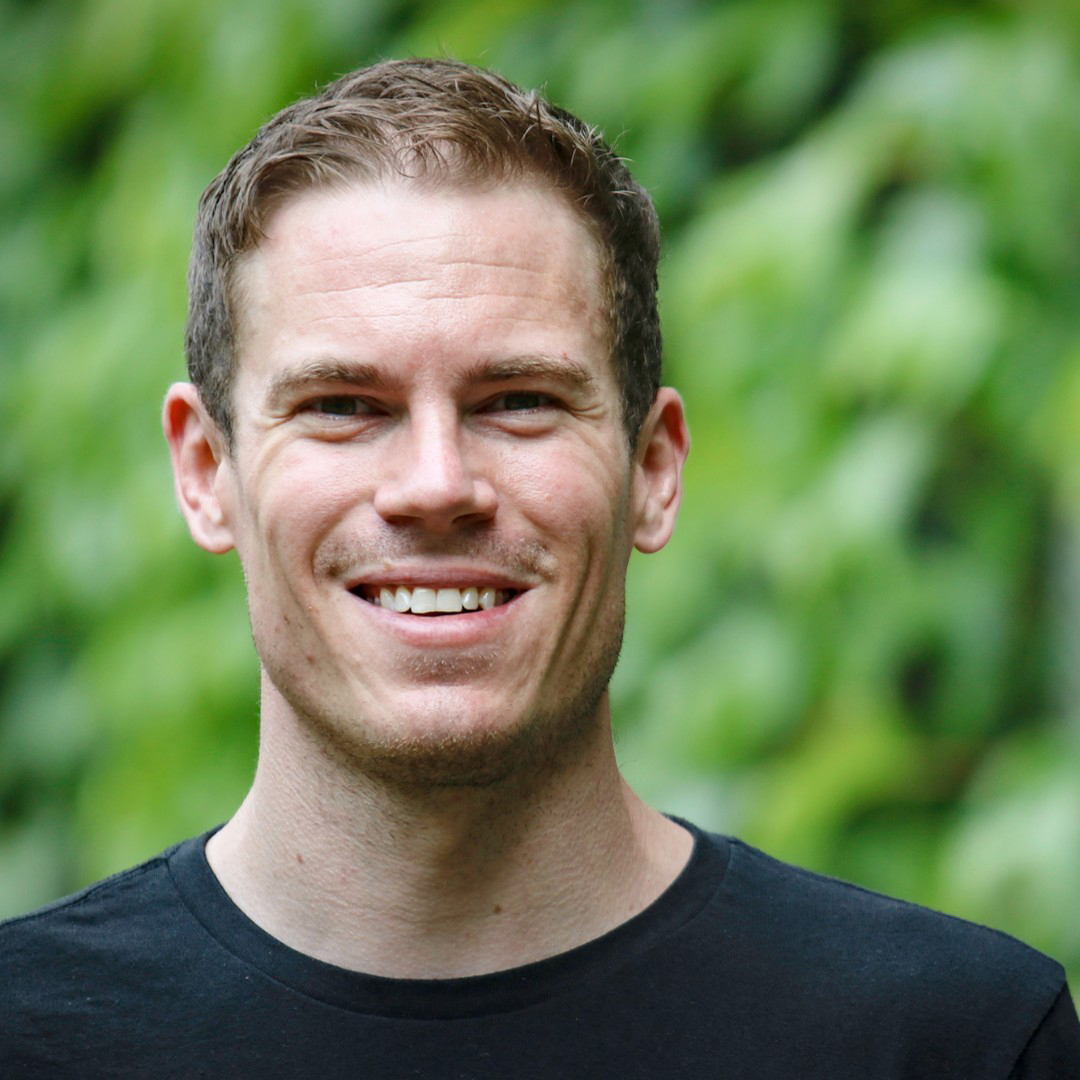 While residences will be a little quieter than usual, they'll still offer the same benefits of years past — all with an added focus on student health and well-being.

"We're so excited to welcome students into our residences this fall," says Jeff Wilson (shown right), director of Residence Life at Dal. "We know that some of them are feeling a bit of added stress this year due to the pandemic, so we're working even harder than usual to make sure residence is a safe, fun and relaxing space to live and spend time in."
Moving in

Move-in day for students is by appointment only this year, between Wednesday, Sept. 2 and Saturday, Sept. 5. All students are required to complete a "Before You Arrive" learning module, an online information-sharing tool that familiarizes students with what what to expect in residence, what to bring and how to schedule a move-in appointment.



File photo of students helping move into residence.

Each residence also has its own unique move-in process to help ensure the experience is as stress-free as possible. To ensure physical distancing and prevent clusters of people in buildings, students are allowed to have just one other individual or family member in the building to help with their move.

The university is offering accommodation in Howe Hall to students arriving from outside Atlantic Canada who wish to self-isolate on campus. Some students have already arrived on campus and are currently self-isolating. Others from outside the region may be self-isolating off campus ,and must complete that process before moving into residence.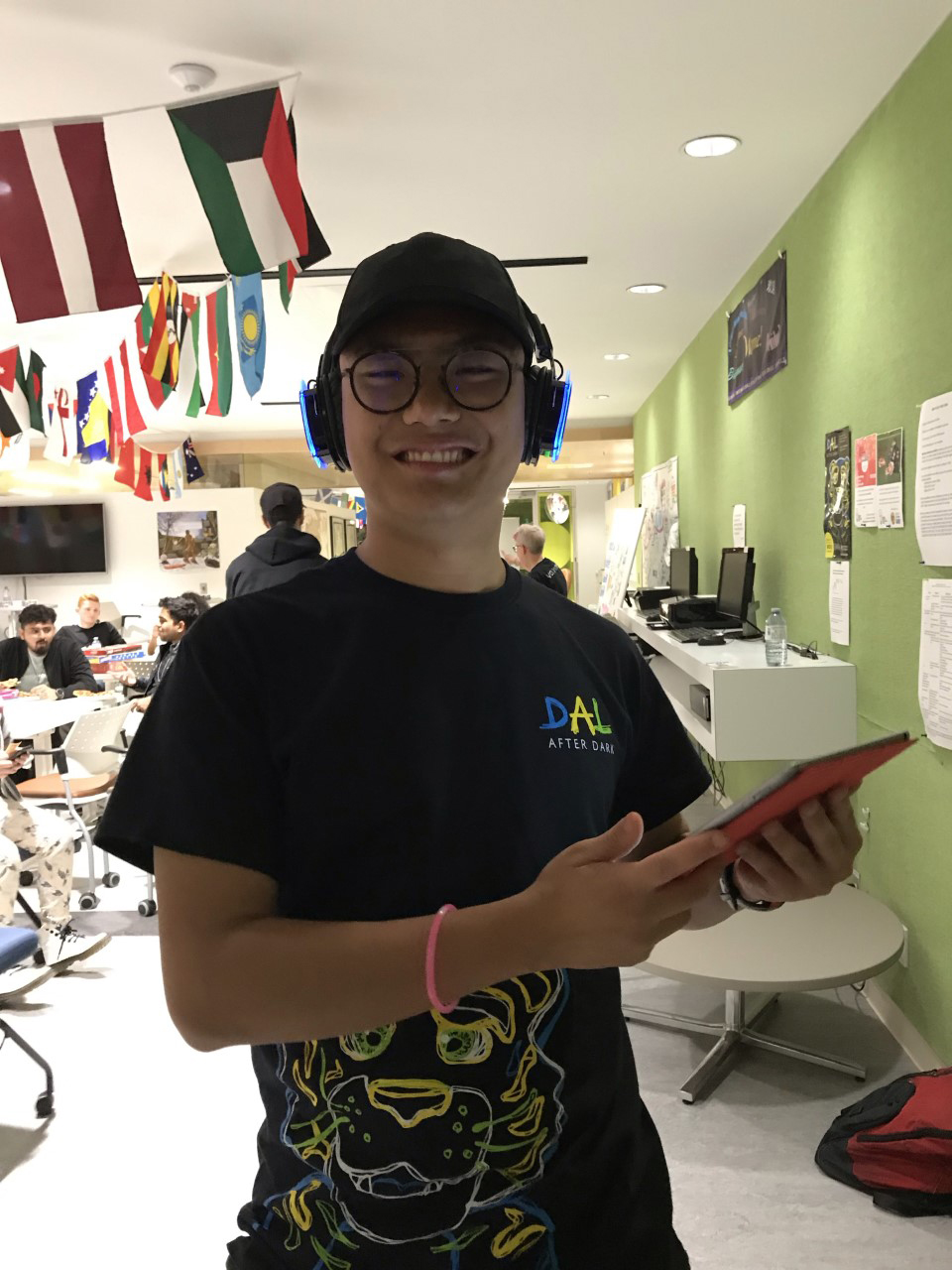 Risley Hall resident Yufan Wang (shown left), a fourth-year student from China who is pursuing a double major in History and Economics, has been volunteering this year to deliver food and groceries to students as they complete their self-isolation periods. Wang himself had to self-isolate when he returned to Dal earlier this summer and knows how much he valued having others help him out.

"I really appreciated it, and so I believe the best way to repay their kindness is to help more people who are in a similar situation to the one I was in," he says.
Learn more about Dal's residence move-in plans.
Getting involved, feeling supported
 
Residence staff have been busy developing programs and activities that will offer students a chance to get involved and socialize, while also staying safe.

Among the many individuals working hard to provide students with an engaging and exciting experience are Residence Assistants (RAs), who are helping plan virtual events with people's interests in mind and provide leadership and guidance for all. Residence Life staff have already hosted a series of onli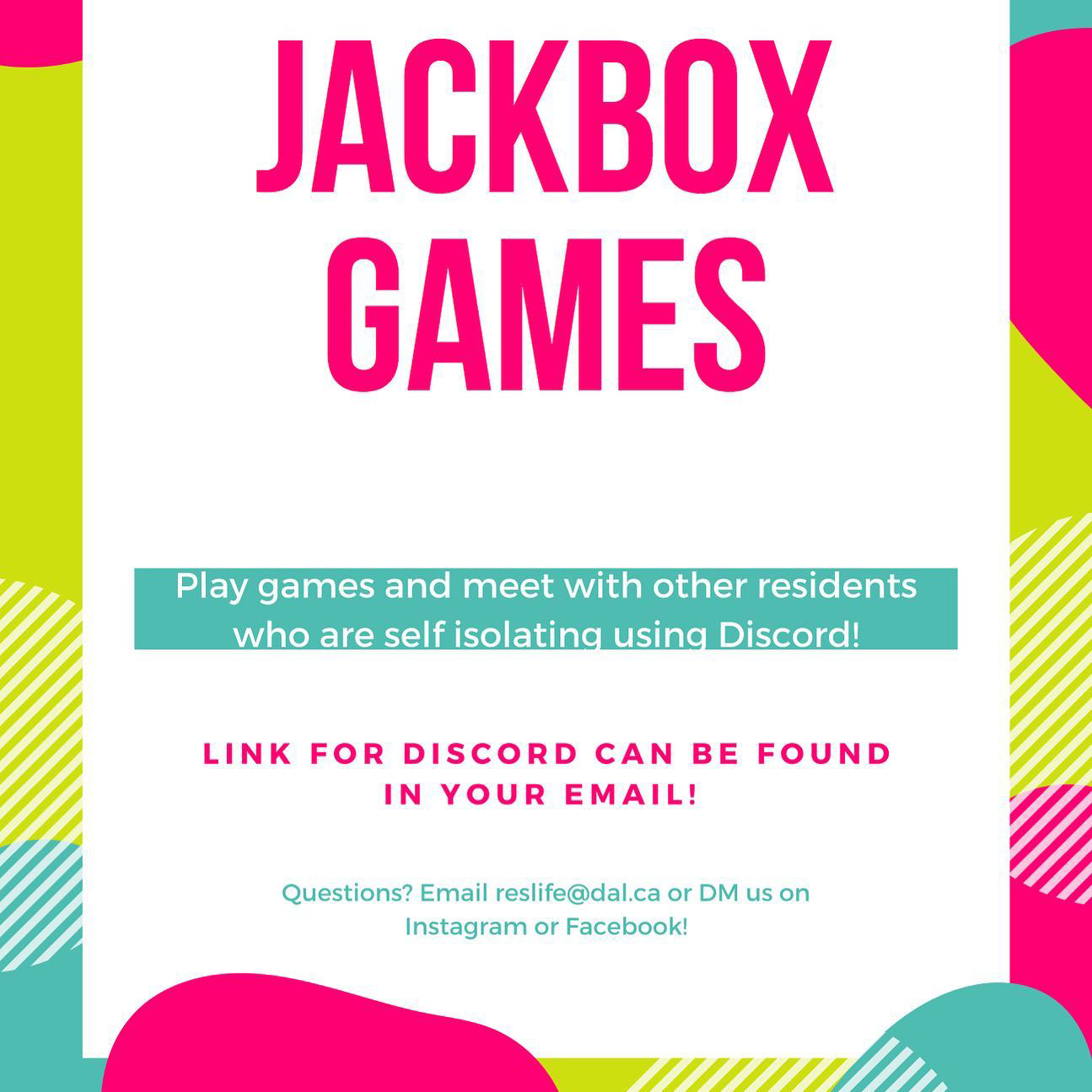 ne gatherings, including a games nights (ad shown on the right), to help students stay entertained and engaged while in self-isolation.

Alvanique Sands, a fourth-year Biology and Spanish student who is serving as an RA in Risley Hall, said she and other RAs will spend the first week introducing themselves and getting to know everyone a little bit.
"We're trying to gather as many topics and as much information from students as we can to find out what they're really interested in," she says. "Sometimes that might just be playing some games with others, or if people are just really interested in a show or movie, we could just host a virtual event where they could all watch that together and comment on it."

RAs are also on hand to provide added support for students. They are there to listen if students have something to report and to provide guidance to those who might need it. They are able to connect students with each other to other support staff on campus who can assist.

"We're trying to get students more connected, so that even if they can't see each other as much in person, they are working on similar things and help each other out. We can be our own support system."

Learn more about Residence Life and its activities on Facebook and Instagram.
Hanging out, getting around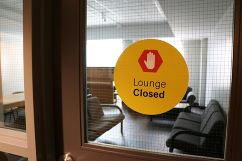 Meeting new people and spending time with friends are important elements of residence life. This year is no exception. What has changed, though, are some of the guidelines around where, when and what students can do with others in residence.

When it comes to individual rooms, students are permitted to have only one additional person in their room at a time. Guests from outside a student's residence are also not allowed for the month of September, with a reassessment of the rule to follow after the first month of term.

While Dal's residence lounges will be closed for casual drop-ins this year, they will be open during some supervised events. Masks must be worn by all students at all times outside their rooms, just as is required for staff in the residences. Students are also required to respect physical distancing, pay attention to signage, and follow directions given by residence staff when moving through common areas or in bathrooms.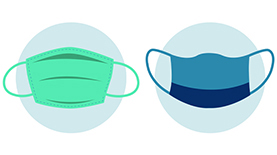 As an added safety precaution, Dal has also implemented a substance-free approach to residence this fall. Alcohol and cannabis are not allowed in any residences at any time during the month of September, with a reassessment about future months to follow. Those with a prescription for medical-use cannabis are being asked to contact the university for permission.

Find out more about the latest residence protocols.
Enjoying a nutritious meal

One of the most convenient aspects of living in residence is having easy access to delicious and healthy food in Dal's dining halls.

Dining halls in Halifax are being assigned to students based on what residence they reside in. Students will have to stick to their own dining all throughout the year. The two dining halls open for students on the Halifax campus this fall are:
Shirreff Hall — for the exclusive use by residents of that building; and

Howe Hall — which will serve residents of Risley Hall, LeMarchant Place and all other Halifax properties.
All students on the Ag Campus in Truro eat at Jenkins Hall (shown below), the campus' only meal hall.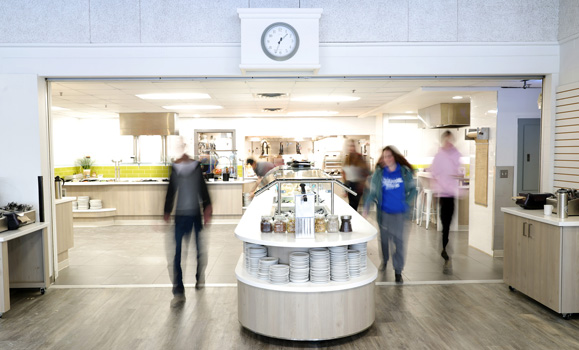 As usual, Dal's dining halls will offer a wide variety of food options to suit a wide variety of tastes and dietary needs. Menus change daily and nutritional information is provided at each food station. If desired, students can even book an in-house dietician to create a meal plan to cater to individual needs.

Learn more about dining at Dal.
Ensuring a safe, clean environment for all

As in other buildings around campus, Dal's Custodial Services teams in residences are working hard to ensure sanitized, safe spaces for all students. That means frequent cleaning and disinfecting of high-touch surfaces in common areas, including doorknobs, light switches, handrails, bathrooms and more.

Specific cleaning procedures in residences are as follows:

    Lobby – three times per day, with particular attention given to high- touch areas
    Elevators – three times per day
    Washrooms – Daily, with all touch points re-cleaned in the afternoon
    Hallways – Daily, with all touch points cleaned on occupied floors
    Showers – Touch points done daily and debris removed, full cleaning every second day
    Kitchens – Daily, with all touch points re-cleaned in the afternoon

Custodians use a non-toxic ozonated water disinfectant — considered highly effective — to ensure proper sanitization.
Finally, the university has a strong plan in place for self-isolation if a student in residence becomes ill during the school year. This plan has been approved by the office of Nova Scotia's Chief Medical Officer of Health and follows guidelines recommended by public health officials in the province.