As a Cadet Instructor Cadre Officer with the Canadian Forces, Nursing student Joel Misson volunteers 3-4 hours, twice a week to instruct cadets in Lower Sackville. He does it because he believes that his time as a cadet is what set him up for success in life.

"We teach them things like leadership, instructional technique, sailing, rope work, a lot of good things you can use in difficult situations," he says. "In my opinion, I wouldn't be where I am today without that program."

Though currently in his second year of the three-year Direct-Entry Nursing program at Dalhousie, Joel's path to this point hasn't been very direct. What has been unwavering is his concern for the well-being of others.

A chain reaction of opportunities

Joel is also a volunteer firefighter at Station 4 in Halifax where he works with others to cover the station when the career firefighters are out on call. Though his busy life as a student could present an obstacle, Joel takes his commitment seriously.

"I got two calls during my midterm today," he says. "I couldn't respond then, but our duty is to respond as much as we can. As I live close by, I'm currently training to be a lieutenant, so I'll be in charge when I'm first on scene."

Joel says his interest in firefighting and nursing are connected by his experience in a traffic collision. "I got rear ended and was treated by some firefighters," he explains. "That started me on the path of becoming a volunteer firefighter and through that program, I got involved with First Responders."

Joel got a job as First Responder up in Labrador, working on the Muskrat Falls project. For a year and a half, he worked as one of two First Responders, along with a nurse, and a doctor who flew in once a week.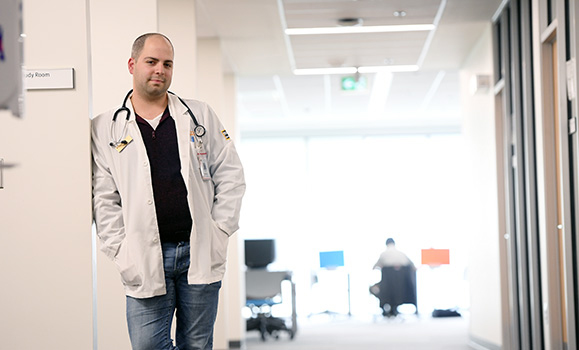 "We were basically the only health-care system around for three and a half hours," he explains. "I did that for a year and a half and decided I wanted to expand my knowledge and do a bit more with it."

So, he decided to come to Dalhousie because he likes Halifax and knew a lot of people who had gone through the Nursing program. As he says, "It turns out some really great nurses."

Setting up for success

Though he had completed a carpentry diploma after high school, none of those courses would count for admission at Dal so, at 25 years of age, he found himself taking remedial courses to upgrade his high school results. He applied to the program as a Direct Entry student (for those coming direct from high school or who don't have the required prerequisites).

Out of all the applicants for the very competitive program, Joel was successful.

Now one of about 96 students in his year of the program, Joel is working through a variety of courses that cover everything from hygiene practices to medical ethics. The program consists of eight semesters over a three-year period.

"They've changed the curriculum, so that's the new norm now," explains Joel. "It's a lot of work. Your first year you're basically in school for a full 11 months. You get a couple weeks off between exams. Once we start the second-year courses, we get the months of August, December and April off, so it does give us a little leeway."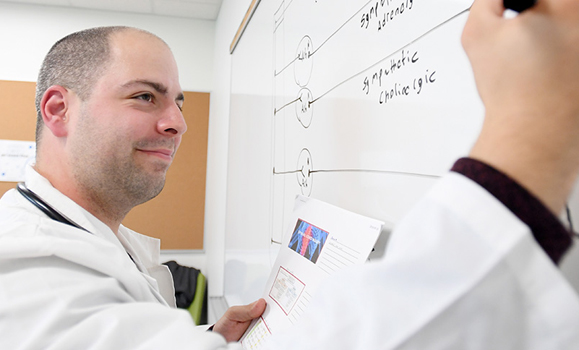 Working with others

Joel says the clinical experiences are the highlight of the program. He was first able to put his learning into practice at the end of first year in a senior care facility where he worked with licensed practical nurses and registered nurses.

"All the stress that I went through getting to that point was all worth it once I was able to care for somebody," he says. "It made it all so worthwhile."
 
Joel has also just completed his first interprofessional event — an orthopedic simulation where he teamed up with four nurses, two doctors and two respiratory therapists. His preparation involved a lot of reading up on different medication and how to treat patients with the condition. Joel says the experience is invaluable.

"With other schools, they spend a lot of time in their own program and then they try to readjust once they go into the clinical experience," he says. "Here, we get a bit of practice with communicating and working together before we get in there. So, we have a bit of a head start."

Complex role

Even though his previous experiences gave Joel a pretty good idea about what to expect when he got into the program, the thing that continues to amaze him is just how much nurses do.

"It's absolutely mind boggling how much information you need to have and be able to call on when you need it," he explains. "We spend a lot of time learning that information but when you get a chance to apply it critically in a situation, that's pretty cool."