Universities like Dalhousie have long histories — 200 years, in Dal's case — but they're also a place of constant change. Every year, there are new faculty, new staff and hundreds of new students who all change the face of the university as they walk through the doors of the campus's buildings.
And sometimes, those doors themselves are new, too.
Indeed, there's not a year that goes by without a significant portion of the university getting a makeover in one way or another. Sometimes, this is through capital improvement or maintenance projects — taking existing spaces and making them work better to meet the needs of today's students, faculty and staff. Last year, for example, Dal completed $2.8M in upgrades to teaching and learning spaces in equipment and $4.2M in renovations for research labs and equipment.
But sometimes, the needs of the Dal community stretch beyond what an existing space can provide. In these cases, a major capital project — like a new building, or significant renovation or expansion of an existing one — may be required. While improvement or maintenance projects are funded by a variety of sources (including the operating budget), major capital projects typically require fundraising efforts, government contributions or loans to finance their construction. But in providing new facilities to a 200-year-old institution, they can make a huge impact in the lives of students, researchers and the entire Dal community.
This year is noteworthy for the number of projects that are concluding or getting underway, making for a number of new or renovated spaces on campus as September hits full swing. Here's a quick overview of some of them.
Sexton Campus: Emera IDEA Building, Design Building and more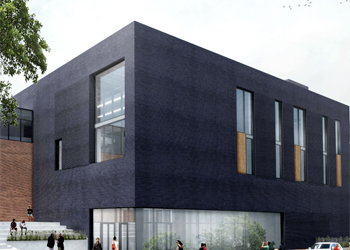 Dal's downtown campus — home to the Faculties of Engineering and Architecture & Planning — is undergoing its most significant transformation in decades.
The IDEA project is a historic, $64-million historic transformation of Dal's downtown Sexton Campus that sets a new standard for engineering, architecture and planning education. It adds advanced technology and design labs, state-of-the-art engineering facilities, and modern teaching and learning spaces. It will also introduce cutting-edge incubation space to better link students and faculty to industry and entrepreneurs — right in the heart of the city's emerging innovation district.
At the core of the project is two new buildings: the Emera IDEA Building (adjacent to buildings C and C1) and the Design Building (on Morris Street adjacent to Morroy). The Emera IDEA Building houses workshops and prototyping labs for the Faculty of Engineering, and innovation studios focusing on hardware-based entrepreneurship. The Design Building includes a 450-seat auditorium, a design commons featuring numerous bookable meeting rooms, and studio space for the Faculty of Architecture & Planning.  
Students are getting their first looks at the IDEA Project spaces as they return to campus, with a formal opening celebration scheduled for later in the term.
Dalplex Fitness Centre expansion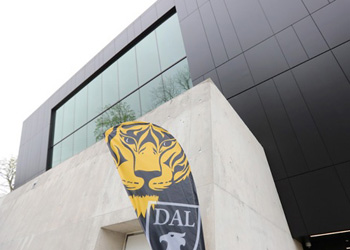 Students who have been away for the summer are also getting their first look at the new Dalplex expansion, which opened its doors in May.
The $23.3M fitness centre is a 57,000-foot addition to Dal's fitness and recreation facilities. It includes one of the largest cardio and strength-training rooms in Halifax, beautiful new multipurpose fitness rooms, new lockers and change room facilities, and creates a bright, welcoming entrance to Dalplex as a whole.
And it's not the only thing that's new at Dalplex: the fieldhouse has undergone a complete refinishing of its floor, and for the first time in years its entire courtspace is available for activities.
Read more about the new Dalplex addition in our Dal News feature from May. (Oh, and don't forget Sexton campus: its gym is undergoing a renovation of its own — with a focus on cardio/strength equipment and multipurpose space as well — scheduled to be completed later this year.)
Ag Campus – MacRae Library Learning Commons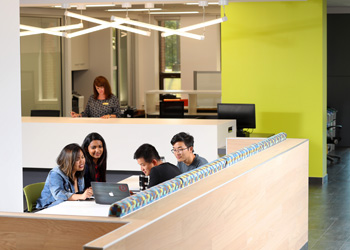 The newest Dal Libraries space, the MacRae Library's beautiful Student Learning Commons has been built on the library's top floor. Everything about the space has been designed to give students a place to study, hang out and relax. There's a self-serve café, bookable study and program rooms (and a meeting room with video conferencing), offices for the Dalhousie Agricultural Students Association, a quiet meditation/prayer room with nearby ablution station and a gender-neutral washroom. The space will also house a mural (soon to be re-installed) by the Ag Campus's own Art Stevens.
Dentistry Clinic renewal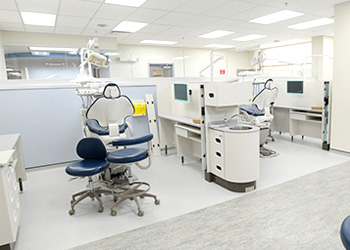 For the past three years, the clinics and classroom spaces in Dal's Dentistry Building have been given a complete refresh — upgrades to allow Dal's Faculty of Dentistry to continue to offer both exemplary service to its community and delivery excellent research, education and training at the highest level. While some of the new spaces were completed last year, the full $27.6M renewal will be celebrated at a grand re-opening ceremony during Homecoming this year.
Ag Campus Biomass Thermal Plant Upgrade

The Ag Campus's existing biomass thermal plant has been in use for close to 25 years, nearing the end of its useful life. Dal has been working on a $24M project to upgrade the current building with a new biomass power boiler and generator — one that will create electricity (up to 1 MW), use waste heat from electricity production to heat the campus, and produce 30% less thermal energy by converting the distribution system to hot water. Look for more on this project later this fall.
Steele Ocean Sciences Building – upper floors

Nearly 6,000 square feet — previously unoccupied — in the Steele Ocean Sciences Building has recently been transformed into new science labs, offices and meeting spaces. Read more about this work in this June 2018 Dal News article.
Classroom renovations

Dalhousie's largest classroom, Ondaatje Hall in the Marion McCain building has brand new seats for this year's students. Later in the fall the acoustic panels in the back of the auditorium will be getting a colourful facelift.
Several rooms in the Weldon Law Building also have a fresh look. Two smaller areas have been merged to make one 80-seat classroom, and an underutilized space is now a 20-25 person collaborative area with shared monitors. Several other rooms in Weldon law were also upgraded over the summer.
The award for biggest makeover of the year goes to HA-19, the tiered classroom in the Medjuck Building on Sexton Campus, part of the Architecture and Planning Faculty. The formerly dark auditorium has been completely redone, with new lighting, mechanical systems, seating and fresh new paint. It is also now fully accessible.
Looking ahead

Though there are a number of major capital projects wrapping up this year, there are others that are just getting started. For example:
An expansion to the Dalhousie Arts Centre, including a new 300-seat concert hall, new rehearsal space and space for the Costume Studies program.
A proposed renewal of the thermal plant on Dal's Halifax campuses (pending Board approval).
To learn more about campus development, visit the Dalhousie Facilities Management website.