Construction crews have recently completed fitting up the previously unoccupied portion of the third floor of the Steele Ocean Sciences Building, converting nearly 6,000 square feet into new science labs, offices and meeting space.

The facilities, financed through the Canada First Research Excellence Fund grant awarded to the Ocean Frontier Institute (OFI), will serve as OFI's headquarters for administrative staff and visiting fellows, and as a Dalhousie home for the Institute for Ocean Research Enterprise. Dal's new AVP of Research (Ocean) Anya Waite will make the new space her home when she begins her job in September, and the numerous and well-equipped meeting rooms will support collaboration within the OFI community.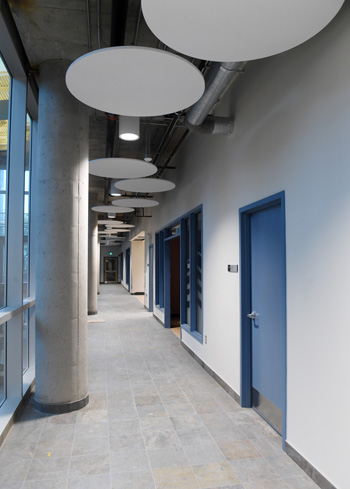 "These are facilities intended to advance ocean learning," says Dan Jackson, OFI's chief operating officer. "While the bulk of OFI's funding is used to support research activities, we're also strengthening the infrastructure and facilities ocean scientists require. I'm sure it will get lots of use."
Bells and whistles

The space includes:
A 1,100 square-foot marine geosciences lab
A 32-seat meeting room, with full video conferencing abilities
Two smaller meeting rooms (8 and 12 seats)
A kitchenette and 12-seat lunchroom, which will also serve as a meeting room

The new construction is a milestone in completing the vision for the Steele Ocean Sciences building (SOSB) which opened five years ago to support researchers in their work to discover innovative solutions to ocean-related issues. The SOSB houses part of the Aquatron (the largest university aquatic research facility in Canada), the Canada Excellence Research Chair for Ocean Science and Technology laboratory, and the headquarters of the Ocean Tracking Network and the Marine Environmental Observation Prediction and Response Network. 

What's up with the fourth floor?

Construction continues on the SOSB's fourth floor, which is being modified to include shared research laboratories to support OFI research, fully equipped with incubators, freezers, chemical storage, fume hoods, a glassware washer and sterilizer, and multiple benches and microscope rooms. The labs will be open-concept style, allowing the work space to support future growth in OFI research. In addition, construction plans call for opening the pedestrian bridges that link the SOSB with the Life Sciences Centre's Oceanography tower. This work is expected to be completed by late Fall 2018.

"Dal has built a strong reputation as a leader in ocean studies, science, and innovation and our new facilities further our objective to attract the best and brightest to work — and study — here," adds Dr. Jackson.   
CHECK IT OUT IN PERSON

Take a tour of the newly constructed third floor of the Steele Ocean Sciences Building, home to the Ocean Frontier Institute (OFI). From 10 am to 11 am on Friday, June 8 — which is also World Ocean Day — OFI will be opening up its doors to let the Dal community check out the new office and meeting space and labs. Coffee and light breakfast snacks served.