The first thing that's striking when you enter the Dalplex fitness centre expansion, via the new entrance below South Street, is the light — natural, bright, beaming.

Those aren't adjectives that even the most generous wordsmith would have traditionally attributed to Dalplex. Though the original Dalplex space has served the university and local communities well across nearly four decades, much of it reflects the architecture of its time: stony, brutalist, a little cold (except, of course, during the summer months, when everything has tended to feel hot in there).

And that's the thing about Dalplex: for its time, it was a transformative facility, a revolution in fitness and recreation on campus. (It even won a merit award as one of the most outstanding new athletics buildings in North America.) But times have changed, and so has the Dal community.

"When Dalplex originally opened in 1979, Dal's student enrolment was less than half of what it is now," says Tim Maloney, executive director of athletics and recreation at Dalhousie. "Just from a sheer numbers perspective, we haven't had the capacity to properly serve our student population — or our community members, for that matter — in quite some time."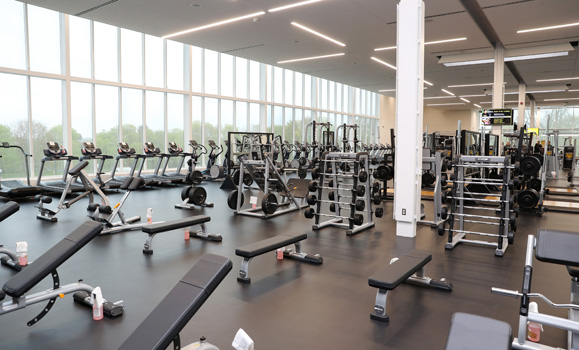 That's about to change with the official opening of the new Dalplex fitness centre. It's a $23.3-million addition to Dal's recreation and fitness facilities that features one of the largest cardio and strength-training rooms in Halifax, beautiful new multipurpose fitness rooms, new lockers and change room facilities, and creates a bright, welcoming entrance to Dalplex as a whole. Oh… and did we mention everything is climate controlled?
Read also: Fit and ready: New $23-million Dalplex fitness centre opens

But the Dalplex fitness centre represents much more than just its listing of features. It's about empowering students to make physical health and overall wellness a key part of their university experience — without having to go off-campus to do so. It's a facility built by listening to what students, faculty/staff and community members have been asking for, and will allow for a whole new slate of accessible programming that matches their interests and needs better than ever before. And it's about to revolutionize fitness and recreation at Dalhousie all over again.

State-of-the-art cardio on campus

After first taking in the natural lighting, visitors to the fitness centre will walk past three new change rooms: one for men, one for women, and one for everyone. Each of these has increased privacy compared to the old Dalplex locker rooms, as well as increased accessibility. Additionally, the entire length of the building has bench seating, complete with places for visitors to charge their devices while waiting for others or just sitting to take a breather after a workout.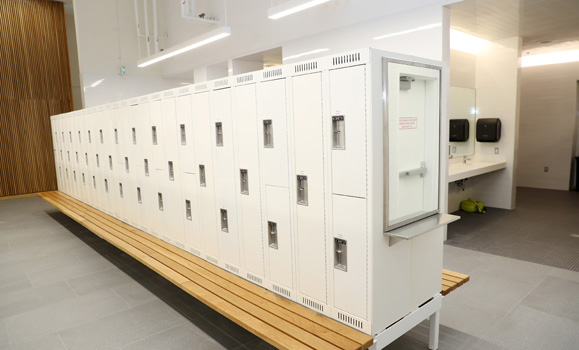 At the end of the hallway, you can turn right and connect directly to the rest of Dalplex and its various facilities (the fieldhouse courts, pool, racquet sport courts, climbing wall and more). Turn left, though, and up the stairs or elevator, and you'll find the main attractions of the new Dalplex fitness centre.

First: the fitness hall. Full of natural light, the 13,000-sq-ft space is set up overlooking South Street on one side (with great views of the Hicks Building and Wickwire Field) and Halifax's Northwest Arm on the other. Nearly all of the equipment is brand new, and there's about three times as much of it —  74 pieces of brand new cardio equipment, plus more than 150 new pieces of strength-training equipment.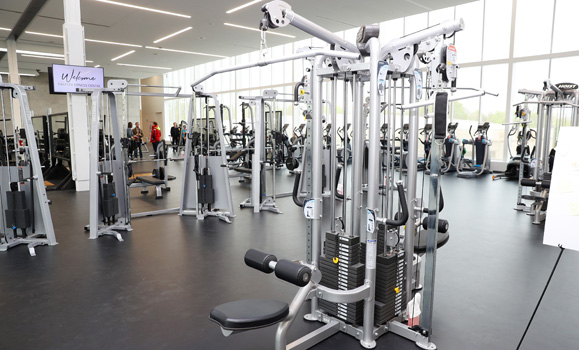 "We're way better equipped to meet traffic at peak times," says Maloney. "That means less waiting, more space, more freedom, more comfort as you work out."

The equipment is also leased, not purchased, which means users can expect to see machines replaced regularly (at least once every three years) and change based on user demand. And the new location means machines and equipment will be available whenever Dalplex is open, no longer affected by fieldhouse schedules for special events or student exams.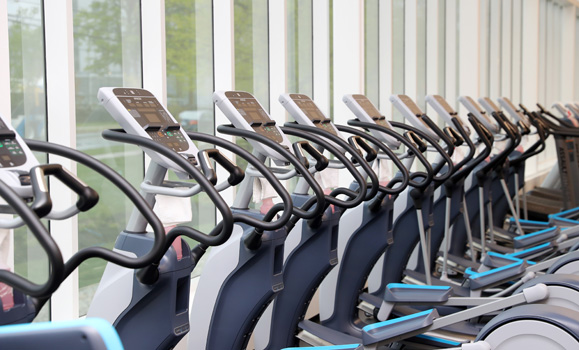 "When the strength-training equipment was at the fieldhouse, exams meant there was nearly a whole month, twice a year, at which we didn't have those facilities available — at a time when staying active is so important for students," says Kathie Wheadon, director of facilities and business services. "Now, during exams, the strength training continues uninterrupted; fitness classes, too."

A welcoming way to work out

Those fitness classes will have new homes at the Dalplex fitness centre: four multipurpose fitness rooms, two of which have a capacity of about 60 people per class, the others about 20-25. The technology equipped spaces will host yoga classes, group workouts, fitness seminars, group presentations and lots more. Students and community members can expect not just new fitness programs this fall, but more diversified offerings and much greater program flexibility.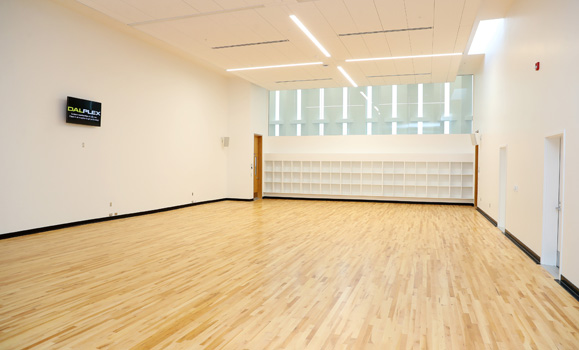 Back on the lower floor, you'll also the high performance centre — a place for varsity athletes or other groups (sport clubs, fitness clubs, etc.) to get a more focused, intense workout without displacing other Dalplex members in the fitness hall.

"Being able to have our entire team training, all at the same time, makes it more enjoyable and helps us push each other to be our best," says Courtney Baker, who'll start her fourth year as a Kinesiology student and as a member of the AUS-champion Tigers women's volleyball team this fall. She got her first look at the facility at Friday's opening. Her reaction: "I'm so impressed. It turned out really well."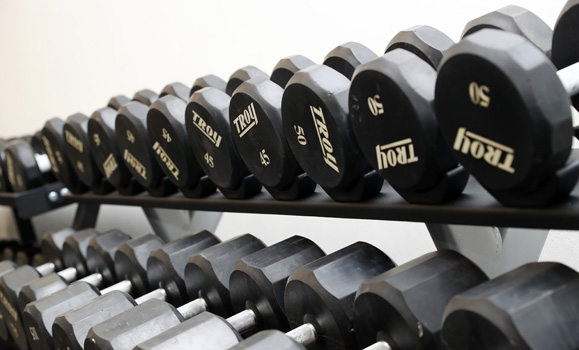 And everything in the facility is climate controlled, making it a marked improvement from many of the spaces that housed similar equipment in the traditional Dalplex facility.

"It's a much more comfortable, welcoming space to work out in, all around," says Wheadon.

That word — "welcoming" — says it all. The Dalplex fitness centre genuinely feels like an invitation. With the space to deliver the sort of first-rate health-and-wellness experience students expect, while continuing to be an important service to Dal's Halifax community, Dalplex is poised to introduce a lot more people to the power of healthy living in the coming months and years thanks to the new facility.

Not that the regulars aren't excited, too — Carolyn Watters, Dal's provost, for example, who's a devoted Dalplex member.

"I go every morning to Dalplex, and I know its 'eccentricities' and its 'charm,'" she says. "So I'm supercharged to get into the new facilities, especially the great new fitness hall and studio spaces for my Wednesday morning early workout class."

Addressing student needs

Dr. Watters adds that she'll still be a regular user of the pool. Indeed, not only will Dalplex's pre-existing facilities stay in operation with the new fitness centre now open, they'll be improved too. The fieldhouse, for example, is currently undergoing a complete refinishing of its floor, and the fitness centre's new facilities means for the first time in years, its entire courtspace will now be available for activities.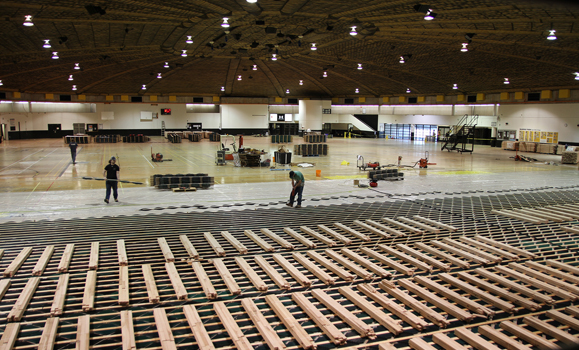 "It will really increase our capacity to serve our students through spectator court-based sports, intramural and clubs," says Maloney.

These changes are part of a broader revitalization of campus fitness and recreation facilities that includes Sexton Campus. Sexton Gym is about to undergo a renovation of its own, similarly focused on increasing access to cardio, strength and conditioning equipment as well as providing more multipurpose fitness space. Those renovations are expected to get underway this summer with a targeted completion by the end of 2018.  

Why the focus on fitness and recreation facilities at this particular point in time? Well, in part, it's been a long time coming — for all the new construction Dalhousie has seen over the past 20 years, none of it has included athletics and recreation facilities (the addition of new turf to Wickwire Field excepted). As time went by, students voiced dissatisfaction with Dal's fitness and recreation facilities in several ways, including in the National Survey of Student Engagement (NSSE) — from 2002-2011, their satisfaction with Dal's fitness offerings decreased by 20 per cent, while students at Dal's peer universities saw their satisfaction ratings increase by 16.5 per cent during the same time period.

"When you think about student recruitment, strategic enrolment — there's a lot that happens outside the classroom that impacts those decisions," says Maloney. "And that includes how they can integrate a healthy lifestyle into their student experience more broadly."

It wasn't just that Dal's facilities were aging — it's that they were designed for an entirely different fitness universe, one that didn't really include the sort of modern workout or fitness classes students seek out in 2018.

"When Dalplex opened, there was no cardio equipment there," says Wheadon, offering just one example. "The only treadmills you found on campus were in research labs. The demand for an indoor workout has really changed."

That's why a new fitness facility has been part of Dal's Campus Master Plan since 2010, and why student leaders, in 2011, supported a new fee of $180 for full-time Halifax students ($90 in each of the fall and winter terms) to fund the new facility and other fitness and recreation enhancements on campus. The fee, which will be implemented starting this fall, will also enable full-time students to use Dalplex year-round without an extra summer membership fee.

An exciting time for health and wellness

Students have also had a crucial voice in developing the new facility, alongside community members, faculty/staff and others. Throughout the lengthy, multi-phased consultation process, there were common themes that emerged: better weight and cardio rooms, light-filled studios, multipurpose fitness space. Those formed the core of the designs for the $23.3-million fitness centre, which is targeted LEED Gold in terms of its sustainability features. Community input also shaped the design of the building, in particular the glass that allows for a street view of activity inside the building.

Aaron Prosper, the current DSU president, has a unique relationship to Dalplex: he's not only a user of the facility, as a student, but also a staff member. (He's worked as a lifeguard at the Dalplex pool since starting his studies at the university).
 
He sees the benefits of the new space for students — not just in physical health, but in "the connections between physical activity, mental health and school success… the promotion of healthy, active lifestyles." But he also recognizes the important role Dalplex plays in the community.
 
"This is a great opportunity to form even closer bonds with the community around Dal," he says. "I know a lot of people are drawn to the area because of the Dalplex, because of what it offers and the different programming. Now, you have this new, fresh space that is a lot more inclusive. It will be accessible to many more people."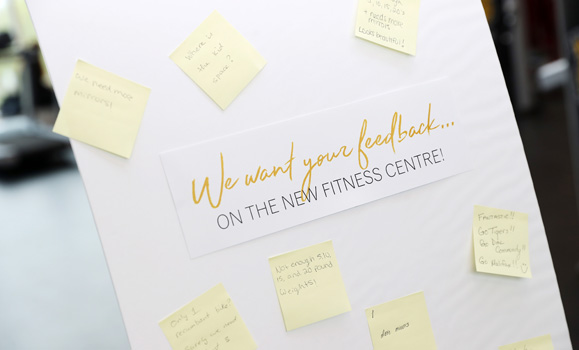 The doors to that more inclusive, accessible building are now open, but for those students set to return to campus this fall — not to mention those arriving on campus for the first time —September will present them with an exciting new space to make their own.

"I'm really excited for those students to come back and see what Dalplex is like — from the new fitness centre to the fieldhouse renovation," says Maloney. "There's going to be a massive 'wow' factor, and how we deliver programming is going to be better and keep getting better as the weeks and months go by."
More on the new fitness centre