When Commerce student Adeline Urban arrived on campus last September, Dal was her final stop on a cross-country adventure.
"I travelled by vehicle from BC," she explains. "I stopped in North Bay, Ontario to visit family but without that piece it was probably a six-day driving trip. I brought my three animals with me. My poor cat didn't do well so I left him with family in Ontario."
Now that she's settled in Halifax, Adeline is excited to add a new degree to her resumé. She's feels studying Commerce will open up several new opportunities.
"I've had a couple career changes and during one of those changes, I worked in Accounting," she says. "But I only have a diploma in Accounting so this is my chance to get the full degree and learn some new things because I'm sure things have changed."
Exploring possibilities

Adeline sees the possibility of combining her new skills & knowledge with her previously earned bachelor and master's degrees in Social Work through an idea she has for opening her own business.
"I've always wanted to have a business with sensory deprivation tanks," she says. "There are a number of great benefits for not only your body but your mental health as well. My career before this was Social Work so it kind of goes along the same lines but with a different twist."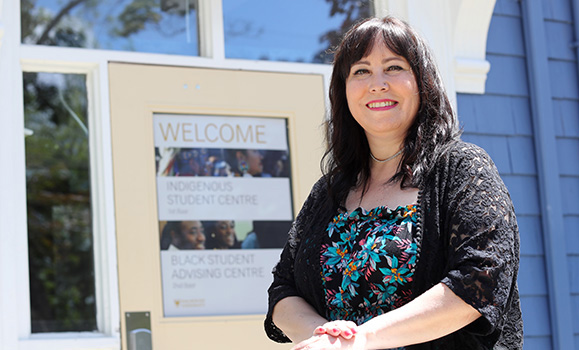 In addition to the adventure of a cross-country move and a few career changes, Adeline has also been on a personal journey of discovery. Though she was born in the Cree community of Horse Lake, Alberta, Adeline was adopted by a non-Indigenous family in British Columbia. It wasn't until she was an adult that she began connecting with her First Nations family and embracing her culture.
"It's hard because history is history," she says. "I'm proud of the fact that my great grandfather was a chief. But I didn't grow up with the culture. It's hard to find your footing because so many people grew up with their families in that culture — it's like being on the outside looking in. But just knowing where I come from and continuing to educate myself, that's a strength in itself."
Getting involved

Fortunately, Adeline has been able to continue exploring her heritage here at Dal. She learned of the Indigenous Student Centre before she came and is glad she decided to drop by and find out more. She regularly goes to the centre to find a quiet study space and occasionally to get help from a tutor.
"It was intimidating coming into a new place but Michelle [Graveline, the Indigenous student advisor] was so welcoming and warm and such a good advisor — I think that really makes the space."
Recently, Adeline has been taking part in traditional smudging, which uses the smoke from sage bundles to cleanse and purify a person or space. She's grateful the centre provides these connections to the Indigenous community because they're crucial to reclaiming her heritage. As she says, "listening to the Elders is how you learn."
Adeline is currently on the Mawio'mi committee for this year's gathering. The 9th Annual Mawio'mi takes place on October 11 and includes a sharing of Mi'kmaq food, dance and drumming to mark a coming together of community and an opportunity for both celebration and healing.
"The centre has been a great way for me to get more involved in the community," Adeline says of her experience. "In addition to volunteer opportunities, the centre has introduced me to other Indigenous students, which is nice because we often have things in common. Because we're all students, we're all welcome here."
Finding community

With all the new students arriving on campus, Adeline can't help but think about her first days at Dal and how important it was to her to find a sense of community.
"When I first got here, I participated in the Community Day activities. That kind of gave me a little bit of something familiar because I'd been pretty involved in the community at home. It also opened the door for me to become involved with the volunteer tax clinic provided by BComm accounting students here at Dal.
"I think the sense of connection needs to come from finding your community and then it grows — as you attend activities and volunteer it continues to grow."