It was over a year ago that Acting student Andrew Chen auditioned for the Dalhousie Originals project. He believes he's learned a lot since then.
For one thing, Andrew admits that he struggled with perfectionism for most of his second year. He's since discovered that being perfect isn't something to strive for.
"Acting isn't perfect," he says. "I don't think it can be because acting is about humanity and people aren't perfect. So, I think the flaws you expose on stage are part of the craft. Trying so hard to be perfect got in my way."
Room to grow

Andrew credits his change in perspective to the structure of Dal's Theatre program. He says it allows people to find their own truth when it comes to acting.
"They're not trying to make you a Fountain School of Performing Arts actor, they're just trying to make you a good actor. So, we get to learn dance, movement and voice and then incorporate them, the way we want, into what we do."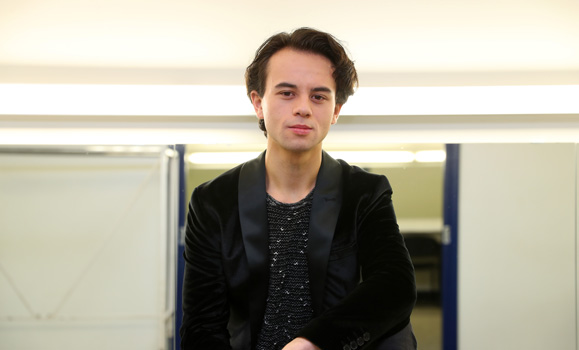 That chance to put the theory into practice is the reason acting classes are his favourite. "You get to live the technique through the acting classes. They bring it all together. When you step into the studio and use the techniques you've been learning it's very powerful."
This shift in outlook correlate with Andrew becoming more involved on campus. He's started working at the Dal Bookstore and he cohosts the social media feature Dal This Week. He's also recently been cast in two roles in the upcoming play The Piper, written by Colleen Murphy and directed by Pamela Halstead.
Classic approach

One of the main reasons Andrew chose to pursue Theatre at Dalhousie's Fountain School of Performing Arts was the opportunity to add classical methods to his repertoire.  He'd explored contemporary work before coming to Dal but feels classical theories and systems provide a good foundation for progressing as an artist.
He feels strongly about the importance of creativity and free expression and sees his skill development as a way of ensuring it continues. "With what is going on in the world today, people need to be able to express themselves and feel free to have a creative background — to push for change."
Ultimately, he'd like to take the classical training he's soaking up now, apply some of the contemporary principles he's learned and then evolve it into something unique. "That's what every great actor does,' he claims. "They're always a student first — they learn everything they can and then incorporate it into what they're doing. Hopefully the next generation will someday learn from what I do, make it better, and so on."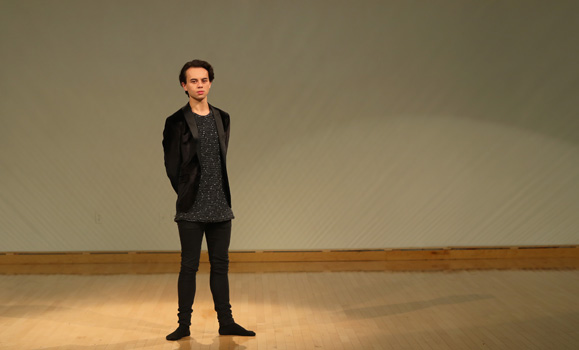 It's fitting that Andrew is one of the student actors in the Dalhousie Originals videos because the project seems to have a similar perspective: you need to learn from what has come before to be able to move forward in a meaningful way.
Telling the stories

Andrew narrated two of the 52 videos created to highlight the stories of the Dalhousie Originals — the pioneers, innovators, creators and thinkers whose contributions and actions have made Dalhousie what it is today. One of Andrew's videos is the first in the series that will launch on January 4th. The remaining stories will be unveiled each Thursday throughout 2018, in celebration of Dal's 200th anniversary year.
Andrew is grateful for the opportunity to be a part of the project but recalls how, as a second-year student, it was quite intimidating. "It was the first time I'd done any professional film work, with the set and the big cameras and the lights and the crew. It wasn't what I was used to." He thinks back to that day, "I went in very excited and then got hit with some fear so I was really relieved when it was over. But then I realized how great it was to be on an actual professional set while still in school. Hopefully I've learned from it."
For Andrew, the Dalhousie Originals project was a good introduction to the university's 200th anniversary celebrations because thinking about all that history makes him want to learn more.
"Who has come through these doors in that time? What's their story?" he wonders. "As an actor, you're always curious about people's stories. Now I'm helping to tell those stories."