Canadian courts and legislatures are increasingly recognizing that Canada, as a multi-jural nation, has an obligation to consider Indigenous legal orders and Aboriginal legal perspectives within the Canadian legal system.

Law schools across the country are recognizing this too, and particularly Call to Action No. 28 from the Truth and Reconciliation Commission's report, which states: We call upon law schools in Canada to require all law students to take a course in Aboriginal people and the law, which includes the history and legacy of residential schools, the United Nations Declaration on Rights of Indigenous Peoples, Treaties and Aboriginal rights, Indigenous law, and Aboriginal–Crown relations. This will require skills-based training in intercultural competency, conflict resolution, human rights, and anti-racism.

The Schulich School of Law has responded in part by introducing a new first-year course called Aboriginal and Indigenous Law in Context (AILC). The course is aligned with Dalhousie's efforts to respond to the Truth and Reconciliation Commission's calls-to-action for a new relationship between Canada and Indigenous peoples.

"We have a fundamental responsibility to develop meaningful and effective ways of promoting reconciliation," says Schulich School of Law Dean Camille Cameron. "We see equality and inclusiveness as fundamental to education — especially to a legal education, which is concerned with the power of law to shape the kind of world we want to live in. As a faculty and as a university we are deeply committed to this work, and it is one of our strategic priorities moving forward."  
 
The first part of the two-credit, dual-module course, AILC 1, wrapped up in mid-September. It garnered extremely positive student feedback and showed its facilitators that their goal to give students a grounding in the historic and contemporary issues facing Indigenous peoples, providing a foundation for their future learning about Aboriginal and Indigenous law, was successful.

The concept for the course began with the Truth and Reconciliation Committee at the law school, which came up with the idea last year and brought it to Faculty Council. Professor Naiomi Metallic, Chancellor's Chair in Aboriginal Law and Policy, and Professor Richard Devlin were instrumental in organizing the curriculum once they got the green light from Faculty Council, which unanimously agreed the law school needed such a course.

"I was able to draw on my network of contacts in the Mi'kmaq community," says Prof. Metallic, "and that was wonderful and delivered a rich diversity of speakers and subjects."

Impactful on-the-ground experiences

The course facilitators recognized that because first-year students come from a variety of backgrounds, some of them wouldn't have had much exposure to Indigenous issues. The curriculum that includes field trips, a Blanket Exercise and community speakers is intended to build an awareness of and acknowledgement of the issues facing Indigenous peoples.

On Sept. 11 and 12, two buses filled with students, as well as faculty and other volunteers, left the law school and headed to Sipekne'katik First Nation. They stopped to visit the Indian Residential School grounds, where they heard from Mi'kmaq elder Isabelle Knockwood, who attended the Residential School and wrote the book Out of the Depths: The Experiences of Mi'kmaw Children at the Indian Residential School in Shubenacadie, Nova Scotia.

Then they continued on to tour Millbrook First Nation, Economy, Five Islands, Debert, Parrsboro, and Partridge Island, all of which have historic and modern Mi'kmaq ties, before returning to the law school. The students were asked to write a 600-word reflection paper about their experience.

Indigenous artwork illustrates diversity

Another important course component is Indigenous artwork, to show the diversity of both Indingeous artists and communities. Prof. Devlin worked with Michele Gallant, Dalhousie Art Gallery's registrar/preparator, to augment the law school's collection with artworks by Indigenous artists from the Dalhousie Art Gallery's permanent collection and install them on the second-floor Atrium walls. "We wanted students to have a sense of an Indigenous presence as they arrive at the law school," says Prof. Devlin.

Gallant was pleased to partner with the law school. "We've had very fruitful collaborations in the past," she says. In the summer, she met with Prof. Devlin to talk about the course objectives, and she made suggestions for Indigenous artists' works that she thought would help students get a sense of Indigenous culture.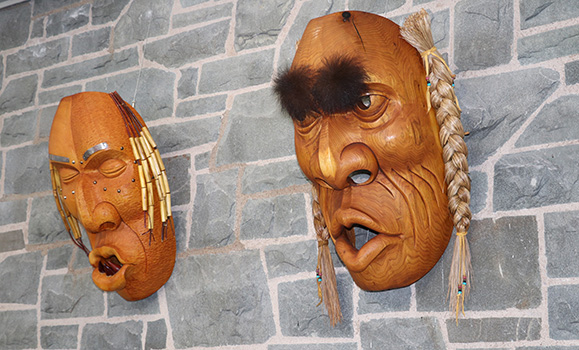 Hanging on one of the atrium's walls, near the portrait of Donald Marshall Jr., are two Indigenous masks titled Sug-a-lug-bet (One Who Does Not Listen) and Kisu-westu Won-nee-aah-kin (He Who Speaks from the Head) by artist Ned Bear of Wolistoqiyik First Nations in New Brunswick. On the opposite wall are four framed Indigenous artworks.

"We felt the Atrium was the right place to hang them because it's a gathering spot and a reception area," says Gallant. "It also seemed to make sense to have the two masks, which are faces, with Donald Marshall Jr.'s portrait." There are labels on the wall with details about each work and its artist.

Building on existing strengths

The course received extremely positive reviews from students, many describing it as "eye-opening." In January AILC 2 will delve deeper, giving a grounding in Aboriginal and Indigenous Laws that will help students understand the evolution of other Canadian laws, reflected in the first-year program more generally and examined in more detail in upper-year courses.

Next year there will likely be curriculum changes to AILC that will build on the strengths of this pilot year. "This isn't a conventional classroom course," says Prof. Devlin. "There are multiple moving pieces, including presentations, field trips, and displays. We believe it's helping us move forward in the spirit of reconciliation. But it is only a beginning. There is a lot more that we have to do."

Even if those who take this course don't end up practicing Aboriginal and Indigenous law, it will benefit them. "In the various careers the students will have, they may come upon all sorts of issues that touch on Indigenous people," says Prof. Metallic. "This course will help them become sensitive and open to those issues as lawyers."