As Dalhousie students arrive for the start of a new academic year, they'll find their campuses are a bit more colourful. New lamp post banners, which are going up in anticipation of Dal's bicentennial celebrations, will be brightening the sidewalks along some of the main campus streets.
Welcoming community

The banners feature 14 Dal students, with at least one representing each of the university's Faculties. Ensuring the banners were able to showcase students from every Faculty required teamwork across the university community. Students were then selected with a focus on inclusion.

"This was a great opportunity to recognize the diversity in our community and in our program offerings" says Hope McCallum, Dal's Director of Marketing. "We want to be sure everyone feels they're a part of the celebration."

View all the banners at the bottom of this article.

You might notice some of the students have familiar faces: Hasmeet Singh Chandok (Computer Science), Nicole Dalrymple (Graduate Studies), Michael Doane (Management), Anika Riopel (FASS), Celeste Williams (Dentistry), Michele Tchiakoua (Health), and Jiajing Chen (Architecture & Planning) have all been featured recently in Dal News.
Bicentennial boogie

The students were literally ready to jump right in, so Dal photographer Nick Pearce was able to get all the shots needed in just three days. To get everyone in a groovy moving mood, students had a chance to pick their favourite music for the photoshoot. Then they were encouraged to strike a number of poses, from subdued to wildly expressive. Some even performed handstands and showed off their break dancing moves. Their enthusiasm shines through in the photos and, ultimately, in the final creative.

Dal designer Luke Smith says the banners are a physical demonstration of celebration. "200 years is a once-in-a-lifetime opportunity. We really wanted to express the excitement and energy of such a momentous occasion."
Collaboration at work

Communications and Marketing worked closely with Facilities Management throughout the process — from completing a full Halifax campus audit of all the current lamp post banner locations to the creation of a new map that outlines all the banner locations. On the Agricultural Campus in Truro, a new system is being installed that should see banners flying by 2018.

The banners will remain up throughout Dalhousie's 200th anniversary in 2018, adding a touch of festivity on campus and welcoming everyone to join the celebration.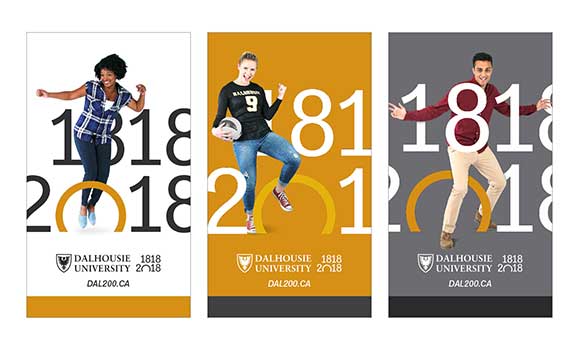 L to R: Tricia Crawley (College of Continuing Education), Catherine Callaghan (Faculty of Engineering), Moe Karkada (Faculty of Science).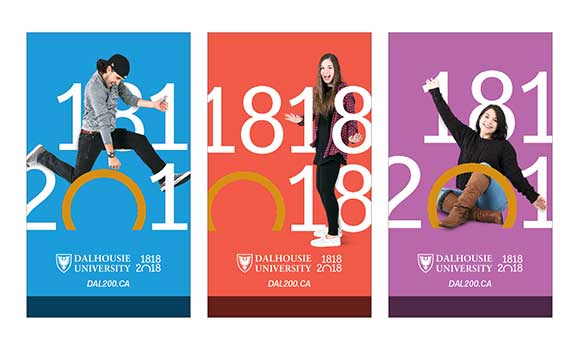 L to R: Mike Doane (Faculty of Management), Nicole Dalrymple (Faculty of Graduate Studies/Management), Cheyenne MacDonald (Faculty of Agriculture).
L to R: Hasmeet Singh Chandok (Faculty of Computer Science), Celeste Williams (Faculty of Dentistry), Mike Coady (Faculty of Law).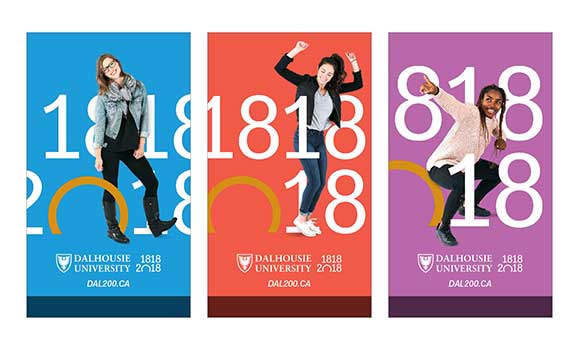 L to R: Anika Riopel (Faculty of Arts and Social Sciences), Alicia Malone (Faculty of Medicine), Michele Tchiakoua (Faculty of Health).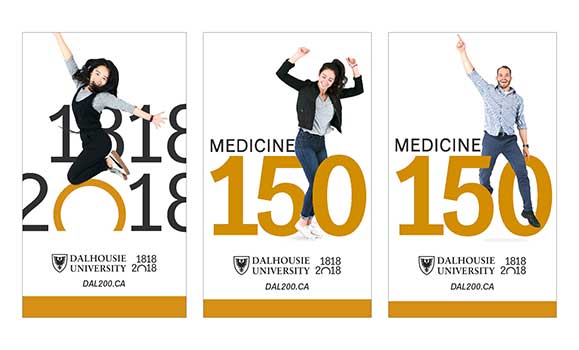 L to R:  Jiajing Chen (Faculty of Architecture & Planning), Alicia Malone (Faculty of Medicine), Jordan Boudreau (Faculty of Medicine).