Mike Doane had an idea of what was going through the minds of the first-year MBA students attending Career Intelligence presentations in late June. After all, it was only a year ago when Mike himself was sitting in a room full of budding businesspeople, listening to representatives from a variety of companies talk about future careers he could pursue.

"It was a good way to kick off the program," Mike recalls. "It gets you thinking about areas of interest in the summer, before you choose a job placement."

Career Intelligence presentations are part of the first week of programming for incoming MBA students. This year, Mike — who is heading into his second year in the program — was on hand to tell new students about his experience at Dash Hudson, the company where he's completing his eight-month residency.

As Mike told the assembled first-year students, his role at Dash Hudson has given him valuable insight and experience into the world of a technology start-up. The company develops software that allows brands to track, plan and optimize content for Instagram. Its customers include internationally recognized brands such as Condé Nast (Vogue, GQ, Vanity Fair, Pitchfork, etc.), HBO and Marc Jacobs.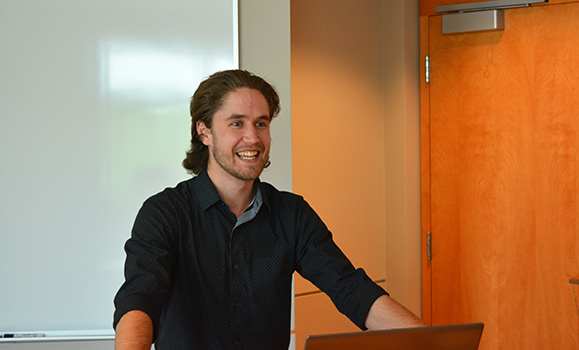 Taking on new responsibilities

Mike joined the company in January, expecting to adhere to a strictly defined job description. Instead, he's used his curiosity and drive to carve out a unique and ever-changing role.

"I started by just learning a lot about the background of the company and the platform," Mike says, adding that he soon began to take on tasks like building reports for clients and leading a user segmentation project to determine the market viability of a new Dash Hudson product.

More recently, Mike's engineering background (he graduated from Dalhousie with an Engineering degree in 2014) has come into play for Dash Hudson.

"I asked for some more responsibility and that turned into me developing a tracker for all the companies we're talking to. It tracks how far they've made it in the sales process and what's working to convert customers and close contracts.

"The tracker is all done in Google Sheets (Excel), so it's shared within the office. Engineering really gave me the Excel expertise that I needed for that."

Mike's message to first-year MBA students was to look for residency placements that fit their interests.

"I'm sort of driving my own residency here and I can focus on things that interest me. I came in here thinking I would have a job description that I would have to follow, but I can tailor it to the job I want it to be."

Looking to the future

Taking an entrepreneurial approach to his work at Dash Hudson is good practice, Mike says, for his eventual goal of running his own company. It's a passion he became more and more aware of while working in the engineering field for Ocean Contractors Limited after finishing his undergraduate degree.

"I was more interested in the business side of the company I was working for. While I loved the engineering side of it, I wanted to do something different."

Following his passion has been a positive choice thus far. After his Dash Hudson residency wraps up, he'll study in Copenhagen for the fall semester. And all of his classroom learning, work experience and travel opportunities have come with the added benefit of building his network of friends and colleagues.

"The cohort I'm in is great — some of them are my best friends now and I only met them around this time last year. Everyone comes from such diverse backgrounds, which really helps when you're studying cases and that kind of thing."