For Dalhousie student Anika Riopel, "Sharks vs Rays" is more than a game she developed to showcase how humans have a drastic effect on our ecosystem.

The second-year Theatre and ESS (Environment, Sustainability and Society) student's play-based learning workshop is both a reflection and the motto of her academic journey.

She presented the workshop at last weekend's East Coast Student Leadership Conference (ECSLC). The conference, now in its third year, was held at Mount Allison University; the inaugural conference took place at Dal in 2013. It brings together student leaders from across the Atlantic Region to meet, develop valuable relationships, reflect and share personal experiences.
The ECSLC provides students with the opportunity to present on topics they feel will help inspire and empower likeminded individuals. For Anika, that meant showcasing the value of learning through playful experience.

Her workshop is called "Learning and Leading Through Play" and included Sharks vs. Rays — an interactive activity was designed to have participants experience what it feels like to undergo change in an ecosystem. Dive a little deeper and Anika says the true concept of the game is to showcase the power of an experience.  

"My concept of experiential learning is that each of us have our own unique experience," she says. "The learning from those experiences tend to stick with us a lot differently than when we are told information."

Case in point: the scuba diving experience that Anika credits with kickstarting her own academic career and inspiring her workshop.

Underwater insights

Before coming to Dal in 2013, she spent a number of years traveling and exploring. After a six-year hiatus from school, her experience scuba diving in Thailand inspired her decision to take the Marine Biology and Environment, Sustainability and Society programs at Dal. (She recently switched into Theatre as her second major.)

"My first experience going underwater sparked my path back into academia," she says. "It's hard to put into words what it was like to see this whole different world. There's nothing in my life that has been as powerful as that very first experience."

Anika says it is moments such as this that can only be learned through your own personal experiences — and by learning and sharing experiences with others.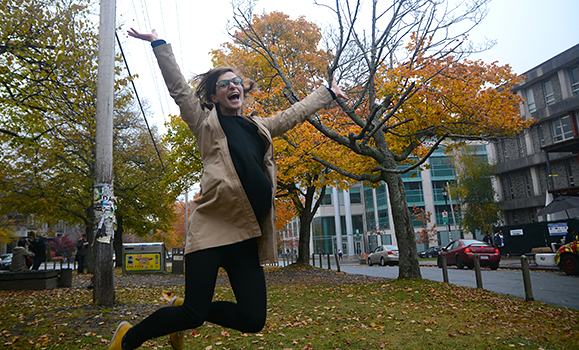 ECSLC wasn't the first time Anika presented her "Learning and Leading Through Play" workshop.

At last year's Dalhousie Student Leadership Conference (also known as Dal Lead!) she introduced the activity to a group of over 30 students. Similar to ECSLC, the one-day event is held each year in the Student Union Building on the last Saturday in January. She says up until that point she'd never considered the value or meaning of leadership.

"Dal Lead! really opened my eyes into this whole new field of thinking and learning," she says, "But the most important thing I got out of that conference was meeting Lisette Muaror-Wilson of OCEANS NS."

Oceans and Coasts Education Awareness Networking Society-Nova Scotia (OCEANS NS), affiliated with the Marine Affairs program at Dal, approached Anika following her presentation. The relationship that followed spurred multiple collaborations with the organization, including the design of an arts sculpture at this year's Nocturne Event called the "Wave of Waste."

"If I hadn't been at Dal Lead!, if I hadn't presented that workshop, if I hadn't been part of the conference, I wouldn't have met someone from OCEANS NS and I wouldn't have had the connection that I have now, and that partnership and collaboration," says Anika.
She'll next be offering her presentation at this week's Canadian Conference on Student Leadership in Winnipeg.
Discovering leadership

While it may come as no surprise that experiences and connections can help lead people down the right career path, Anika acknowledges that there are sometimes student misconceptions surrounding the benefit and value of events such as the ECSLC or Dal Lead!

"Although it sounds bad, I think sometimes leadership and pursing leadership seems a little phony," says Anika. "It can feel like a lot of energy and effort for nothing."

She says a lot of students may not fully understand the meaning of leadership, or the different forms of leadership. A leader isn't just a politician who is out to change the world; it can be anyone working to make the world a better place.

"In university it's really easy to get trapped inside that little bubble," she says. "We have an amazing school with so many opportunities and so many innovative people, and by participating in conferences, you have the opportunity to meet people that you might not otherwise meet, or to see the world from someone else's perspective."