When Master of Library and Information Studies (MLIS) student Nicole Dalrymple found out that her practicum placement at the Pier 21 Scotiabank Family History Centre would involve working with records of displaced persons from the Second World War, she was thrilled.

"It's exactly what I wanted to do," she says. A history graduate who specialized in the World Wars, Nicole hopes to put her expertise to use in a career in archives or museums.

Bringing stories to life

Nicole spent her days at Pier 21 combing through newspapers from 1946 to 1952, searching for mentions of people coming through the port to get to Canada. "It took more time than I thought it would," she says. "Not all the headlines clearly described what was happening, so you really had to look for anything that sounded vaguely like people arriving. Sometimes it's a tiny blurb on page 13."

Newspaper records from that time period are important for genealogical researchers, because the official records are often only available to the individual they are about, and then only if they send away for them. The newspapers are also a source of more interesting details than the official records, like what the weather was like on arrival day or interviews with new arrivals.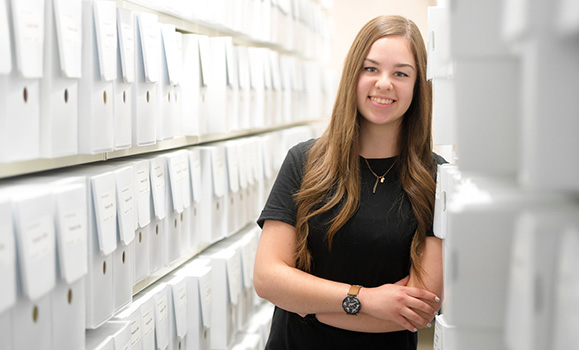 Nicole recalls a memorable story of a man from a camp in Russia who'd been painting his experiences. When he asked if was allowed to show his paintings to people in Canada, he cried when they said yes. "That really stuck with me," says Nicole.

She also had the satisfaction of meeting some of the researchers who benefited from her work, including a Jewish woman who left Nuremberg when she was five years old, who came in with her family to look at the story about her arrival. She was also able to help another person find out that he had been on the same ship as the last seven war brides who came to Canada after the Second World War.

Hands-on with history

At her current internship in the Dalhousie Archives, Nicole is learning about another part of Halifax history, as she works on processing and digitizing records from the Bill Lynch fonds dating from the 1940s. The Bill Lynch Show was a carnival based in Halifax that toured the Maritimes with rides, games and sideshows, so the purchase orders and photos that Nicole is working on are unique. "They're typical business records, but instead of purchasing paper and working at computers, they're purchasing toy monkeys and feeding lions."

She's also working with a group of interns who are researching significant events and people in Dal's history for the 200th anniversary coming up next year. Nicole's investigating people such as George Stairs (the first person affiliated with Dal to die in the First World War) and professor Dixie Pelluet, who fought for gender equality in the workplace.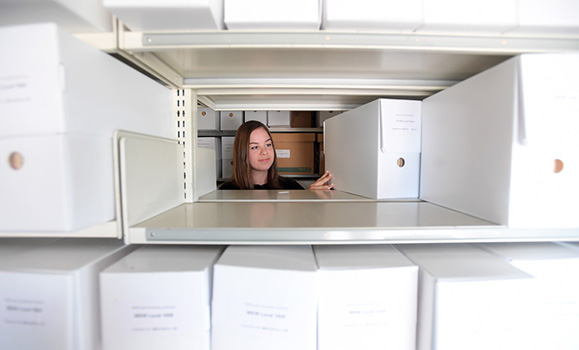 Her experience researching for her history papers and MLIS coursework is coming in handy, especially the Information Sources, Services and Retrieval course, which she says made her "a whole new type of researcher."

It's not all combing through print records. The archives have a Forensic Recovery of Evidence Device (FRED), which lets her quickly scan through all types of storage media, including obsolete floppy discs and hard drives.

Looking ahead

Nicole is not sure yet if she'll choose to apply her background to the archives or museum world, but in both work experiences she's had since starting her MLIS degree, she's appreciated the chance to work with enthusiastic and knowledgeable supervisors (MLIS alum Creighton Barrett, the Digital Archivist at Dal Archives, and librarian Cara MacDonald at Pier 21).
 
"I've been lucky to be working with people who are really passionate about what they do. It's so great to work with people who care so much."