Christine
Chambers
Professor, Canada Research Chair (Tier 1) in Children's Pain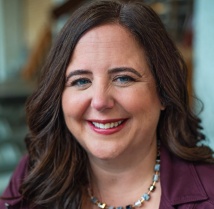 Email:
Christine.Chambers@dal.ca
Lab:
(902) 470-8877
Mailing Address:
Centre for Pediatric Pain Research (K8536), IWK Health, 5850/5980 University Avenue, P.O. Box 9700, Halifax, NS B3K 6R8

Research Topics:
Pediatric Psychology
Health Psychology
Children's Pain
Pain Assessment and Management
Knowledge Mobilization
Patient Engagement
Cross-Appointments
-Department of Anesthesia, Pain Management & Perioperative Medicine, Faculty of Medicine
-School of Nursing, Faculty of Health
-Department of Psychiatry, Faculty of Medicine
-Scientific Staff, IWK Health Centre


Education
BSc (Dalhousie)
MA (UBC)
PhD (UBC)
Research Interests
Dr. Christine Chambers is a Canada Research Chair (Tier 1) in Children's Pain, Professor of Psychology & Neuroscience and Pediatrics at Dalhousie University and clinical psychologist. She is also the Scientific Director of Solutions for Kids in Pain (SKIP), a national knowledge mobilization network, whose mission is to improve children's pain management by mobilizing evidence-based solutions through coordination and collaboration.
Her research, aimed at improving pain management in children and their families, is based in the Centre for Pediatric Pain Research at IWK Health. She has published over 200 articles in peer-reviewed scientific journals, was identified as one of the top 10 most productive women clinical psychology professors in Canada, and recognized by the Women's Executive Network as one of Canada's Top 100 Most Powerful Women. An international leader in the study of children's pain and an innovator in patient engagement, partnerships, and the mobilization of health research, she is passionate about research impact and ensuring her work improves children's pain in policy and practice.
Selected Publications
To view Dr. Chambers' publications please see:
Awards and Honours
Royal Society of Canada (RSC) Fellow
Canadian Academy of Health Sciences (CAHS) Fellow
Canadian Psychological Association Fellow
Society of Pediatric Psychology (Division 54; American Psychological Association) Fellow
Dennis Drotar Distinguished Research Award in Pediatric Psychology, Society of Pediatric Psychology

Canada's Most Powerful Women: Top 100, WXN, Manulife Science & Technology Category
Science Champion, Discovery Awards, Discovery Centre 
President's Excellence in Research Award, Research Impact, Dalhousie University 
Patients First Award for Excellence and Innovation in Patient-Centred Care, Merck Canada
Outstanding Pain Mentorship Award, Canadian Pain Society 
Leadership Award (Individual), Children's Healthcare Canada 
Award for Excellence in Graduate Supervision, Dalhousie University
Memberships

American Psychological Association (Division 53, Society of Clinical Child and Adolescent Psychology & Division 54, Society of Pediatric Psychology)
Canadian Association of Cognitive and Behavioural Therapies
Canadian Pain Society
Canadian Pediatric Society
Canadian Psychological Association (Clinical Psychology & Health Psychology and Behavioural Medicine)
International Association for the Study of Pain (Special Interest Group on Pain in Childhood & Special Interest Group on Pain and Intellectual Developmental Disabilities)
Teaching
Advanced Clinical Intervention: Child (PSYO 6301/6221) 
Health Psychology (PSYO 3225) 
Methods in Experimental Clinical Psychology (PSYO 3122) 
Graduate Seminar in Clinical Research Methods (PSYO 8005) 
 
Service & Activity 
Member, External Advisory Panel, Canadian Pain Task Force (CPTF)
Member, Editorial Board, Canadian Journal of Pain
Associate Editor, PAIN Reports
Editorial Board Member, International Association for the Study of Pain (IASP) Pain Research Forum
Associate Director, North American Pain School (NAPS)