Undergraduate Advising
Economics advisors are here to help you with the economics components of planning your programs including:
course selection & sequencing
degree program choice
student exchanges
transfer credits from other universities or faculties.
advice on post-graduate studies and employment credentials.
student research opportunities.
For more general advising questions (such as counselling, study skills help, declaring or changing your major, general degree requirements, and applying for bursaries or scholarships), please contact the Bissett Student Centre at advising@Dal.ca, by phone at (902) 494-3077, or drop in at 6136 University Avenue, Room 426 (Student Union Building).
If the course you wish to tranfer does not currently have a course equivalency in the Dal Online Transfer Equivalencies Table, please submit a complete course outline along with your letter of permission to economic@dal.ca.
Regular Economic Advising Fall (2019) Hours
Christos Ntantamis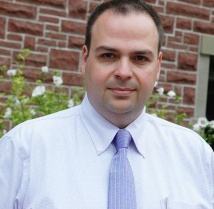 Undergraduate Coordinator
Email: Econadvisor@Dal.ca
Location: C25, Economics Department, 6220 University Avenue
For the Fall term 2019-20, you may set up an appointment with the Undergraduate Coordinator by registering for a single time slot at the doodle                                    link below. You should enter your full name and banner number while making                                  an appointment.
https://doodle.com/poll/p8ft3sm6uz6mpued
To set up an appointment for different time slot, please email Christos at Econadvisor@Dal.ca.
Chinese International Students Advising
Shannon Peng
China Program Coordinator
Advisor for 2+2 students and Chinese International Students
Email: Shannon.Peng@Dal.ca 
Location: A21, Economics Department, 6206 University Avenue
Drop-in meetings are available at any time listed below:
| | |
| --- | --- |
| Monday | 1000-1200 and 1300-1400 |
| Tuesday | 1000-1200 and 1300-1400 |
| Wednesday | 1000-1200 and 1300-1400 |
| Thursday | 1000-1200 and 1300-1400 |
If the office hours do not fit with your schedule, please email Shannon at Shannon.Peng@Dal.ca to set up an appointment, being sure to indicate dates and times available.