Halifax 2018
Pushing the Boundaries of Knowledge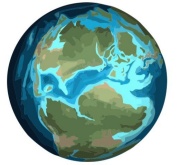 The Sixth Conjugate Margins Conference returned to Halifax, Nova Scotia – the place of its inception – and again held at Dalhousie University from August 19-22, 2018.
Halifax 2018 was a great success attracting 223 delegates from 13 countries with 124 presentations (81 oral and 43 poster) given over the three-day event. The two conference field trips, two short courses (on classroom and the other field), and core workshop were fully subscribed. The CGG seismic data room and other corporate, institutional, and society displays were of great interest to delegates.
We were pleased to open the conference with Dalhousie University's awarding of an honorary doctorate degree to Dr. John F. Dewey of University College Oxford, and his giving the conference plenary address. This award was in recognition of his important contributions to earth science, teaching and mentorship to generations of students, and unselfish collaboration with colleagues and associates around the world.
As in pervious conferences, student participation was encouraged through volunteer opportunities and presentation of their research, with the latter recognised by the Student Presentation Awards. These are judged by industry peers, and congratulate the following students for their winning oral and poster presentations:
ORAL
First: Mr. Emmanuel ROQUETTE - University of Manchester, Manchester, UK
Second: Ms. Jessica FRANKLIN - National University of Ireland-Galway, Galway, Ireland
Third: Mr. Chris SANGSTER - Saint Mary's University, Halifax, Canada
Honorable Mention: Ms. Bébhinn ANDERS - National University of Ireland-Galway, Galway, Ireland
POSTER (sponsored by ExxonMobil)
First: Ms. Naila DOWLA - University of Houston, Houston, USA
Second: Mr. Kenneth MARTYNS-YELLOWE - Dalhousie University, Halifax, Canada
Third: Ms. Laura BERDI - Dublin Institute for Advanced Studies, Dublin, Ireland
We were encouraged by the strong industry representation and response to our Call for papers at this year's conference that together bodes well for future Conjugate Margins Conferences, and look forward to the next gathering that will be held in Morocco in late 2020.
Thematic Sessions:
• Geodynamics-Rift to Drift
• Stratigraphy & Sedimentology
• Regional Geology
• Geochemistry & Petroleum Systems
• Exploration Thinking for the Atlantic Conjugate Margins
Conference Materials:
View Program & Short Abstracts [pdf - 12.3MB]
View Extended Abstracts [pdf - 13.2MB]
View Extended Abstract PowerPoint Presentation: Le Guerroue at al. Part 1 [pdf – 15.8MB] Le Guerroue at al. Part 2 [pdf – 18.8MB]
View Extended Abstract PowerPoint Presentation: Marfisi et al. [pdf – 15.3MB]
View Extended Abstract PowerPoint Presentation: Pichot et al. [pdf - 14.8MB]
View Extended Abstract PowerPoint Presentation: Saint-Ange at al. Part 1 [pdf – 15.6MB] Saint-Ange at al. Part 2 [pdf – 18.2MB]
View Extended Abstract PowerPoint Presentation: Sangster et al. [pdf – 14.9MB]
View Extended Abstract PowerPoint Presentation: Thebault et al. Part 1 [pdf – 19MB] Thebault et al. Part 2 [pdf – 19.3MB] Thebault et al. Part 3 [pdf – 18.5MB]
View Conference Short Abstracts - Journal of Atlantic Geology, Volume 54 (2018) [pdf - 3.4MB]
View Field Trip 1: Carboniferous to Triassic source rock successions in the Maritimes, Canada [pdf – 3.6MB]
View Field Trip 2: Onshore equivalents of the Cretaceous reservoir rocks of the Scotian Basin: Detrital petrology, tectonics and diagenesis [pdf – 8.7MB]
View Short Course 2: Salt Tectonics Field Seminar: Diapirs and Associated Deformation [pdf – 8.1MB]
View Core Workshop Extended Abstracts: Cores of Offshore Atlantic Canada Clastic and Carbonate Reservoirs, Facies & Sequences [pdf – 13.3MB]
Conference Website: