News
»
Go to news main
Take your time to figure it out: Jaye O'Brien Dockendorff
Posted by
Erin Elaine Casey
on June 3, 2020 in
News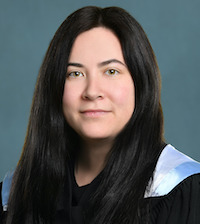 Jaye O'Brien Dockendorff's path to straight A-plus commerce grad was anything but traditional. After earning a two-year diploma in mechanical engineering from Dalhousie in 2011, she made a big decision.
"Engineering wasn't for me. So I took a basic first year of sciences, then a semester of nuclear medicine technology, and those weren't for me either! Then I took some business courses for a winter term before switching to a Bachelor of Commerce. I switched until I found something I liked."
O'Brien Dockendorff makes no apologies for her circuitous path. "I feel like there was a lot of pressure to pick something and stick with it, and that wasn't right for me. I'm a big believer in taking your time to figure it out. "That approach paid off. O'Brien Dockendorff just graduated with a Bachelor of Commerce majoring in accounting, finishing off with a GPA of 4.3 in her final semester.
Born and raised in Halifax, O'Brien Dockendorff is following a family tradition. "A lot of people in my family are accountants, and that's why I originally didn't go into business," she laughs. "I didn't want to be like them! But then I took my first intro to accounting course. I really like numbers – they make sense to me. By the time I'd taken my second intro accounting class, I was hooked."
O'Brien Dockendorff had arrived at her academic destination, but it wasn't always smooth sailing. "I was ill for a while and had to take a couple of semesters off," she explains. "I appreciated how supportive the faculty was in helping me rearrange stuff and not fall behind. They were always so accommodating."
Carrie Hunter, BComm Program Manager, was O'Brien Dockendorff's academic advisor. "She still checks in with me. She gave me different options for finishing my semesters and helped me figure out what schedule was best to get things done."
The co-op program also gave O'Brien Dockendorff a headstart at trying different jobs. "The mandatory co-op program really helps you get a well-rounded experience and figure out what you want to do," she explains.
Her first co-op placement was at a small accounting firm in Halifax. "That was during busy tax season, so I did a lot of personal taxes that year. I was the only co-op student, and they gave me a lot of opportunities to work on my own and with a team. I felt like if I did make a mistake, I could learn from it and it was okay."
The second placement, as a procurement assistant with Environment Canada, gave O'Brien Dockendorff experience working for a big organization with a national profile. Her third placement was with a larger accounting firm with offices across the country.
"I felt like I got a wide variety of experiences from my work terms," she says, "but I liked the first one the best. I liked the small firm, the way it felt like a family and you kind of got to know about all the things going on in the firm."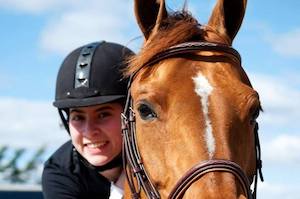 When she's not excelling at school, O'Brien Dockendorff likes to ride horses, plays a lot of Dungeons & Dragons, and every year sings in the Royal Nova Scotia International Tattoo choir.
O'Brien Dockendorff is now exploring her career options, but the pandemic has made job searching a challenge. In the meantime, she's dreaming of Disney. "I really like to go to Disney World! My family was going to give me money for a Disney trip as a grad gift, so I still plan to go later. I normally go with my spouse, but my mom likes to go, too. She's a great travel buddy."
O'Brien Dockendorff brings her usual measured approach to the situation. "I didn't know exactly what I wanted to do when I graduated. I focused on my school work and did the best I could. I really wanted to finish off strong."
And finish strong she did, with almost straight A-pluses across the board. "I got one A in my first semester last year," she laughs. "So I was pretty happy about that."