News
»
Go to news main
Happy to see each other succeed: MBA grad Will Russell values both work experience and fun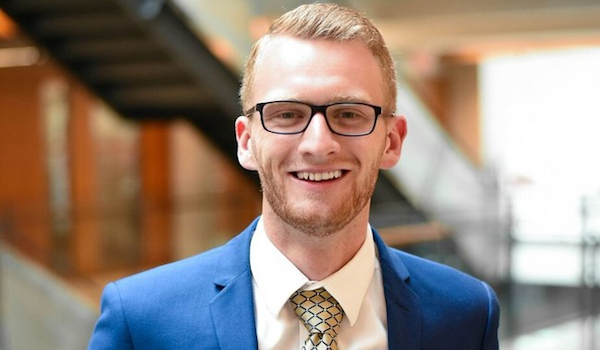 "My favourite part about this MBA was the cohort and being with a group of people who were very committed both academically and socially," says Will Russell. "A lot of MBA programs are really competitive, but ours was really collaborative and we were happy to see each other succeed. We had a lot of fun both inside and outside the classroom."
Originally from Guelph, Russell likes Dalhousie—and Halifax—so much he decided to stay for two more years after graduating with a Bachelor of Science in chemistry and economics in 2018.
Completing a chemistry co-op placement showed Russell the value of real-world work experience, so the MBA program with its built-in work term was a perfect fit. "The MBA at Dal is direct entry straight out of undergrad, and I think the work experience is very valuable. You get your foot in the door of some very large companies that Dal works with as well as valuable networking with employers. A lot of the people in my cohort come from STEM [science, technology, engineering and math] backgrounds, and it's a good way to transition those analytical skills and be extremely successful."
Russell focused on operations and logistics during his MBA. "I've always been a big 'work smarter, not harder' guy, and I strive for efficiency and process transformation in the workplace."
That focus paid off in his work term in the Life and Device Solutions Division of Panasonic Canada. "It's where all their best-known and sexiest products are, like air conditioners and ventilation fans," laughs Russell. "My primary role was process transformation. I wanted to come in and automate and reduce the work hours for processes including inventory, ordering, rebating and commissions for sales reps. It frees up time so people can meet the challenges of a changing business landscape."
"Most of the projects we were able to do were great successes. We'd often see a reduction in work hours by 30 to 50 per cent depending on the process. I know they're still using a lot of the tools, processes and training materials I developed during my time there. That's very promising."
What's next for Russell? His career trajectory has definitely been affected by the global pandemic. "I was hired back post-grad, and then nominated for a leadership rotation program for Panasonic North America, which then got cancelled. I was hired, promoted and fired all in one day!" he laughs. "It's not exactly how I expected to start my career, but it makes a good story."
Still, Russell is optimistic and pursuing opportunities with the Panasonic logistics team. His five-year goal is to be leading and managing a group of people as a subject matter expert, "the trusted individual that people go to for advice, help, problem-solving and mentoring," he explains. "Panasonic is an extremely reputable company, and one of the top 100 employers in Canada. I think there will be tremendous opportunity for young, innovative people – which I like to include myself in! – to lead the transition to a more innovative future."
During his MBA, Russell served as the athletic rep for the MBA Society and completed the fall 2019 semester with four of his classmates in Toulouse, France. While he's sorry not to have a traditional convocation with his graduating class, the cohort still has plans to mark the occasion.
"We're planning to have a celebration of completion, whether it's walking across the stage in our funny hats or just getting together as a cohort to celebrate what we've accomplished as a group. I don't think any of us were satisfied with just walking away and not seeing each other again. We're going to be a big part of each other's social and business networks for years to come."