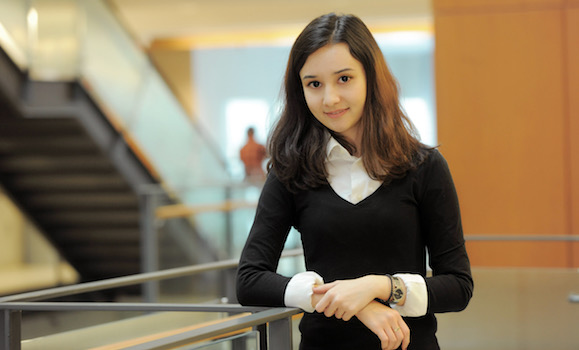 It can be difficult for international students to bridge the gap between school and career. That's one reason Flora Mutalifu decided that Dal's Bachelor of Commerce would lead her to success. Indeed, Flora's time in the program can only be couched in the language of success. She has placed highly in case competitions, is the recipient of the Douglas C. Mackay Award in Money Management and will graduate with distinction.
As an international student, Flora came to Halifax from Xinjiang, China. "Coming to Canada and choosing Dal is one of the best choices I have ever made. I enjoyed the classes, and actively engage with school events helped me to improve my skills and enriched my university life, where I made great friends and professional contacts. One thing I learn the most in my time is that every hard work and good deed will eventually pay off."
The co-op work terms, which enable students to apply what they learn in the classroom to real-world situations, attracted Flora to the program. "This is invaluable in building networks," she says. With the help of job search resources from Management Career Services (MCS), Flora secured a spot with Scotiabank.
She is keen to thank MCS's Kelly Tracey for her support during the recruitment process. "Kelly really helped with the interviewing through coaching and motivation. The whole process was made a lot easier with her help. As an international student, or student in general, it's difficult to know where to start or who to contact," she explains.
Flora credits the International Student Success Program for providing important support for working in Canada. "They were so helpful. They helped secure my work visa. It's such a valuable program," she says. "Professor Linda Macdonald and Lisette Muaror were being great mentors to me and all international students by supporting academics and providing great suggestions."  
Flora enthusiastically took advantage of internationalization of the Commerce program during her time here. She joined the Israel Exchange program in 2017 with her Global Marketing class, and travelled to both Toronto and Israel to visit new start-ups that blend technology and business. "It was a great experience for me to have a cultural and academic exchange during the university life. The program provided amazing insights for commerce students to experience both Canadian markets and emerging markets."
Flora's not quite finished with her studies yet. She will write the Chartered Financial Analyst (CFA) exam in June in order to carry on with her interest in finance and risk management. In addition, she's put down roots in Halifax. "I have a lot of friends here now. I want to continue building my networks and stay," she says. "Halifax is my second home. I met many great professors and students here and achieved many goals through the commerce program. I am excited to start my new chapter in this lovely city."