News
»
Go to news main
Professor Gregory Adolphe‑Nazaire receives Archibald Award
Posted by
Nicole Maunsell
on April 19, 2018 in
News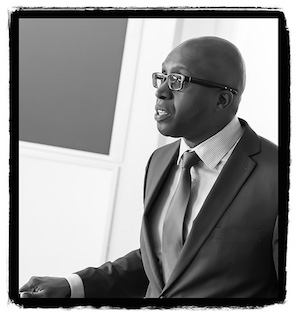 When finance professor Gregory Adolph-Nazaire steps into the classroom, he isn't just thinking about how to get his students to their final exams. He's thinking about how important the people he's teaching will be someday. "It's about providing the best education to our future torch-bearers, because it's a matter of survival for our society," he says.
At a presentation on April 3, Adolph-Nazaire received the A. Gordon Archibald Teaching Excellence Award for the 2017–2018 academic year. This award, made possible by a donation from the family of the late A. Gordon Archibald, is presented yearly to a faculty member in the Rowe School of Business who, in the eyes of peers and students, displays superior teaching, exceptional attention to student needs and excellent understanding of the subject area.
"What I admire most about Greg is his ability to not only convey his passion in the classroom, but his passion for the community," Faculty of Management dean Sylvain Charlebois noted in his opening remarks. Adolph-Nazaire, with his work at the Black Business Initiative, has been heavily involved in the community and provided his expertise to various high social impact projects such as Hope Blooms, a youth-run social enterprise located in Halifax's north end.
The students who nominated Professor Adolph-Nazaire note his dedication, enthusiasm, real-world teaching examples, and time spent helping them to prepare for job interviews and case competitions. He has coached several teams for the Jeux de Commerce Central case competition, and in 2017 coached a team of MBA students in the National Investment Banking Competition, where they competed against more than 300 universities from around the world and placed second.
As he accepted the award, Adolph-Nazaire spoke about his belief in the importance of a strong national education policy to the future of any nation. "People are the most valuable resource of a country," he said. "Change comes from the bottom up, but any movement needs a group of leaders to chart its course."
Adolph-Nazaire believes that it is his job to do his best for the future leaders in his classroom: "Every instructor should strive to inspire their students, to constantly set higher standards," he says. "One cannot be inspirational without a true passion for what they are teaching. Students should feel they are celebrating knowledge rather than enduring it."
Greg Adolph-Nazaire with members of the Archibald family. (Photos by Timothy Richard.)
View more photos on the Rowe School of Business Facebook page.