News
»
Go to news main
Case competition fosters international student engagement
Posted by
Teresa He
on December 1, 2017 in
Students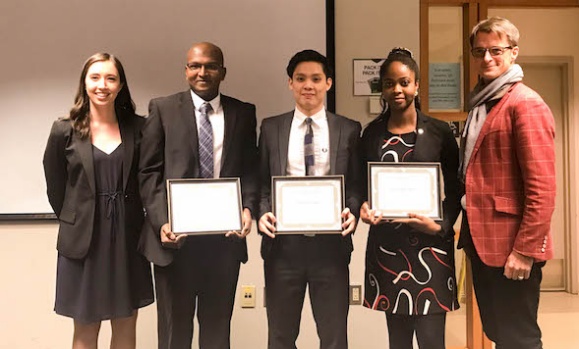 On November 18, the International Student Success Program (ISSP) and Dalhousie Commerce Society (DCS) hosted the fourth annual International Student Case Competition (ISCC). Nine teams of students from the Bachelor of Commerce and Bachelor of Management programs, representing China, Malaysia, Uganda, South Korea and other countries participated in the event. The event was made possible through a generous donation from the Faculty of Management Dean, Sylvain Charlebois, and his wife, Janèle Vézeau. Dr. Charlebois, who also attended the event and awarded the prizes said, "My wife and I really wanted to support our international students so they can feel they are part of something special."
A couple of days before the event, volunteers from Rowe JDCC's International Business team (Aidan, Steph, & Panos) gave a presentation to interested students on key elements of a case competition. On the day, each team had 3 hours to prepare for their presentation and Rowe JDCC volunteers were also on hand to coach the teams.
Winning teams
Our international judges – Dr. Oksana Shkurska (Ukraine), Dr. Sergio Carvalho (Brazil), Dr. Binod Sundararajan (India), Dr. Hamed Aghakhani (Iran) – were very impressed with the quality of the presentations and enthusiasm of the students. "I enjoyed judging the competition this year, as this is a very valuable experience for both international and domestic students," says Dr. Shkurska.
First ($150), second ($100) and third prize ($75) were awarded to the winning teams. First place went to Karen Mutyabule, Dharshan Abraham and Andrew Choong. Second place went to Lucas Peixoto, Tiger Li and Flora Mutalifu, and third place went to Francisco Rios, Carolina Gutierrez and Coco Liu.
Sarah Drover (left) and Dean Charlebois with 2nd place team members Lucas Peixoto, Tiger Li and Flora Mutalifu.


Following the event
As one of the organizers of this competition, Sarah Drover, the VP Academic of DCS, was pleased with how the case competition ran. "The faculty judges and coaches from JDCC were kind enough to volunteer their time and each of them did a fantastic job analyzing the case and giving their presentation," she says.
Sarah further noted: "I think this competition provides a unique opportunity for students to develop and build confidence in their analytical, teamwork and communication skills. I am very excited to see this competition continue to grow over the years and expand its impact on international students. We all admire Dean Charlebois for seeing the value in these kinds of learning experiences outside the classroom and for supporting this initiative."
Dr. Bill Foster, Director of ISSP, says, "the DCS put on a great event that integrated current JDCC team members as coaches for the teams of international students. Attendance was good, especially given the change in date from previous years." Dr. Foster hopes that students will go on to try out for other competitions like the First-Year Case Competition, the inter-university Atlantic Throwdown, and JDCC. "These are important indicators of international student engagement, which, as we all know, plays a large role in academic and co-op/job-seeking success," he says.
Reflecting on the event, Dr. Charlebois said, "offering international students a safe place where they can practice presentation skills is critical to their management education." First-time participant Xinxin Zhang, a first-year Commerce student, said that "by joining this competition, I got to analyze a case with a team, and although there is room to improve, this was a very good experience for me."
ISSP and DCS would like to sincerely thank the Dean and his wife Janèle, participants, judges, volunteers, JDCC, Marianne Hagan, the professors and everyone who made this a very successful event.
We are encouraging students who participated in this event and others to attend the tryouts for the Atlantic Throwdown Case Competition, which will be held next March. Please follow us on our Facebook page for further details.

Sarah Drover and Dean Charlebois with 3rd place team members Coco Liu, Carolina Gutierrez and Francisco Rios.
Photo credits: Teresa He & Sarah Drover.