News
»
Go to news main
Business boot camp gives veterans a fresh start
Posted by
Nicole Maunsell
on July 16, 2017 in
News
It's not easy to start a new career, but Dalhousie has partnered with Prince's Operation Entrepreneur (POE) to give members of the Canadian Armed Forces (CAF) the skills and confidence to transition to becoming business owners.
Coordinated by Dr. Mary Kilfoil (pictured below, right), Acting Director of the Norman Newman Centre for Entrepreneurship at the Rowe School of Business, the program, now in its third year, brings together professors, Halifax business leaders and students from Enactus Dalhousie for an intense seven-day business boot camp for CAF members and veterans.
Applying skills to help others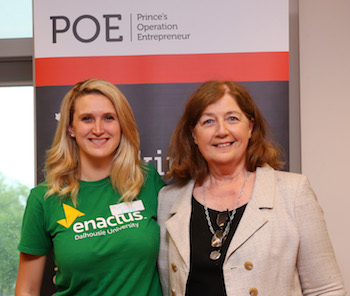 Bachelor of Management student and Enactus Co-President Jessica Power (pictured on left) radiates enthusiasm for the program. Power volunteered in 2016 as a Navigator: one of the students from a variety of disciplines (Computer Science, Business, Social Work, Economics) who are paired with boot camp participants to review their business plans and make recommendations.
The Navigators work closely with their matches, and the stories that participants shared with Power have stuck with her. "We forget that people are still going to war. I look at them and I think 'how do you come back from that and be the person you are today?' They're so strong."
This year she was the student program coordinator, which means that she helped with logistics, organized the Navigators and was on-call throughout the week. She's happy to do the work: "I feel like as much as I can do, I can't do enough."
Despite coming from an entrepreneurial family, she doesn't necessarily want to start a business herself. Instead, she sees the entrepreneurial skills she's acquired through the influence of her father, an inventor, and Enactus, a student society for social enterprise, as something that she can invest in causes she believes in. "I feed off the passion of others," she says. "With business there's so many opportunities: you can use the skills to help entrepreneurs and help non-profits, to help people get to where they need to be."
Life-long passion to new career
For Marcus Brauer (pictured below, left), one of the boot camp participants, that's turning a long-time hobby into a sustainable business with Under Pressure Antiques. When he started out, he sold books door-to-door and taught himself book repair. He realized that most antique businesses toss the books without looking through them when they buy the contents of an estate, and he saw an opportunity.
He offered to take the books and pay the dumping fee, so that he could comb through them looking for the few that would be worth saving. It often pays off. "These treasures are out there but people don't always recognize them," he says. One of his recent acquisitions is a collection of Soviet propaganda posters, some of which are currently on display at Saint Mary's Art Gallery.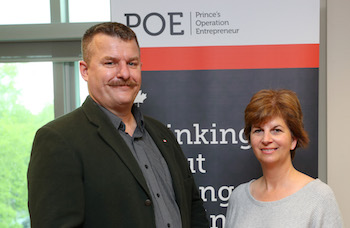 Though Brauer clearly has an enthusiast's appreciation for his finds, it's not just about treasure hunting. Being in the antique business means he's often coming to people during a difficult time in their lives, such as the loss of a loved one. "I see people who are overwhelmed, they can't sell their house until they get rid of everything. We partner with the family to sell their house over time, and the client gets a lot more money." In the case of the posters, "they will probably be worth more than the house," he says.
Brauer never expected to own a business, and his rapid success means he's looking to build a sustainable business plan. In the military, he worked as a health services officer, managing a hospital. While many of his skills (managing large budgets, dealing with personnel), are transferrable, the POE boot camp is helping him fill the gaps. He's connected with a web designer and an accountant, and will be expanding to the international market.
A clear plan
Gabrielle Breault (pictured above, right) is also poised to take her business to the next level after completing the boot camp. When she retired from the military, she tried a few different trades, things she says were "interests, but not passions." After taking some time for self-discovery and healing (something she recommends to others transitioning from military life), she's incorporated the latter in her new business, Petite Patrie Chocolate. "Chocolate," she states triumphantly, "makes people happy."
Breault is the only certified fine chocolate maker in the Atlantic provinces, importing the finest organic cacao beans from countries such as Peru, Honduras and Mexico then carefully roasting and grinding them. "Store-bought candy chocolate is to fine chocolate what grape pop is to wine," she explains. Choice of beans can be as important to chocolate makers as choice of grapes is to winemakers in bringing out different flavours and qualities.
Sustainable business practices are important to Breault: she ensures that the organic cacao farmers she buys from are paid more than fair trade prices and that they observe sound environmental practices. She'll be partnering with Nova Scotia wineries and craft brewers to make chocolate that complements their offerings, using high-quality, locally sourced ingredients to give her chocolate creations "authentic Atlantic flavours."
POE has given her the business confidence she needs to succeed. "I've got a clear plan now," she says. "You don't know what you need to know until you get here and they go over details to make sure you are well informed on every aspect of being an entrepreneur. I didn't realize how much my business needed me to be here."
Photo credits: Nick Pearce