News
»
Go to news main
Rowe professor wins Outstanding Service Award
Posted by
Nicole Maunsell
on June 28, 2017 in
News

Dr Bliemel is presented with the award during the SAP Academic Conference in New York City

Dr. Michael Bliemel, Professor of Management Information Systems, won the Majdi Najm Outstanding Service Award at the 20th SAP Academic Conference Americas this month. The award recognizes faculty who advance the use of SAP business enterprise software in academia, develop curriculum and demonstrate leadership in the community of 3100+ universities using SAP in 190 countries.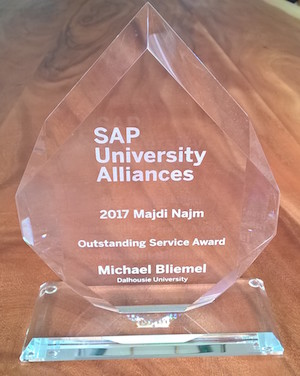 The University Alliances program, which the Rowe School joined in 2012 with Dr. Bliemel as Faculty Coordinator, gives professors and students access to the same business process software used by SAP customers and partners. It provides faculty members with the tools to help students develop technological skills relevant to their careers. Dr. Bliemel has been instrumental in bringing state-of-the-art technology to the Rowe School, and designing Information Systems, Enterprise Systems and Business Analytic courses in which students learn how to apply the latest technologies in an experiential learning lab-based setting. Students in his classes have consistently been finalists in international ERPsim, financial service innovation and analytics competitions for the last several years. Commerce and MBA students can now do coursework to qualify for the SAP Student Recognition Award, which allows them to take the highly desirable TERP10 professional certification, offered for the first time at Dalhousie in May this year.
In the last few years, Dr. Bliemel has developed innovative teaching cases on Data Mining and Predictive Analytics, In-Memory Computing, Data Wrangling and Cloud Computing using Success Factors, which are shared worldwide through the SAP University Alliances Program. He serves on the North American University Alliance Academic Board, has been honoured as a Visionary Member, and has chaired and co-chaired the research and curriculum portions of the last two SAP Americas Academic Conferences. He has taught other faculty from around the world how to use SAP tools for analytics at workshops in Canada, USA and Germany.
Dr. Bliemel has been an advocate for stronger collaboration between industry and academia, and he has led the student portion of the ASUG Atlantic meeting, which showcased students from other SAP UA schools in the region. He has also been influential in encouraging students to take advantage of educational and networking opportunities offered by the University Alliance. Last year, he travelled with four Rowe students to the SAP TechEd conference where they came in second competing as finalists against professional software developers.
"It is truly a great honour to be recognized for all the work building community and curriculum to give our students opportunities in the world of business and IT," says Bliemel, who is quick to acknowledge his supporters. "All this is thanks to Ken Rowe's generous gift and the hard work by dedicated faculty and staff in the Rowe School who have helped me make this initiative a valuable addition to our already excellent programs. Successful enterprise technology and analytics focus is only the beginning: we will continue working with leading-edge ideas that will rapidly transform business and government. We were lucky to be at the April launch of SAP Leonardo in Manhattan with our SAP NextGen club students and Innovation professors. Exciting new things will continue to be used in our classrooms."