News
»
Go to news main
Combining business and law in and out of the classroom
Posted by
Miriam Breslow
on May 15, 2017 in
News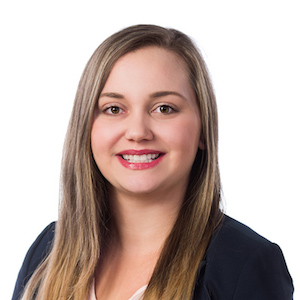 Earning graduate degrees in business and law at the same time might seem daunting, but for Sydni Kind, who is about to graduate with a Corporate Residency MBA and a JD degree, the biggest difficulty wasn't the work. "Class scheduling was probably the greatest challenge in completing the two degrees at once," she says. "Next was juggling two very different styles of learning—case law readings and group projects."
Kind's dual academic interests didn't start with her master's degree. She completed her undergraduate studies at the University of Calgary with a major in marketing and a minor in political science. "I was able to undertake the combined graduate studies at Dalhousie right after I completed my undergrad," she says of her reasons for relocating to the east coast. "I was intrigued by the opportunity to advance my business knowledge while at the same time completing a law degree." Kind believed when she entered the programs that combining them would allow her to "truly leverage" the best of each program.
She wasn't disappointed. Through the corporate residency, Kind explains, she gained valuable work experience that drew on her knowledge of both business and law. She spent her residency as a junior consultant in the Valuations and Advisory Department of Cushman & Wakefield's Calgary office. "Given that it was an eight-month corporate residency, I really felt I had an opportunity to become a contributing member of the team," she explains. She worked on a portfolio that included office, industrial and retail property valuations across Western Canada.
Kind's work on a team at the Rowe School provided some of her best memories of her time at Dal. "I had the pleasure of being a commerce teaching assistant for Dr. Carolan McLarney, which was an absolute highlight of my experience at the Rowe," says Kind. "The love for education that Dr. McLarney has and the strong team dynamic that was fostered in all the TAs created an exceptional learning experience." Kind continues to recommend that MBA students take advantage of the opportunities to be teaching assistants.
She seized other opportunities as well during her time in the Rowe School and the Schulich School of Law. Active in extracurricular activities, Kind exercised her legal chops in the Davies Corporate/Securities Moot. "Our team tied for first place for our factums and third place overall, and I received the second place oralist award," she says. "It was an excellent opportunity to incorporate skills learned from both programs." Kind also directed case competitions for the Faculty of Management's Ethics in Action event in 2015, an experience she says was fantastic. "We developed and executed a case competition and conference that drew 15 university teams from across Canada," she explains.
With her experiences outside the classroom having such a profound impact on her education, it's no surprise that Kind has already planned her first steps beyond graduate school. She will be articling with Gowling WLG in Calgary, although her next steps into a career aren't entirely set in stone. While she worked at Gowling last summer and prepared for corporate solicitor work, "I've now found litigation an intriguing avenue to pursue," she says. Whatever she decides, it's clear that Kind will use her solid foundation in two tough subjects to take her far.