News
»
Go to news main
Rowe researchers of the year
Posted by
Nicole Maunsell
on May 1, 2017 in
News

Kyung Young Lee (centre) receives his research award from M. Ali Ülkü and Jun Zhou, research leads

On April 27, researchers in the Rowe School of Business (RSB) gathered for the first annual Research Celebration. Researcher of the Year awards, funded by a generous donation of the Estate of Barry Innis and an anonymous donor, were presented to pre-tenure and tenured faculty members. Candidates can be nominated by their faculty peers or apply directly, and their applications are evaluated by the research awards committee. This year's committee members were dean Sylvain Charlebois, associate dean (research) Dominika Wranik, RSB director Louis Beaubien, and faculty members Valerie Trifts and Jun Zhou.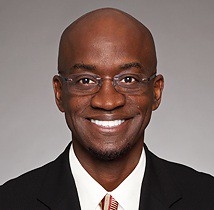 Cedric Dawkins (pictured left) received the 2016 award in the tenured research category. The committee cited his large number of high-quality publications generated since 2012 and published in highly reputable journals, including three sole-authored articles in the Journal of Business Ethics, one of the Financial Times Top 50 journals used in business school research rankings. His work has received many scholarly citations (400 since 2012, based on Google Scholar). Dr. Dawkins' mentorship to junior faculty members and service to professional research-related organizations were also appreciated by the committee.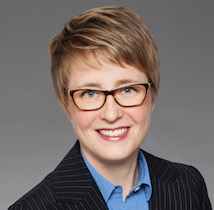 Two researchers were presented with the award in the pre-tenure research category, which research lead Jun Zhou noted is not just about rewarding their past achievements, but also about encouraging their further development in the future. Dana Kabat-Farr (pictured right) has published five articles in highly reputable journals since 2012, and is the first author on four of them. Her publication in the Journal of Management, one of the Financial Times Top 50, has received 107 citations. She also has three papers under review. 
Kyung Young Lee has published 10 articles since 2012, including five in A and A* level journals (according to the ABDC business journal ranking), such as Information & Management. Since he joined the Rowe School, Kyung has published four articles, two in journals ranked A or A*. 
The awards committee noted that both pre-tenure researchers have actively participated in research seminars, built close collaboration with colleagues, and applied for internal and external research funding opportunities, clearly showing their passion for research. Both scholars received nominations from senior colleagues: M. Ali Ülkü (for Kabat-Farr) and Michael Bliemel (for Lee). 
Those in attendance gave a big round of applause to acknowledge RSB research lead M. Ali Ülkü for organizing the celebration (along with Maggie Lapp) and for Ülkü and Zhou for their work supporting and promoting research in the School. Appreciation was also expressed for the Faculty of Management's associate dean of research Dominika Wranik and research facilitator Susan Haydt.