News
»
Go to news main
Staff Profile: Maggie Lapp, assistant to the directors of RSB and CITT
Posted by
Nicole Maunsell
on April 23, 2017 in
News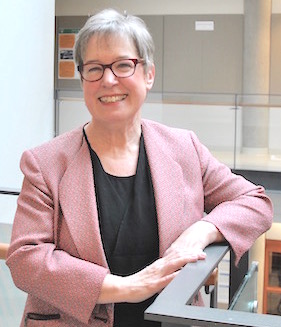 Maggie Lapp is known for organizing a variety of events in the Rowe School, including the annual Celebration of Achievement student luncheon, and coordinating logistics for the Israel Exchange and other CITT programs. Her coworkers appreciate her dry sense of humour, careful attention to the details of event planning (it's well-known that anything Maggie is involved in will have the best food) and her knack for reminding people not to take themselves too seriously.
What was your first job at Dalhousie?
I started at the front desk at the School of Business in 1982, when it was in the building on Coburg Road that we shared with the Art Gallery of Nova Scotia. I started the same year as professor Iraj Fooladi (I think administrative assistant Teresa Walsh was the only other person at the time who is still around now).  After that I was with the MBA program, and then the Centre for International Business Studies (now the Centre for International Trade and Transportation) for almost 25 years before coming back into the RSB.
What do you like most about your job?
Meeting people from around the world. I grew up in Eastern Passage and I've never lived anywhere but Nova Scotia, so I like to hear about where everyone is from, what they miss about their home, their customs and especially their food. And I love the discussions I get to have here. You can have great conversations with people about real issues, and when people disagree, we do it respectfully. I've learned so much about such diverse topics like, say, marine transportation or supply chains, that I never would have learned about otherwise.
Do you still keep in touch with students who have graduated?
Yes. I get to know students really well. When I started at the School of Business, I was their main contact when they came into the office; they'd sit and chat and tell me their life stories. Of course, now it's a different relationship; they invite me to watch them graduate, not to their Saturday night parties. I have a soft spot for international students because they are far from home and I think sometimes in need of a maternal figure to look out for them. We forget how young they are and how hard it is to leave your family and come halfway around the world. It was even harder back when I first started doing this job, before it was as common and you had no internet to help keep in touch. I like to think that somebody would do that for my daughter if she were in the same situation.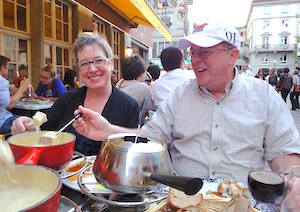 Pictured right: Maggie and Jim enjoying Zurich    

What do you do outside work? What would your coworkers be surprised to hear about you?
My husband, Jim, and I are wine enthusiasts. We visit wineries and he makes his own (and I help him drink it). I'm also in two book clubs. I think some people would be surprised to hear that I'm a huge fan of old time honkytonk country music. Stuff like George Jones and the Louvin Brothers, not today's country. I also like to say I'm the only expert on Gram Parsons in Nova Scotia—no one else has heard of him. I come from a musical family. My parents were always listening to records and I can remember my mother singing along to Patsy Cline while she was ironing.
What is your favourite Dalhousie memory?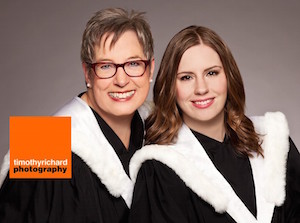 I have two. Getting to be onstage with my daughter, Victoria, when she graduated in 2015 (pictured left). She received a BA in Social Anthropology and History, not too far off my Political Science and History degree. I was smiling so widely in the photos. My other memory is from when I was travelling with Victoria in Tuscany and mentioned that we were in the area that professor Sunny Marche's family is from. The couple in front of us on the bus turned around and asked how we knew him. Turns out they were his neighbours in Edmonton. It just goes to show the reach of Dalhousie.