News
»
Go to news main
Commerce students compete in JD Irving case competitions
Posted by
Nicole Maunsell
on April 21, 2017 in
News

The Logistics Competition winners with Professor Dan Lynch

Several teams of commerce students participated in two case competitions sponsored by JD Irving, Limited last month. The competitions took place in the Rowe Management Building and were open to students from various commerce classes, with JDI executives acting as judges. The competitions proved mutually beneficial for JDI and the students: the manufacturing company gained information and recommendations on future growth opportunities, while students had the chance to present their work to industry professionals and pursue networking, internship and job opportunities.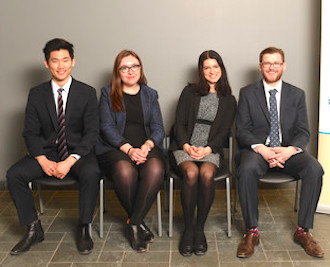 On March 23, the finals for the JD Irving Accounting Case Competition took place, with four teams competing. The winning team (pictured left) comprised (L to R) Won Shin, Leanna Langille, Samantha Rudy and Bryce Cross. "I was very impressed with the technical ability, presentation skills and confidence demonstrated by the students who participated," says Laura Cumming, faculty advisor. "They represented the Rowe School of Business well."
On March 28, the Rowe School hosted the JD Irving Logistics and Transportation Case Competition, with 30 teams (approximately 120 students) from three of Dan Lynch's classes. Sjaan Scully, a student from one of the winning teams, provided her thoughts on the experience: "The opportunity to participate in the JDI case competitions is a privilege for Dalhousie students. Not only does it provide the opportunity to apply knowledge to an important, real-life situation, but it also inspires hard work and healthy competition between peers. I believe these types of experience are more beneficial to a student's learning than tests or exams because they focus on the application of learning rather than the ability to regurgitate information. Thank you to JDI, Dr. Lynch and the amazing teams for such an incomparable and educational experience."
Placements were as follows:
COMM 3408
1st: Mahmoud Ahrari, Joshua Biggar, Sam Jamieson, Sjaan Scully
2nd: Hailey Coleman, Jillian Scates, Rob Wilson, Jinnan Zhao
3rd: Stephanie Kilback, Shannon Martin, Alexander Porporo, Max Triskan
COMM 3407-01
1st: Ben Gallagher, Carly MacDowell, Christopher Stapleton, Abby Thorson
2nd: Madeleine Fontein, Ross Freeman, Vanessa Hamkens, Chris Stachiw
3rd: Hailey Kerrigan, David Laird, Tom McDonnell, Mac Winterbottom
COMM 3407-02
1st: Mitchell Binnie, Alexandra Capello, Jina Lee, Blake Newell,
2nd: Danica Bateman, Shannon Martin, Robert Simmerling, Juan Pablo Victoria-Velasco
3rd: Hailey Coleman, Jin Gong, Cam MacPhee, Greg Wakely

With files from Joshua Biggar.