News
»
Go to news main
Dr. Sergio Carvalho wins Archibald Award
Posted by
Nicole Maunsell
on March 23, 2017 in
News

(L to R) George Archibald, David Archibald, Sergio Carvalho, Sylvain Charlebois

At a presentation on March 22, Dr. Sergio Carvalho, professor of marketing and director of the Centre for International Trade and Transportation in the Rowe School of Business, received the A. Gordon Archibald Teaching Excellence Award for 2016. This award, made possible by a donation from the family of the late A. Gordon Archibald, is presented yearly to a faculty member who, in the eyes of peers and students, displays superior teaching, exceptional attention to student needs and excellent understanding of the subject area.
As Dr. Sylvain Charlebois, dean of the Faculty of Management, noted in his remarks at the ceremony, Carvalho is well known for going above and beyond to create opportunities for his students. Carvalho runs the Israel Exchange Program, where students from Israel and Dalhousie travel together to meet business leaders in Halifax, Toronto and several cities in Israel, and learn about global marketing. A similar program launching this year will give students a chance to travel to places like China.
His colleagues and students who nominated him for the award noted that he is an exceptional communicator, coach and instructor, going out of his way to connect with students personally. Bachelor of Management student Alex Tremblay, who participated in the 2016 Israel Exchange Program, remarked that the program was "an amazing experience from beginning to end" and "life-changing", and would not have been the same without Carvalho's leadership. Carvalho, he says, "has kept in contact with students to this day, and has always been present for us, as a mentor, a guide and a friend."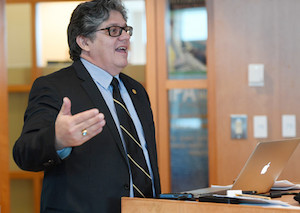 Carvalho doesn't take the responsibility of being an instructor lightly. Recalling how experiences with his own teachers, good and bad, influence him to this day, he says that he understands the potential that he and his colleagues have to "break or make someone's future" every day. "I make my classroom a safe environment for my students where it's okay to make mistakes, to be vulnerable or get the wrong answer." This, he believes, is essential to creating an environment conducive to learning. He thanked his students for inspiring him and told them "I see your success as my success: when you fail, I fail. I think about the leaders you will go on to be, and hope that a very small pixel in the picture of your success might be related to something I did here."
Carvalho also thanked his family, fellow instructors, the staff of the Rowe School of Business and the Archibald family. As in past years, members of the Archibald family joined faculty, staff and students at the Rowe School to present Carvalho with the award.