News
»
Go to news main
MBA students bring home silver from MBA Games
Posted by
Miriam Breslow
on January 13, 2017 in
News
In early January, 28 Rowe School MBA students (pictured above) flew across the country to compete with 19 other schools in the 2017 MBA Games, hosted by Vancouver Island University in Nanaimo. The students returned with a second-place finish for their Human Resources case competition team and leaving a strong Dalhousie stamp on the Games.
Sarah Lahanky and Kayla Sabharwal were the co-captains of the 2017 Rowe team. This is Sabharwal's second year on the MBA Games organizing committee, and both students competed on last year's team. "It was such a wonderful experience that I wanted to do more this year, so I applied to be a co-captain," says Lahanky. The co-captains and their organizing committee prepared for the Games for almost a year.
Distance meant that the team's numbers were down from last year's 40 students, says Sabharwal, but when the Dalhousie students arrived, they realized that their group was one of the largest. "No team traveled farther than we did," she says, "and we were the only team from the Maritimes, which was really cool."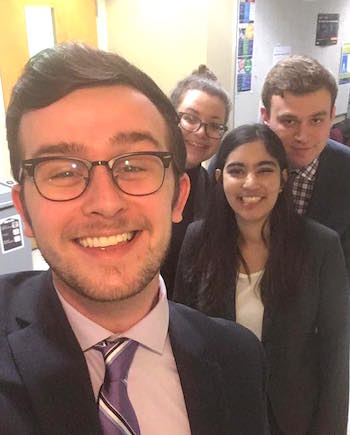 Sabharwal explains the structure of the annual Games. There are three competition categories: cases, sports and spirit. Each year, there is a "wild card" live case subject that the competitors don't know in advance; 2016's was human resources. Along with the other competitors, Dalhousie's HR team (pictured L to R)—Andrew Harvey, Michele Megannety, Shivani Seth and Logan Stewart—was given three hours to read the case, submit a PowerPoint presentation and present to a panel of judges. "We're really, really proud of our human resources team," says Lahanky. "That was a really big deal, coming home with that second-place win."
The co-captains expressed pride in the preparation and commitment of the entire Rowe team, and noted that the marketing team did especially well—although the team just missed progressing to the final round, Sabharwal received personal feedback from the judges that was very positive. ("You're hired," said one judge.) Aside from the cases, the Rowe team placed well in the spirit category, with third-place finishes in both the video competition—in which the team created a video presentation on the theme of what a safe space looks like on a university campus—and the fundraising contest to benefit Moose Hide Campaign, a national organization of men standing against violence towards Aboriginal women and children. "We would have liked to see our name up there with the big schools, like Schulich and DeGroote, in the overall standings," says Lahanky, "but in the individual categories we had some really big successes."
The Rowe CRMBA program, the two students point out, is relatively small. "Most of the other schools have much larger cohorts than we do," says Sabharwal. "In the big schools, where they have hundreds of business students, they can handpick their teams." Yet Dalhousie never fails to make an impression at the Games: "We have such a big impact because we're known as that young, friendly school," she says. "Even at sports events we have other schools cheering for us."
Sabharwal believes that the smaller size of the Rowe School also has its benefits. "Because we're a smaller school, we all come in being really good friends and having a sense of family and a sense of teamwork," says Sabharwal. "That stands out, and I think it really makes a positive effect on our performance."
Also helping the team's performance was faculty coaching, with the human resources team coached by Dr. Florence Tarrant of the Rowe School. "Having case coaches made a big difference in getting us ready to compete," says Lahanky, "and so did knowing that faculty and administrators back at Dal were waiting to see what we would bring back home." The team members also benefitted from sponsorship: the Rowe School as well as CIBC, Clearwater, Emera, Office Interiors and the Frank H. Sobey Fund contributed to the students' travel fund.
The team members are coming home with great memories, say the co-captains. They describe the positive atmosphere of the MBA Games: "There's a lot of energy," says Lahanky. "It's really competitive, but even though you're in this fierce rivalry you're also making friends, and everyone is just so happy to be there." The Games are also a good opportunity for networking. "They give you a sense of the bigger picture," says Lahanky. "You get to see other schools and meet others who are going to be the leaders of tomorrow." Sabharwal mentions one more benefit: "Competing against some of the top-tier schools really gives us a sense of belonging in our school and our community."