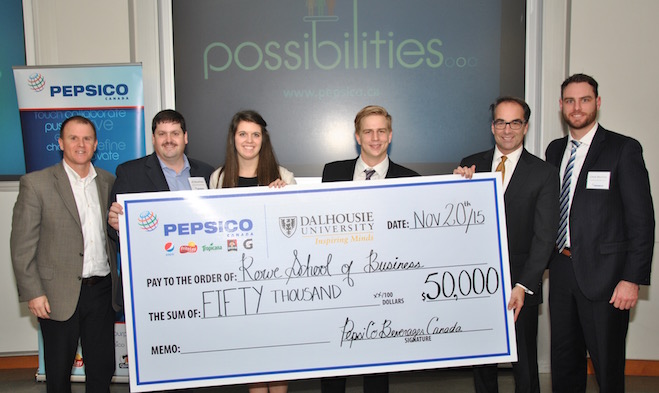 An old event in the Rowe School of Business now has a new name: the PepsiCo First Year Case Competition.
Organized by the Dalhousie Commerce Society, the case competition is designed to introduce new students to the case analysis method. Each team of first-year students is mentored by a senior student, who guides them through case analysis and presentation. As with other case competitions, the teams have three hours to prepare a presentation with no outside resources; the students then present to a panel of judges. Teams vie for the prestige of placing in the competition, as well as for monetary prizes.
Last week marked the seventh year for the event. While it was successful as usual, this year's competition was given an extra celebratory note thanks to a presentation from PepsiCo. The corporation has agreed to fully fund the case competition for the next 10 years, and company representatives presented the Rowe School of Business with a cheque to that effect for $50,000. (This donation is part of a $100,000 donation from PepsiCo to Dalhousie, with the remaining $50,000 going to the Faculty of Engineering for the Project in Industry program.)
This year, 20 teams of four students competed, with faculty members Mr. Gregory Adolphe-Nazaire, Dr. Binod Sundararajan and Dr. Florence Tarrant judging the preliminary rounds. Commerce students Julie Bosch, Caitlin Ladd, Sara Gilchrist and Ashley Ganske (Team 10) and Jeremy Buzanis, Matthew Chiykowski, Louis Kaumeyer and Ryan Artola (Team 15) made it to the finals, where they presented to a panel of PepsiCo representatives. After a rigorous competition, Team 10 was declared the winner. The event closed with a networking reception hosted by PepsiCo.
Dr. Lorn Sheehan, interim director of the Rowe School, was delighted to accept the donation from PepsiCo, and highlighted the importance of continuing the case competition. "This is an impressive and well-run event," said Sheehan. "It gives our students early exposure to the case method, which fits with our desire to foster experiential learning." Sheehan extended thanks to all of those involved with this year's successful event.