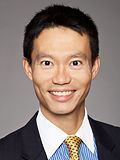 Dr. Eddy Ng
Professor
F. C. Manning Chair in Economics and Business
Faculty of Management Research Star of the Year 2014/15
How long have you been at Dal?
I have been at Dal since 2010.
Tell us about your research and what drove you into those topics.
My work revolves around fair treatment in the workplace. This came about at a relatively young age for me. I was in the boys' brigade and I heard racial slurs directed at someone whom I barely knew, and it was very public. Although it was not directed at me, I felt humiliated for the person (and the group) it was targeted at. I call this "relative deprivation on behalf of others." Since then, I felt it was important to speak up for others who are marginalized and do not have a voice. I do this through my writing.
Can you share with us some of your works-in-progress?
At present, I am involved in a project on contributing Canadian data to a global diversity and inclusion benchmarking project.
How does your research affect business practice or what are some of the implications for the real world?
Organizations and employers like to tout that they are managing diversity and inclusion when, in fact, they are only complying with anti-discrimination legislation. This is why you see a persistent glass ceiling for high-achieving individuals who are minority group members. My work seeks to identify indirect discrimination in employment practices in the hope that employers will close the gap for under-represented groups, particularly at senior levels.
How does your research impact and support/enhance your teaching?
I share my own research with students and it's heart-warming when students respond by sharing their own stories. If anything, I want to create a safe environment in my classroom.
What would you consider to be a research success?
Creating a body of work that contributes to deepening our knowledge on a social issue. Ideally, that knowledge contributes to furthering the field, which in turn benefits humanity.
What advice would you give to fellow young researchers?
Your institution will only value you as much as your field—a senior scholar shared this with me and I am passing it on.