News
»
Go to news main
Sales training helps MBA students realize their full potential
Posted by
Rowe School of Business
on October 26, 2013 in
News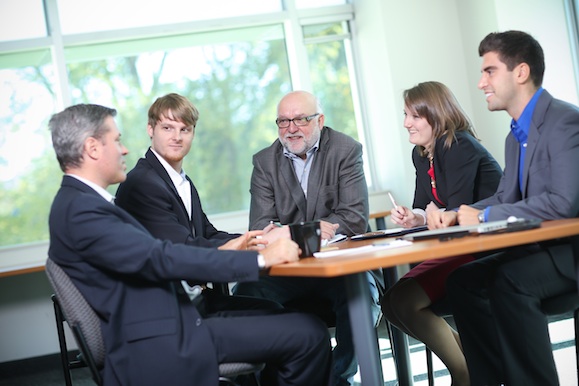 (L to R): Dan Shaw, Director of the Corporate Residency MBA Program; Evan Bannerman (MBA Candidate); Eldon MacKeigan, Sandler Training; Rebecca Rogez and Kevin Bernard (MBA Candidates)
 
Sandler Training, in partnership with Dalhousie University, is pleased to announce the latest recipients of the Sandler Fellowships, awarded to students in the Corporate Residency MBA program at the Rowe School of Business.
"At Sandler, we understand the importance of high-level sales and management leadership skills to students who want to make a difference in both the local and global business environment," says Eldon MacKeigan, Senior Partner, Sales Careers Canada Inc. "We're very pleased to provide opportunities for students of this prestigious graduate program to build those skills."
The Corporate Residency MBA is unique in Canada. It is designed to fast-track graduates from a wide range of undergraduate programs, providing them with a professional development program and including an eight-month intensive corporate residency with employer partners across Canada. The program has won awards for its innovative approach and was ranked second in Canada for return on investment. It recently placed in the top 30 worldwide in the Corporate Knights Global Green MBA rankings.
"Our Corporate Residency MBA program targets high-potential students looking to realize their full potential in the business world," said Dan Shaw, Director of the Corporate Residency MBA Program. "Our relationship with Sandler Training has created a special opportunity for our students that further enables our graduates to contribute significantly to the future prosperity of our community. Sandler's core values of innovation, collaboration, respect, leadership and excellence are a wonderful fit with the Faculty of Management's commitment to IDEAS: Innovation, Diversity, Experiential Learning, Accountable Action, and Sustainability."
Sandler Training is a global training organization with over three decades of experience. Sandler Training provides training and consulting services for small- to medium-sized businesses as well as corporate training for Fortune 1000 companies. They have been partnering with the Dalhousie MBA program for the past eight years to help students learn and understand the Sandler approach and to observe how corporate sales and business leaders adapt and apply it to their world.
Learn more about the Corporate Residency MBA Program and Sandler Training.