News
»
Go to news main
Internship Strengthens Knowledge of Immigration Law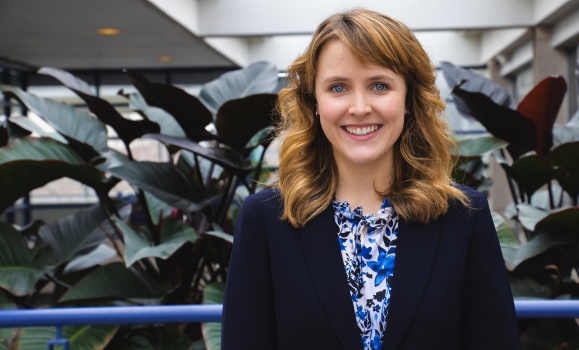 This story originally appeared in the 2022 edition of Hearsay, the Schulich School of Law Alumni Magazine.
The Schulich School of Law Internship Program started in 2009 with a small number of internships funded by The Schulich Foundation. Thanks to their generosity, numerous donors were inspired to contribute to the program since its inception.
One of those donors is Lenczner Slaght. The law firm has a long tradition of supporting and recruiting from the Dalhousie community and many of their lawyers are proud alumni. As part of their commitment to access to justice and diversity in the profession, they proudly sponsor the Lenczner Slaght Advocacy Internship. This internship is available to a Schulich Law student upon completion of their first year or second year of studies who is interested in developing their advocacy skills and experience.
"After the first year of offering these internships, we were thrilled with the varied advocacy experiences that students accessed," says Natalie Zinman, Director of Legal Recruitment and Development at Lenczner Slaght. "Having seen the benefit of this advocacy exposure, Lenczner Slaght has committed to further funding these valuable internships, which we hope will help our recipients gain meaningful and hands-on advocacy experience, foster their passion for advocacy and continue to support the public interest mandates of the organizations that they are working with."
In 2021, Laura Cloutier was awarded the Lenczner Slaght Internship. She shares that one of the primary reasons she chose to attend Schulich Law was the school's commitment to unselfish public service.
Cloutier's goals going into her internship were to develop her advocacy skills and to be able to support an organization working to help under-serviced communities in the Halifax Regional Municipality. She found an ideal placement at the Halifax Refugee Clinic, a local organization that provides legal representation for those claiming refugee status in Nova Scotia.
"To me, it was important that my summer internship experience worked to fulfill this mandate and help at-risk communities," says Cloutier. "Prior to attending law school, I volunteered in immigration law supporting applicants seeking asylum, and I knew I wanted to do similar work in Halifax. I wanted to continue to be able to make a positive impact in improving access to justice for refugee claimants and at-risk or other humanitarian-based applicants."
She also wanted to sharpen her advocacy skills. "Written and oral advocacy is an essential feature of a lawyer's role, but there are limited opportunities to develop those skills in law school," she shares. "I wanted to learn about effective tools and strategies for advocating for clients and gain experience practicing those skills."
In her role, she supported the executive director and staff attorney with case work for refugee claimants and other at-risk or humanitarian-based immigration applicants. Her day-to-day activities consisted of researching case law, preparing immigration applications for clients and developing extensive human rights country condition reports.
Her internship also provided opportunities to work directly with clients, an area where Cloutier felt she had limited experience. "Under the supervision of the staff, I was able to practice working directly with clients to develop their claim narratives as well as prepare them for interviews in the Immigration and Refugee Board. I learned how to manage expectations and ensure that clients understood their rights and obligations pertaining to their immigration case."
Although there were many memorable moments related to her internship, Cloutier says the highlight of her experience was preparing written submissions for a judicial review going to the Federal Court.
"I had the opportunity to prepare the initial draft on behalf of the staff attorney and my arguments were ultimately used in the filing," says Cloutier. "It is still surreal to know that as a law student I was able to have my arguments reviewed by a judge, let alone judges at the Federal Court!"
Reflecting on her experience, Cloutier feels she achieved her goals. "The Halifax Refugee Clinic is one of the only organizations in Nova Scotia that offers comprehensive access to legal and settlement services for at-risk migrant communities. My internship with the Clinic affirmed my passion for pro bono work and giving back to my community," says Cloutier. "The COVID-19 pandemic has exacerbated the delays in an already over-burdened immigration system, so help is needed more than ever to support refugee claimants. Pro bono immigration work will remain an integral part of my practice and I hopefully will be able to start managing my own immigration files as an associate!"
She is also immensely grateful for this opportunity.
"My experience with the Halifax Refugee Clinic has been unforgettable, and it would not have been possible without Lenczner Slaght," says Cloutier. "As a recipient of the Lenczner Slaght Advocacy Internship Fund, I was able to give back to my community and advocate on behalf of one of the most vulnerable populations in Canada."
Cloutier is currently in her third year at Schulich Law.