News
»
Go to news main
2022 Smith Shield Moot Results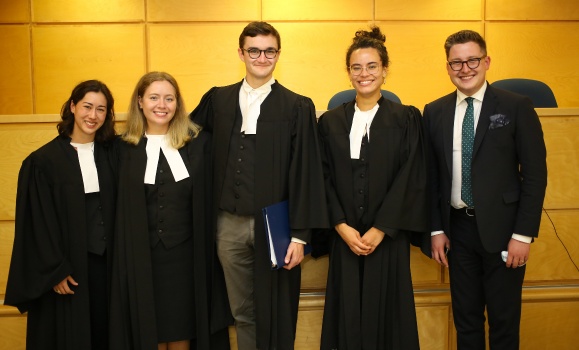 The 2022 Smith Shield Moot took place at the Weldon Law Building on October 5, 2022. With a tradition dating back to 1927, Smith Shield competitors are chosen from the top mooters in the compulsory second-year moot.
The mooters argued the appeal of the fictional case Studley v Cape Prudence Catholic Hospital, before Justice Duncan R. Beveridge, Nova Scotia Court of Appeal; Justice D. Timothy Gabriel, Supreme Court of Nova Scotia; and Melanie Petrunia, President, Nova Scotia Barristers' Society.
According to the case, Ms. Studley lost an arm following a boating accident and having underwent an emergency procedure at Cape Prudence Catholic Hospital. She asked the hospital to bury the arm, temporarily, until she was ready to re​bury it near Halifax. Some years later, following extensive therapy, Ms. Studley asked for the buried arm back. The hospital refused, arguing that the arm was buried in a consecrated churchyard, in a communal grave and that they were concerned with public health risks of disinterment.
During the moot, Jack Bennet and Leandra Bouman represented the appellant, and Nicole Arski and Emma Vossen represented the respondent.
The 2022 Smith Shield Moot Competition explored who owns a person's severed limbs, whether fulfilling a request by the person who lost the limb for disinterment from a collective grave offends or reflects dignity, whether limbs should be compared to gametes or cremated remains in sorting out legal rights, and whether it is possible to calculate damages for interference with limbs.
"It was meaningful to translate my research from my doctoral dissertation into the Studley case which was designed from interviews I did with individuals whose tissues were taken from them and disposed in ways contrary to their wishes," says Joshua Shaw, faculty supervisor for the Smith Shield Moot and Schulich Fellow. "One interviewee, in particular, inspired the scenario. He expressed hope that his participation in my research might help others, similarly without limbs or tissues following an accident but who desired their return to help them feel whole, to restore a sense of autonomy, to maintain dignity."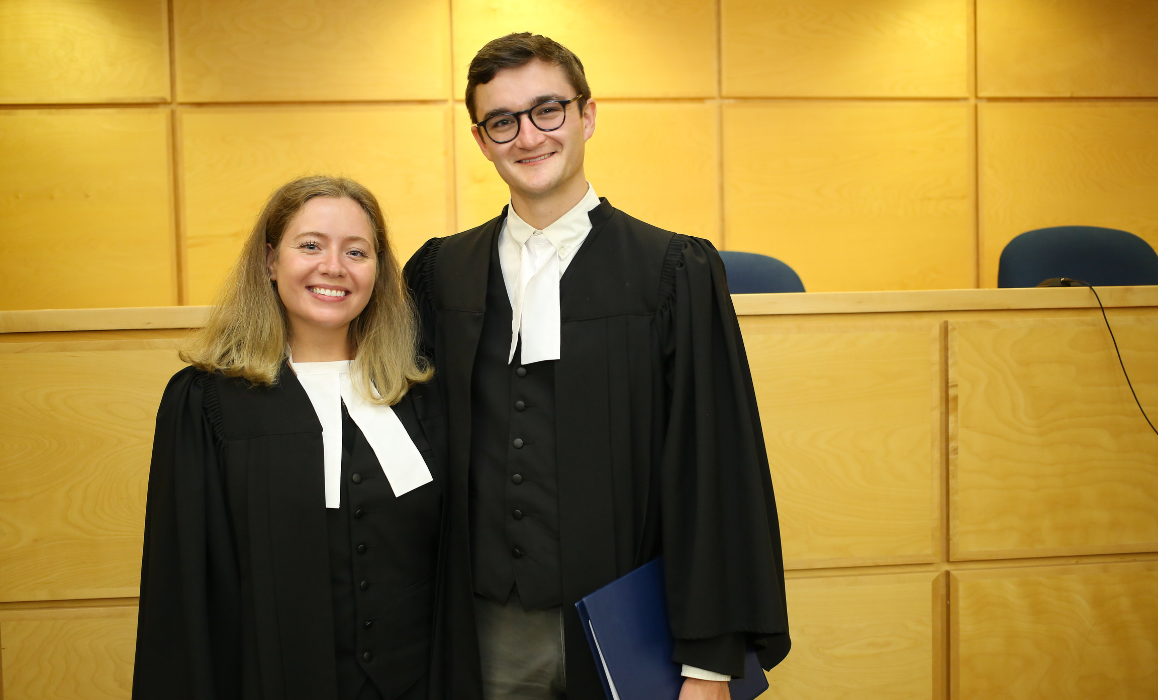 Nicole Arski and Jack Bennet (Photo: Bruce Bottomley)
This year's winners were Nicole Arski and Jack Bennet who received the A.S. Pattillo Prize in Advocacy. The runners-up were Leandra Bouman and Emma Vossen who were recognized with the Leonard A. Kitz Prize in Advocacy.
"I am thankful to Professor Shaw, whose unique moot problem allowed my fellow mooters and I to explore an unfamiliar and exciting legal issue," says Arski. "It was truly an honour to participate in the 2022 Smith Shield Moot. Both the 1L and 2L moots were highlights of my law school experience, and I feel lucky to have been afforded another opportunity to grow as an advocate."
"It has been a pleasure working with Professor Shaw, Leandra, Nicole, and Emma while preparing for the Smith Shield Moot," says Bennet. "It was an honour to argue this important issue in front of the competition's justices and the wider Weldon community. Having this opportunity and sharing it with my outstanding teammates will be a highlight of my time at law school."
Shaw says he felt privileged to be the faculty supervisor for the Smith Shield Moot and to work with the exceptional students involved.
"The students worked tirelessly since late August when I first introduced them to the fictional case I authored as the moot problem," says Shaw. "Their dedication resulted in the high quality of their written and oral submissions, which considered a challenging and rarely argued area of law."
Congratulations to the students who took part in this year's Smith Shield Moot, and thank you to our judges and everyone behind the scenes who helped make this year's moot a success. We look forward to continuing the tradition next year!